Radiology in the Community
Dr. Raman Danrad presents Impact of SPECTRAL CT in Coronary Assessment & Outcomes

Dr. Bradley Spieler and Dr. Emma Schachner and won Aunt Minnie's 2020 Best Radiology Image for their COVID-19 lung model project. The winning image is below. Click here to read the article.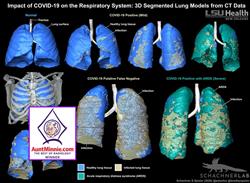 Drs. Spieler & Danrad co-authored "Social Media in Radiology: Overview and Usefulness of Online Professional #SoMe Profiles". Click here to see the LSUHSC article review.
Dr. Raman Danrad presented at SCCT 2018 in Dallas.
Dr. Mignonne Morrell was interviewed
by Fox 8 News discussing Advances in Mammography.
Clinical Schedules
Our LSU Radiology Department is Our Collaborative Work of Art