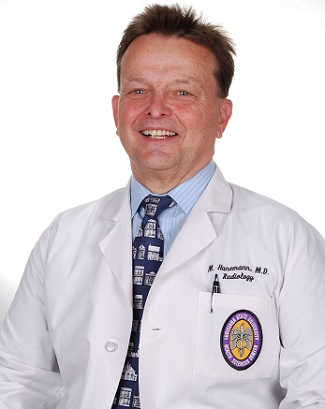 Michael Hanemann, MD
Clinical Associate Professor of Radiology - Gratis

Clinical Associate Professor of Orthopedics - Gratis
Doctor of Medicine
LSU School of Medicine
New Orleans, LA
Bachelor of Arts
Tulane University
New Orleans, LA
Residency, Diagnostic Radiology
LSU School of Medicine
New Orleans, LA
Internship
Earl K. Long Hospital
Baton Rouge, LA
Dr. Hanemann received a Bachelor of Arts degree from Tulane University in 1967, with a major in Latin and minors in English and Psychology. He spent his junior year at the University of Reading in Berkshire, England, where he was privileged to read Philosophy under Professor G.H.R. Parkinson and Classical Literature under Virgilian scholar and translator Fred Robertson.
After brief, but interesting, forays into Law School and Graduate Business School, Dr. Hanemann taught fifth grade (general curriculum) at Port Sulphur School in Port Sulphur, Lousiana and eleventh grade (English) at Holy Cross High School in New Orleans. During this time Dr. Hanemann discovered the joys of teaching and obtained certification to teach Latin and English in the state of Louisiana through the College of Education at Tulane University. Dr. Hanemann was eventually persuaded by a friend and former classmate, Dr. Joseph Ryan, to consider the field of medicine. Overcoming his non-scientific predilections, Dr. Hanemann completed pre-medical requirements at the University of New Orleans and took his M.D. from LSU Medical Center in 1975. His first interest in medicine was Orthopaedics, but once the light (in the radiology viewbox)  came on, he never looked back.
After obtaining (lifetime) certification in Diagnostic Radiology from the American Board of Radiology in 1980, Dr. Hanemann remained at LSU for two years, during which time he, with the support of Drs. Robert Beasley and Erich Lang, started the Mammography Service at Charity Hospital, serving as its first head of section. After a stint as chief of radiology at the VA Hospital in New Orleans, Dr. Hanemann entered the private practice of radiology in Laplace, Louisiana, where he remained for more than twenty years, retaining a gratis faculty appointment at LSU.
In 2004, Dr. Hanemann retired from private practice and returned to LSU full-time, shortly before the arrival of Hurricane Katrina. Forsan et haec olim meminisse juvabit.
Dr. Hanemann derives great satisfaction from teaching residents and medical students, and in learning from them. When not immersed in the wonders of diagnostic imaging, he can usually be found reading, exercising, traveling, fishing, or simply enjoying the company of his wife, children, and grandchildren.