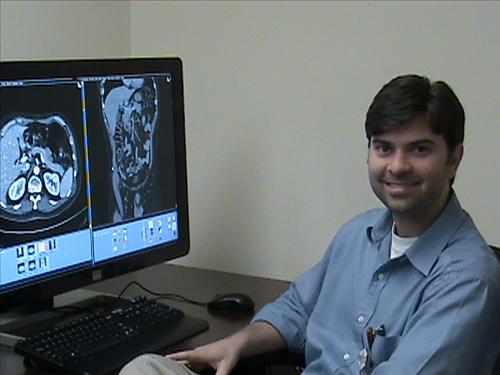 Associate Professor of Clinical Radiology

Associate Professor of Clinical Medicine (Joint Appointment)

Associate Professor of Cell Biology and Anatomy (Joint Appointment)

Co-Director of Musculoskeletal Research
Doctor of Medicine
Columbia University College of Physicians & Surgeons
New York, NY
Bachelor of Science
Molecular, Cellular, and Developmental Biology
Yale University
New Haven, CT                                                                 
Dr. Smith graduated from Yale University and then completed his Doctorate of Medicine at Columbia University College of Physicians & Surgeons in New York, NY. He went on to complete an internship at University of Tennessee at Memphis, a radiology residency at Wake Forest University Baptist Medical Center, and an MRI fellowship at Ochsner Clinic Foundation. He is the Coordinator for Medical Student Education, which includes a third year career planning elective and fourth year electives. As a joint Assistant Professor of Medicine, he also provides intensive workstation-based imaging experience for Pulmonary and Critical Care fellows. Dr. Smith is board certified by the American Board of Radiology.
Coordinator for Medical Student Education
 
Committees & Administrative Responsibilities
LSU School of Medicine Student Promotions Committee
LSU School of Medicine Junior Faculty Guidance and Mentoring Committee
Manalo, L., Karl, R., Toshav, A., Bass, R., Smith, D. Intralobar Pulmonary Sequestration. ACR Case in Point 8/25/14.
Musa, F., Martinez, J., Martinex, R., Hebert, C., Safley, M., Smith, D., Lopez, F. A 31 year old man with AIDS, fever, and a rash. J La State Med Soc., VOL 165. September/October 2013. 291-4.
Perez-Johnston, R., Toshav, A., & Smith, D. (2012). Simulation in Abdominal Radiology. In H. J. Robertson, J. T. Paige, L. R. Bok (Eds.), Simulation in Radiology (pp. 249-265). New York: Oxford University Press.