Proteomics Core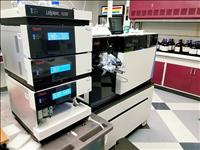 The mission of The LSUHSC Proteomics Core Facility is to support investigators in their biomedical research programs at the Louisiana State University Health Sciences Center and the surrounding New Orleans area. The central focus of The Core is in the identification of unknown proteins, the characterization of potential post-translational modifications (phosphorylation, ubiquitination, etc.) resulting from targeted proteomic screens arising from immunoprecipitation, protein interaction studies, or similar approaches, and the implementation of quantitative proteomics analysis approaches. The LSUHSC Proteomics Core Facility houses a nano-flow 2D liquid chromatography coupled to an Electrospray Ionization Linear Ion Trap (LC-MS) instrument for sensitive analyses of samples for which protein identification is required. In addition, a newly acquired Thermo Fusion Orbitrap mass spectrometer facilitates discovery-based quantitative proteomic workflow and is also coupled to nano flow 2D liquid chromatography. The bulk of experimentation in The Core includes protein mass spectrometry for the identification of unknown protein targets. Increasingly more complex samples are being subjected to the quantitative proteomics workflow and analysis. Other applications available in The Core include studies of protein expression profiling, posttranslational modifications, and partial sequencing of novel proteins. In addition, the Core provides access to HPLC methodologies on a case-by-case basis. The staff members also consult with researchers about their particular research interests and assist with development of novel scientific protocols.
The Current Goals of the Proteomics Core Facility include:
To provide timely Proteomics analyses to researchers in the New Orleans area.
To promote awareness of Proteomics applications in biomedical research in the Greater New Orleans area.
To promote collaboration with investigators in Proteomics-related research and applications.
To facilitate investigators in extramural funding opportunities.
To expand the LSUHSC Proteomics Core Facility in the rapidly emerging proteomics fields.
To provide direct consultation with investigators in the design, execution, and analysis of data.
The Proteomics Core Facility is located in the Clinical Science Research Building room 331.