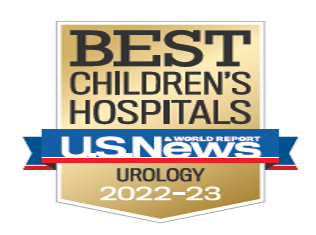 The Pediatric Urology Services at Children's Hospital has been ranked #32 in the Country by U.S. News & World Report! Children's Hospital New Orleans has been ranked among the Top 50 Children's Hospitals in the country including Top 50 national ranking in two pediatric specialties, Urology and Nephrology.
Faculty News & Highlights
Dr. Jessie Gills
Appointed to the NCI Bladder Cancer Task Force
SWOG (South West Oncology Group) National Top Accrual to SWOG GU trials 2019
LSU Urology Champions Robotic Surgery at Children's Hospital
Our pediatric urologists are proud to announce the availability of robotic urologic surgery at Children's Hospital New Orleans. After several years of performing pediatric robotic surgery at our partner institution, Touro Infirmary, the pediatric urology faculty championed the purchase of a DaVinci robot dedicated to the sole use of robotic surgery in children. Through this acquisition, Children's Hospital has the only pediatric-dedicated robotic program in the state of Louisiana and the Gulf South. Our surgeons perform a wide array of robotic cases including pyeloplasty, ureteral reimplantation, partial and heminephrectomies, and creation of catheterizable channels. We look forward to expanding this service to meet the region's needs.
Letter From the Chairman
Retirement of Joseph Ortenberg, MD, FAAP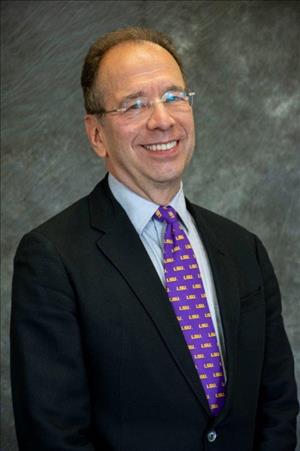 July 2022 marks an incredibly significant moment in time in the history of LSU Urology. After 40 years of extraordinarily dedicated service, Dr. Joseph Ortenberg has decided to retire from LSUHSC. FORTUNATELY, Dr. Ortenberg is not going away, as he will be working with Children's Hospital across the state - promoting the excellence in care that CHNOLA provides. In that capacity, he will continue to see Children and work in our Pediatric Urology Division, which will be under the Directorship of Dr. Chip Roth.
As Joe completes his career at LSU, it is very fitting to recognize his unparalleled, monumental impact on this Department. Joe has undoubtedly had the most consequential urologic career in the history of LSU Urology. In my long affiliation with LSU ranging from student to now aging Chair - Joe has always been a constant source of stability within our department. Personally, I owe so much gratitude to Joe for his amazing support, guidance, mentorship and encouragement he continues to provide. We have all grown to rely on his guidance throughout the years.
Joe's career can be described as persistent and tenacious in his pursuit of excellence, and a constant force in promoting (and building) healthcare for Children. Joe has been the one constant at LSU Urology through the near closure of our Department, the LSU-Ochsner merger, Katrina, Covid and many other life changing events. Throughout all of this, Joe continued to travel the state taking care of the urologic needs of Children, leading the Pediatric Division of LSU Urology and training all the New Orleans Urology residents.
Joe has been through many ups and downs over 40 years. I remember for many years where Joe was the only 1 or 2 Pediatric Urologists in the entire state! And Department! It seems very fitting now that CHNOLA achieved a top 50 nationwide ranking because of the group effort of 4 outstanding Pediatric Urologists combined with a very strong care team. I know Dr. Ortenberg is taking the immense pride he deserves in that tremendous milestone after so many years of dedicated effort and laying an enduring foundation.
With the help of Dr. Roth, I would like to share with you just some of the amazing milestones that Dr. Ortenberg has achieved:
Member of the LSUHSC Urology Department since 1982
LSU Urology's ONLY Pediatric Urologist until 2008
Medical Director of Pediatric Urology Services at Charity Hospital, MCLNO and Children's Hospital since joining the Department
Over 100 presentations at national and international meetings
Over 150 Publications and Abstracts
AAP Urology Section Executive Committee Member
President, the Society of Fetal Urology
President, the American Association of Pediatric Urologists
Louisiana AAP Bettina Hillman Achievement Award for Dedicated Service to Children with Special Needs
UroTigers Honored Guest 2018
Trained more Urologists in the State of Louisiana than any other academic urologist in history.
I imagine the accomplishments Joe values most are the multitudes of children he cared for. I honestly cannot imagine the numbers of office visits and surgeries performed over the years. One thing is for certain, he will approach his last patient just like his first and all the others in between - with that tenacious pursuit of excellence. His long repertoire of outstanding outcomes is a testament to his legacy.
Although Joe is retiring from LSU, he will always remain a member of our Department and LSU Urology family. It is my pleasure to announce that Joe has been named Emeritus Professor of Pediatric Urology, a lifetime appointment. It is also reassuring that he will continue to work with us clinically and academically in his new position at Children's Hospital. So yes, he will still be late - that River Road train!
Please join me now in extending our warmest congratulations and thanks for his amazing contributions to our Department and the children of Louisiana!
Thank you so much Joe! Congratulations on your amazing legacy!
Chris Winters
Professor and Chairman
LSU Health Department of Urology
Department of Urology 2023 Resident Graduation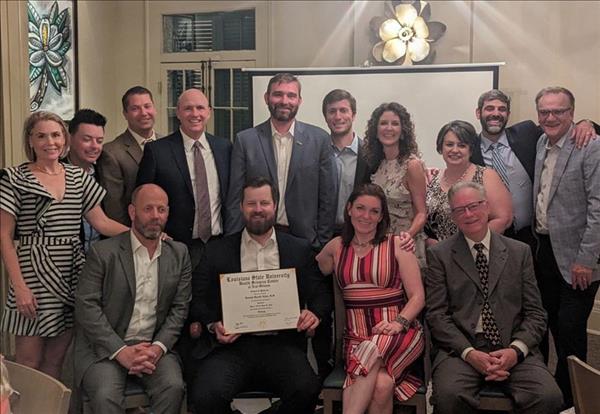 ---
Contact Information:
LSU Health New Orleans
Department of Urology
2021 Perdido St., #4425
New Orleans, LA 70112
Phone: (504) 568-2207
Fax: (504) 568-2307
Social Media
Follow us on Twitter: