LSU Residency Training Program in Urology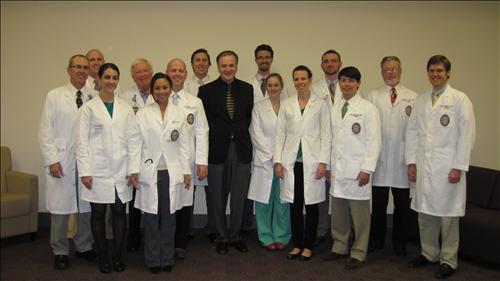 Urological training comprises of rotations at University Medical Center, Touro Infirmary, East Jefferson General Hospital, and Children's Hospital. Excellent in-patient and out-patient experience in urological disorders in both pediatric and adult patient is accomplished during the four years of urological training at the public and private hospitals affiliated with the program. The twelve members of the urologic faculty participate in daily surgical teaching and education. Weekly urologic radiology, pathology, and didactic conferences are held. In addition, a monthly morbidity and mortality conference and journal club are held. One adult and one pediatric visiting professorship is sponsored for the residents each year.
All residents are encouraged to perform basic and/or clinical urological research, present that research each year, and publish one paper upon completion of the training program. Financial support for presentation of these papers by the residents at national urologic meetings is provided by the program.
The yearly in-service examinations provided by the Office of the Education of the American Urological Association are taken by all the residents. The clinical teaching program and didactic conferences are designed to prepare the residents for board certification. Chief residents are sponsored by the program to take the Board Review Course prior to the Part I Qualifying Examination given by the Board of Urology.
The LSU Residency Training Program in Urology provides a balanced education in both cognitive and non cognitive skills which will be necessary for a competent urologist in today's world.
Applications to the program are received thru ERAS commencing in September. All interviews for selected applicants are conducted on the second Thursday and Friday in November. The national match occurs in January.