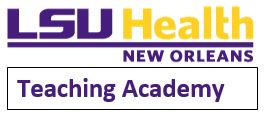 Call for Academy Member Application Portfolios
Expanded Membership Categories Now Available:
Protege, Associate, Fellow, Master Teacher, Teaching Scholar
Applications may be submitted at any time.
Peer review cycles occur quarterly, starting on the
15th of March, June, September, and December.
SAVE THE DATE
2015 Academy Educational Scholarship Day and Fall Symposium
Wednesday, October 28
Full Program Agenda (PDF)
SAVE THE DATE
2016 Spring Symposium and Faculty Development Program
Thursday, March 31
Program agenda is forthcoming.
Click the link below for a quick overview of the Academy and membership.
For full details and to download application portfolio templates, scroll down and click the link to "Membership Applications"
A Quick Look at the Academy and its Membership Categories (PDF)
Please join us in welcoming new Teaching Academy members who were also accepting into the 2015-16 Docere Teaching Excellence Fellows to the Teach Academy:
Bruce Hurley, MD , Associate, Instructor, Clinical Medicine, School of Medicine
Leigh Anne Burns, MS, Associate, Instructor, Clinical Medicine/Nutrition, School of Medicine
Rachel Chappell, MHS, Associate, Assistant Professor and Academic Coordinator, School of Allied Health
Suzanne Fournier, DDS, Associate, Assistant Clinical Professor, School of Dentistry
Douglas Johnston, PhD, Associate, Assistant Professor, School of Medicine
Maria Reinoso, MD, Associate, Clinical Assistant Professor, School of Medicine
Please join us in welcoming the newest Teaching Academy members::
Marie Adorno, PhD, APRN, Associate, Instructor of Clinical Nursing, School of Nursing
Tina Benoit-Clark, MD, MBA, FACP, Fellow, Assistant Professor of Clinical Medicine, Internal Medicine (Lafayette), School of Medicine
Janice Townsend, DDS, Master Teacher, Chair, Pediatric Dentistry, Associate Professor, School of Dentistry
Kathleen Crapanzano, MD, Teaching Scholar, Program Director, Psychiatry (OLOL-BR), School of Medicine