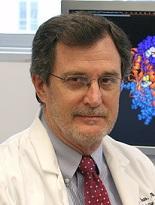 Arthur Haas, PhD
Professor
Degrees
PhD - 1979
Northwestern University, Chicago, IL
Biography
Dr. Haas obtained his Bachelor of Science in Biochemistry from Texas Christian University in 1974. His Doctorate in Biochemistry was awarded in 1979 by Northwestern University School of Medicine in Chicago. From 1979 to 1983, Dr. Haas was on the staff of the Institute for Cancer Research of the Fox Chase Cancer Center in Philadelphia where he was a NIH postdoctoral fellow. During this time he co-discovered the role of ubiquitin in protein turnover with Irwin Rose, Avram Hershko, and Aaron Ciechanover, who shared the 2004 Nobel Prize in Chemistry for this work. Since 1983, he has been a faculty member in the Department of Biochemistry at the Medical College of Wisconsin and in 2004 joined the LSU Health Sciences Center as Roland Coulson Professor and Head of the Department of Biochemistry & Molecular Biology. In 2020, Dr. Haas stepped down as department Head to donate more time to the final phase of his research career. Dr. Haas has authored over 120 papers, reviews, and book chapters focused on cell regulation by ubiquitin and other Class 1 ubiquitin-like proteins, particularly ISG15. He has also served on numerous editorial boards, study sections, and scientific advisory panels in addition to visiting professorships at the University of Coimbra (Portugal), and the Institute of Biological Chemistry of the University of Urbino, Italy.
Clinical Interests
The roles of ubiquitin and ISG15 conjugation in cellular regulation.
Teaching Activities
The LSU School of Medicine and LSU Health Sciences Center are pleased to announce the establishment of the Arthur L. Haas Endowed Lectureship. An anonymous donor made a $100,000 gift to fund this lectureship in honor of Dr. Haas' illustrious career in research, mentoring, and academic leadership and to support higher education within the School's membership and the New Orleans public.read more...