With the 2017 House Officer Orientation in the rear view mirror, the GME office had a moment to reflect upon the processes implemented to streamline the hiring, promoting, and terminating the over 800 residents and fellows in the 64 LSU GME programs.
Incoming house officers completed and sumbitted an average of 14 separate documents for the GME office.  Thanks to improvements by the GME office this year, the  14 documents are now auto-filled by a process which alleviates residents from completing duplicate information in multiple forms.  If it took even 60 seconds for a resident to complete each document, this process has saved our new residents 112 hours!
Program coordinators also reaped the benefits of this system and enjoyed at least 14 hours of time saving for new resident paperwork and 8 hours in continuing residents.  An additional 32 hours was saved in this year's auto-filling the appointment spreadsheets!
And while computers and the new processes can save time, each year the GME office still generates a considerable amount of paperwork that has to be sorted, filed and archived.  Much of the completed paperwork is scanned into digital files. In fact, this year we scanned 5,670 digital files for incoming house officers and 1,520 digital files for continuing house officers.   Those 7,190 files equal 18,644 pieces of paper!  Or, simply, 37 reams of copy paper.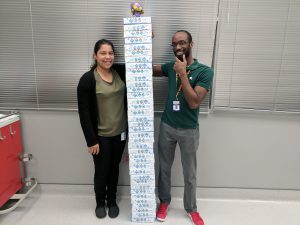 Student workers, Astrid and Michael, provided this visual of 37 reams of paper.
The GME office continues to innovate and improve processes to improve accuracy and save time.  We added 186.5 lbs of paper to our files this year.  Through ongoing efforts to increase efficiency we hope to decrease the paper needed for the hiring processes each year.