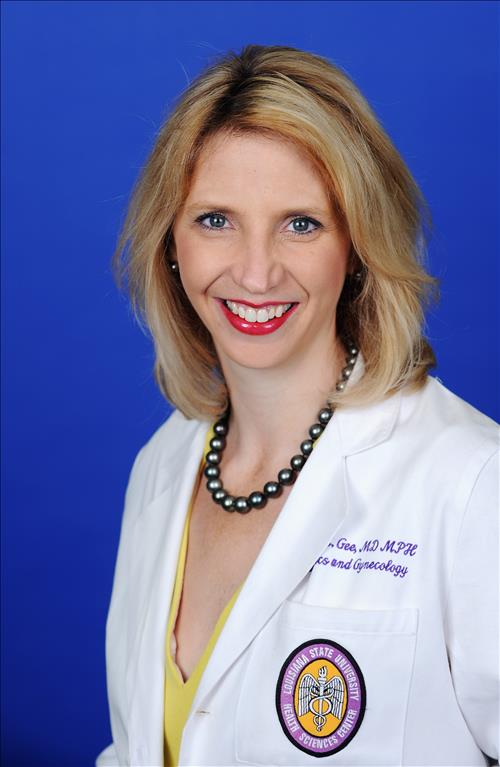 Gratis Assistant Professor, LSU Schools of Public Health & Medicine
To make an appointment with this provider, please contact:

LSU Healthcare Network
3700 St. Charles Avenue, 5th floor
New Orleans, LA  70115
504-412-1520

 

Administrative Office:

1542 Tulane Avenue, Box T5-2
New Orleans, LA  70112
Phone: (504)568-4850
Fax: (504)568-5140

Email: rgee@lsuhsc.edu

 
1997  BA, Columbia College/Columbia University (American History)
1998  MPH, Columbia School of Public Health (Health Policy and Management)
2002  MD, Cornell University Medical College (Honors in Research)
2006  OB/GYN Residency, Brigham and Women's Hospital, Massachussetts General Hospital
2009  MS University of Pennsylvania (Health Policy Research)
Dr. Rebekah Gee is the Medicaid Medical Director for the state of Louisiana. She is an Assistant Professor of Health Policy and Management and Obstetrics and Gynecology at Louisiana State University (LSU). Dr. Gee completed a Robert Wood Johnson Clinical Scholars program at the University of Pennsylvania and there received a Master of Science in Health Policy Research.  She studied history and obtained an M.P.H. at Columbia University in Health Policy and Management, obtained her medical degree at Cornell, and trained in Obstetrics and Gynecology at Harvard at the Brigham and Women's and Massachusetts General Hospitals.
Dr. Gee has served at both state and national leadership roles in public health policy.  She has advised the public health departments of several states including Louisiana, Pennsylvania, Ohio and Massachusetts.  Notably, as the director for the Birth Outcomes Initiative for the state of Louisiana, she led the charge to end elective deliveries before 39 weeks –an effort that led to an 85% drop statewide. She has served as chair or co-chair of several national committees on maternity quality and prematurity reduction for the Centers for Medicare and Medicaid Services (CMS), the Maternal and Child Health Bureau (HRSA) and the American College of Obstetricians and Gynecologists (ACOG).  Dr. Gee is the health policy resident expert for the journal Obstetrics and Gynecology and serves on the editorial board. Dr. Gee is on the Institute of Medicine's (IOM) Board of Health Care Services and is the inaugural recipient of a two year Gant fellowship at the IOM.
She is the recipient of the Association of Maternal and Child Health Programs 2012 State Leadership in Maternal and Child Health award. In 2014, Dr. Gee received the Woman of the Year award from New Orleans City Business, was recognized as a "40 under 40" leader for New Orleans, a new Orleans "Healthcare Hero" and received the American Medical Student Association "Women in Leadership" award. Dr. Gee is clinically active and is caring for patients at LSU.  She lives in New Orleans and is the mother of five energetic children: twins Elizabeth and Eva, Ben, Eloisa and Nathan and is married to David Patrón.