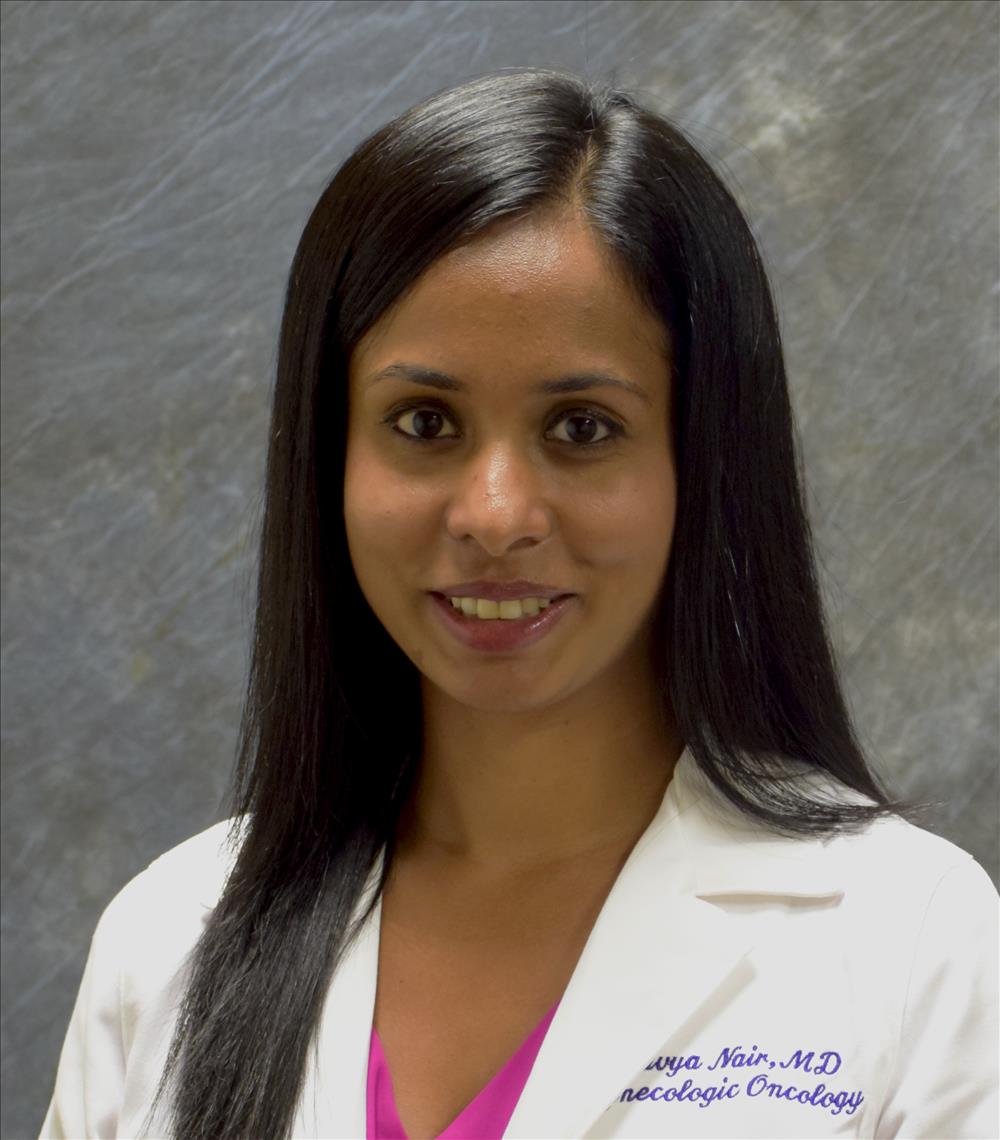 Assistant Professor - Clinical
To make an appointment with this provider, please contact:

LSU Healthcare Network
3601 Houma Blvd., Suite 203
Metairie, LA  70006
Phone: (504) 412-1650
Fax: (504) 412-1660

 

University Medical Center Cancer Center
2000 Canal Street, 5th floor
New Orleans, LA 70112
Phone: (504) 702-3311
Fax: (504) 702-5739
For an appointment please contact us or have your referring provider fax a referral to us at the above number.

West Jefferson Cancer Center
1101 Medical Center Blvd
Marrero, LA 70072
Phone: (504) 349-6360
Fax: (504) 349-6363
For an appointment please contact us or have your referring provider fax a referral to us at the above number.

 

 

Administrative Office:

2021 Perdido St., 4th floor
New Orleans, LA  70112
Phone: (504)568-4850
Fax: (504)568-5140
2006 - B.S. in Engineering, Tulane University, New Orleans, LA
2007 - Masters in Public Health, focus on International Health & Development, Tulane University, New Orleans, LA
2011 - M.D. New York University, New York, NY
2015 - Residency in Gynecology & Obstetrics, Emory University, Atlanta, GA
2018 - Fellowship in Gynecologic Oncology, Mount Sinai School of Medicine, New York, NY
Dr. Navya Nair is a Gynecologic Oncologist with the LSU Health Sciences Center, Department of Obstetrics and Gynecology. She completed her medical degree at New York University where she was inducted into the prestigious Alpha Omega Alpha medical honor society. She was also awarded the Eleanor Mayer Masters Scholars Humanism award for being the student who exemplified a sense of humanity and patient empathy while in medical school.
She then went on to complete her residency at Emory University, where she served as Administrative Chief Resident and was recognized for outstanding clinical service in both Gynecology and Gynecologic Oncology. She developed her research interests in cancer public health by collaborating with the Centers for Disease Control and Prevention, Cancer Prevention division in studying providers' practices regarding HPV vaccination as well as the Georgia Center for Oncology Research and Education in studying primary care provider knowledge of hereditary breast and ovarian cancer. During this time, she also honed in on her surgical skills and was awarded the Society of Laparoendoscopic Surgeons scholarship to attend the multispecialty fellowship summit to develop laparoscopic surgical skills. She also developed her commitment to teaching and won the Golden Apple Award for medical student teaching.  At her residency graduation, she was honored with the prestigious award of Most Outstanding Senior Resident, where she was recognized by her faculty and co-residents as the senior resident who continually exemplifies professionalism and humanism, excelled in clinical service, and was an outstanding teacher and role model for junior residents and students.
Dr. Nair completed her fellowship in Gynecologic Oncology at Mount Sinai Hospital in New York. As her fellowship research experience, she completed a translational research project where she prospectively collected and analyzed uterine lavage fluid to identify genetic mutations in the fluid in order to detect endometrial cancers. This comprehensive research project was published in the coveted PLoS Medicine Special Issue " Translating the Cancer Genome — Implications for Diagnosis and Treatment." She was also actively involved in successfully developing the Enhanced Recovery pathway in the Department of Obstetrics and Gynecology.
Dr. Nair also has a strong interest in global women's health. During her training, she has worked in India, Ethiopia, and Liberia and hopes to contribute to improvingn the care of women worldwide by implementing cancer prevention programs and improving access to cancer care.
In September 2018, Dr. Nair returned to her hometown of New Orleans to practice as a gynecologic oncologist. She specializes in the use of surgery and chemotherapy in treating women with gynecologic cancers. In addition, she is actively involved with the clinical trials program at the Louisiana Cancer Center. Dr. Nair started the first state wide, CME approved Gynecologic Oncology Tuor Board. Gynecologic oncologists, medical oncologists, radiation oncologists, pathologists, radiologists from across the state meet via zoom to participate in this bimonthly conference. Through interdisciplinary discussion of complex cancer cases, review of NCCN guidelines, and teaching on latest literature, our division strives to elevate the level of cancer care for women across Louisiana.
Dr. Nair started a New Orleans-wide Gynecologic Oncology Journal Club where gynecologic oncologists from across the city both in academic and private practice get together and review the latest literature. In addition to staying up to date with the latest developments in women's cancer care, this regular meeting fosters a friendly and collaborative relationship among the gynecologic oncologists in the area. During the COVID pandemic, this in-person meeting was transitioned online and that allowed for inclusion of gynecologic oncologists from across Louisiana to participate.
She is a Fellow of the American College of Obstetrics and Gynecology. She is board certified in Obstetrics and Gynecologic and board eligible in Gynecologic Oncology. She is a member of the Society of Gynecologic Oncology and the American Society of Clinical Oncology. Her research interests lie in reducing barriers to cancer care and improving quality of cancer care. She was instrumental in developing the Enhanced Recovery protocol in Gynecologic services at University Medical Center and has shared findings from this project at the LSU quality Improvement meeting as well as the AAGL annual meeting.
Dr. Nair is a national and international leader in the field. She serves on the Society of Gynecologic Oncology's Diversity and Inclusion Task Force as well as the Gender Equity Task Force. She is currently an editorial fellow at the International Journal of Gynecologic Cancer.
Dr. Nair is a clinician scientist and actively participates in research projects. At LSU, she has collaborated with colleagues in the department of microbiology, public health, and biostatics departments. Below are some of her research activities and publications.
Identifying healthcare disparities and bridging gaps to improve cancer care delivery. As a member of the Society of Gynecologic Oncology Diversity and Inclusion Task force, she has participated in various initiatives bringing awareness to healthcare disparities. Dr. Nair was a panelist in a national webinar titled "Health Equity in the COVID-19 Era: Understanding the Data and Strategies to Support Vulnerable Populations," where she shared the Louisiana perspective as one of the early epicenters of the COVID-19 pandemic. She continue to collaborate with colleagues across the country to bridge healthcare disparities and promote health equity for all.

Farley JH, Hines JF, Lee NK, Brooks SE, Nair N, Doll K, Chapman-Davis E. Promoting Health Equity in the COVID-19 Era. Accepted for publication in Gynecologic Oncology April 2020.
Farley JH, Hines JF, Lee NK, Brooks SE, Nair N, Chapman-Davis E. Promoting Health Equity in the COVID-19 Era. Society of Gynecologic Oncology COVID-19 Communiqué. April 14, 2020. https://www.sgo.org/clinical-practice/covid-19-communique/
Translational research to develop cancer screening tools and early detection of cancer recurrence: Throughout her career, Dr. Nair has been interested in preventative health whether it be through population based or individualized medicine. During her year long research experience in fellowship, she developed a translational research study where she performed a genomic analysis of uterine lavage fluid in symptomatic patients undergoing hysteroscopy and found that analysis of the DNA of the lavage fluid could detect endometrial cancer. Even more interesting, she found a landscape of mutations in patients who did not have a cancer diagnosis. The question still lies as to what this means clinically. One of these patients subsequently went on to develop cancer. This begs the question as to whether this method could be used as a screening tool for endometrial cancer detection.
Currently, Dr. Nairam studying circulating HPV DNA as a biomarker for cervical dysplasia and cancer. For this translational project, she collaborates with members of the microbiology department and has been the faculty mentor for a resident research grant to validation of the HPV DNA assay.
Nair N , Camacho-Vanegas O , Rykunov D, Dashkoff M, Camacho SC, Schumacher CA, Irish JC, Harkins TT, Freeman E, Garcia I, Pereira E, Kendall S, Belfer R, Kalir T, Sebra R, Reva B, Dottino P, Martignetti JA. Genomic Analysis of Uterine Lavage Fluid Detects Early Endometrial Cancers and Reveals a Prevalent Landscape of Driver Mutations in Women without Histopathologic Evidence of Cancer: A Prospective Cross-Sectional Study. PLoS Medicine. 2016 Dec 27;13(12):e1002206.
Pereira E  , Camacho-Vanegas O, Anand S, Sebra R, Catalina Camacho S, Garnar-Wortzel L, Nair N, Moshier E, Wooten M, Uzilov A, Chen R, Prasad-Hayes M, Zakashansky K, Beddoe AM, Schadt E, Dottino P, Martignetti JA. Personalized Circulating Tumor DNA Biomarkers Dynamically Predict Treatment Response and Survival In Gynecologic Cancers. PLoS One. 2015 Dec 30;10(12):e0145754
Population health: In conjunction with Dr. Nair's population based research interests in the BRCA population, she has also studied guideline based screening of the general population of women. As part of her Masters in Public Health capstone project, she worked at the Louisiana Office of Public Health and studied whether Louisiana obstetrician offices were following CDC guidelines in assessing Group B Streptococcus status of women and preventing neonatal transmission. In residency, she pursued this research interest further in collaboration with the Centers for Disease Control Cancer prevention division to study providers' knowledge and adherence to screening guidelines towards screening women who have received HPV vaccination. In addition to these state-wide and national population health studies, she has a strong interest in global women's health. In medical school, Dr. Nair participated in the NYU School of Medicine International Health Program where she traveled to Kerala, India and studied barriers to reproductive healthcare access in the adolescent population. In residency at Emory, she was accepted to the Global Health Scholars program, a year long program with regular seminars on global health issues culminating in a 1 month clinical experience in Addis Ababa, Ethiopia. In fellowship, Dr. Nair pursued this interest further and wrote a review article on challenges to cancer program development in low and middle income countries. She spent her elective month in Monrovia, Liberia where she studied attitudes towards palliative care and primary HPV based screening and treatment in the general population. 

Nair, N. GBS Assessment, Prevention, Control Policies in Perinatal Women - Louisiana, January - May, 2007. Louisiana Morbidity Report. July – August 2007. Volume 18, Number 4. Pages 2-3.
Berkowitz Z, Nair N, Saraiya M. Providers' practice, recommendations and beliefs about HPV vaccination and their adherence to guidelines about the use of HPV testing, 2007 to 2010. Preventive Medicine. 2016. 87:128-131.
Identifying and managing patients with inherited cancer syndromes: Identification and management of patients with inherited cancer syndromes has been a significant research interest of Dr. Nair's. She was first exposed to hereditary cancer syndromes in medical school when she cared for a woman with Lynch syndrome patient who developed cervical adenocarcinoma, which is not known to be an associated cancer with this syndrome. This initial exposure piqued her interest and while in residency at Emory, Dr. Nair studied primary care providers' knowledge of hereditary breast and ovarian cancer in collaboration with the Georgia Center for Oncology Research and Education. Dr. Nair and her team surveyed providers on whether they understood the basics of BRCA inheritance and identification of which patients are at risk based on family and personal histories. Interestingly, she found a severe knowledge gap here. This made her passionate about not only provider education but ensuring that at risk patients are appropriately counseled and have resources available to them for genetic counseling and testing. Having developed a strong interest in providing appropriate care for this patient population, Dr. nair did an international survey of BRCA patients through use of social media to learn how these patients were being counseled on risk reducing surgery and found that a vast number of patients with BRCA were being counseled to have a hysterectomy despite the evidence to support this.

Nair N, Curtin JP, Mittal K. Hiotis KL. Cervical adenocarcinoma in a patient with Lynch Syndrome, Muir-Torre variant. Journal of Clinical Oncology  2012 Jan 10;30(2):e5-6. Epub 2011 Nov 28.
Nair N, Bellcross C, Haddad L, Martin M, Matthews R, Gabram-Mendola S, Crane B, Meaney-Delman D. Georgia Primary Care Providers' Knowledge of Hereditary Breast and Ovarian Cancer Syndrome. Journal of Cancer Education. 2015 Dec 5.
Paris N, Gabram-Mendola SG, Kerber AS, O'Connor J, Crane BE, Martin ML, Traxler, LB, Matthews R, Parker C, Webster R, Schmitt E, Meaney-Delman D, Nair N, Green VL, Bellcross CA. Hereditary breast and ovarian cancer: risk assessment in minority women and provider knowledge gaps. The Journal of Community and Supportive Oncology. Jun 2016. Vol 14, Number 6. 261-7.
Nair N,Schwartz M, Guzzardi L, Durlester N, Pan S, Overbey J, Chuang L. Hysterectomy at the time of risk-reducing surgery in BRCA carriers. Gynecol Oncol Rep. 2018 Oct 6;26:71-74.
Surgical techniques: As a surgeon, intraoperative techniques are an additional interest of hers. Dr. Nair collaborated on a study assessing sentinel node ultra-staging as a method of overcoming issues with frozen section reporting. She also published on a unique transvaginal method of tubo-ovarian abscess drainage in a very sick patient who presented with recurrent tubo-ovarian abscesses that did not resolve with previous surgery.

Blakely M, Liu Y, Rahaman J, Prasad M, Tismenetsky M, Wang X, Nair N, Dresser K, Nagarsheth N, Kalir T. Sentinel Lymph Node Ultra-staging as a Supplement for Endometrial Cancer Intraoperative Frozen Section Deficiencies. International Journal of Gynecological Pathology. 2017 Sep 29
Lachiewicz MP, Nair N. Simple Technique for Transvaginal Aspiration of a Tubo-Ovarian Abscess. Gynecologic and Obstetric Investigation. 2016;81(4):381-4.