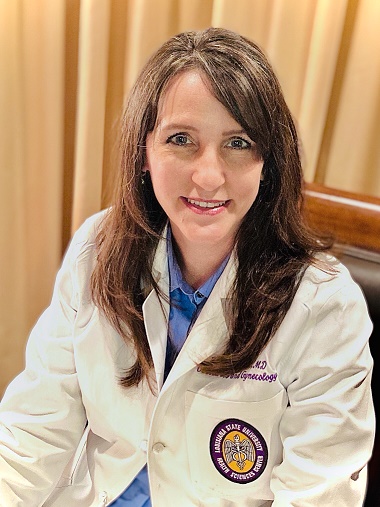 Holly C. Provost, MD FACOG
Associate Professor of OB/GYN

Section Chief, Gynecologic Services, UHC (Lafayette)

Clerkship Site Director, UHC
1998  MD, LSU Health Sciences Center, Shreveport, LA
2002  Residency, OBGYN, LSU Health Sciences Center, Shreveport, LA
Holly Chachere Provost MD is a native of Louisiana.  She grew up in Opelousas, LA and attended LSU in Baton Rouge and Eunice.  She then married her high school sweetheart and moved to Ft Bragg for her husband's military service.  She received her Bachelor's degree in Zoology in 1993 from Methodist College in North Carolina.  She moved back to Louisiana for medical school and residency in OB/GYN at LSUHSC-Shreveport.  Once she finished her residency program in 2002, she returned to her home town of Opelousas to start her own private practice and became Board Certified in OB/GYN in 2004.  During this time, she developed and maintained a thriving OB/GYN office, giving care to friends for 10 years.  Following bilateral shoulder surgeries and with much regret, she closed her practice.  After 2 years of recovery, she happily sought out a home in teaching at University Hospital and Clinics in Lafayette, LA which she began in September of 2014.
Since joining the OB/GYN family of LSUHSC-NO,  she was appointed as the Section Chief of Gynecological Services and Associate Professor of OB/GYN in Lafayette.  This adjunct facility provides an experience that is similar to private practice and a steady surgical service for the residents.    She is also bridging the gap between a Family Medicine obstetrical service and OB/GYN residents and works to improve relations with private community staff to allow for a broader training format.  Dr. Provost is able to offer insights into operating a business and nuances of office life outside of academics.  Her clinical expertise and interests lie in treatment of early pregnancy and loss, teaching office ultrasonography, teaching the art of vaginal approach to minimally invasive hysterectomy, and creating confident and qualified gynecologists.  She received the coveted Golden Scalpel Award - a surgical teaching award from the chief residents within her first year of service.
Her home life is very active with her husband and 3 growing children, which is more challenging than anything at UHC.