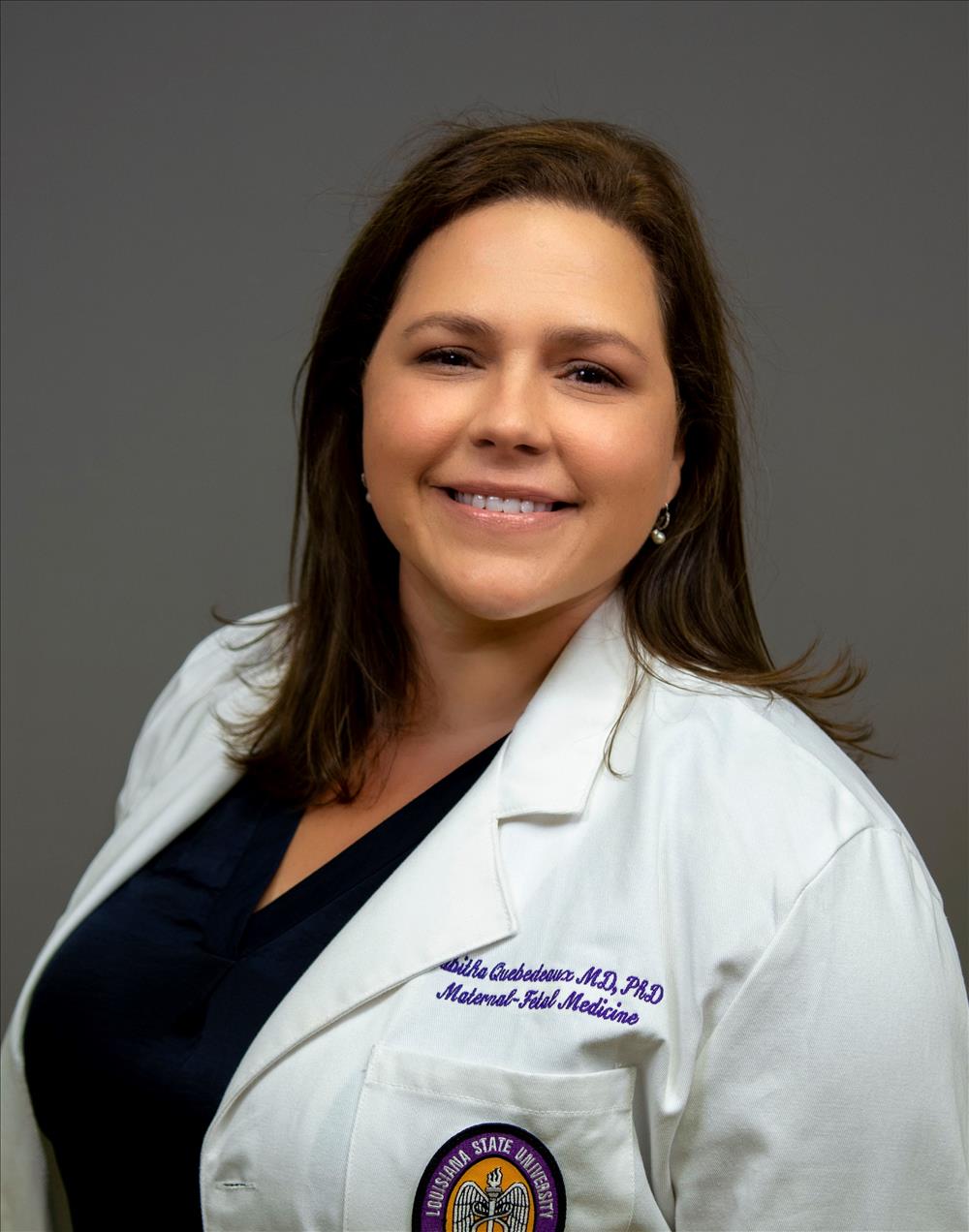 Tabitha M. Quebedeaux, MD, PhD
Assistant Professor, Clinical
For appointments:

West Jefferson Medical Center, (504) 349-2528

Touro Maternal Fetal Medicine (504) 897-8213

 

Administrative Office:

2021 Perdido St., 4th floor
New Orleans, LA 70112
Phone: (504) 568-4850
Fax: (504) 568-5140
2013:  MD/PhD, Louisiana State University Health Sciences Center, New Orleans, LA
           PhD in Neuroscience
2017:  Residency, Louisiana State University Health Sciences Center, New Orleans, LA
2020:  Fellowship, University of Maryland, Baltimore, MD
Dr. Quebedeaux was born and raised on the Westbank of New Orleans. After completing her undergraduate studies at Loyola University - New Orleans, she continued her undergraduate research in Neuroscience at Tulane University and the University of New Orleans. She went on to complete a MD/PhD program at LSUHSC-New Orleans. Her PhD thesis work, which focused on epileptogenesis, or the development of epilepsy, had a strong influence on her developing long-term research interests. In particular, the influence of the in utero environment on neonatal neurological outcomes stood out as an amazing field of medicine that blended her love of Neuroscience and Perinatology. Ultimately, she decided to pursue a career in Maternal Fetal Medicine to care for the high-risk obstetric population while simultaneously continuing research in fetal neurodevelopment. During her MFM fellowship at the University of Maryland School of Medicine, she utilized an animal model of chronic in utero hypoxia exposure to investigate mitochondrial function in the fetal forebrain. She has now come back to LSUHSC-New Orleans to care for high risk pregnancies in the greater New Orleans area and to build a research program focused on perinatal research.
Fetal Neurodevelopment
Role of in-utero inflammation and hypoxia on neonatal encephalopathy
Fetal growth restriction and uteroplacental insufficiency
Critical Care Obstetrics
Initiatives to reduce maternal morbidity and mortality rates in pregnancy
Peer Reviewed Publications
Crimmins, S., Lucille, M., Myers, M., Elsamadicy, E., Quebedeaux, T., Desai, A., and Kopelman, J. (2023). Hemoglobin A1c as a substitute for oral glucose testing in early pregnancy screening. American Journal of Perinatology.
Pettus, P., Gavlinski, L., Beerman, S., Chappel, A., Scheib, S., Quebedeaux, T., Louviere, A., Sutton, E., and Holman, S. (2023). Implementation of and barriers to ptimizing postpartum care by resident and attending physicians. Ochsner Journal.
Quebedeaux, T., Song, H., Giwa-Otusaho, J. and Thompson, L.P. (2022) Chronic hypoxia inhibits respiratory complex IV activity and disrupts mitochondrial dynamics in the fetal guinea pig forebrain. Reprod Sci 29(1):184-192.
Sfondouris, J., Quebedeaux, T., Holdgraf, C., and Musto, A (2012) Combined process automation for large-scale EEG analysis. Computer Biol Med. 42(1):129-134
Harvey, A., Gibson, T., Quebedeaux, T., and Brenner, C. (2007) Impact of assisted reproductive technologies: a mitochondrial perspective of cytoplasmic transplantation. Current Topics in Developmental Biology. 77: 229-249.
Gibson, T., Pei, Y., Quebedeaux, T., and Brenner, C (2006) Mitochondrial DNA deletions in primate embryonic and adult stem cells. Reproductive Biomedicine Online. 12:101-106.
Book Chapter
Quebedeaux, T., Turan, S., and Pollin, T. (2019). Genetics, perinatal counseling and diabetes education. In Reece and Coustan: Diabetes and obesity in women: adolescence, pregnancy and menopause. Fourth Edition. Philadelphia, PA. Wolters Kluwer.
Awards and Honors
2023   ACOG National Faculty Award for Excellence in Resident Education
2023   LSUHSC Resident Golden Pessary Award for Excellence in Mentoring
2023   Touro LCMC Health Top Clinical Teacher Award
2022    LSUHSC Resident Golden Stork Award for Excellence in Teaching
2021    APGO Excellence in Teaching Award Recipient
2020    UMMC Nursing Excellence Awards - Physician Colleague Nominee
2019    ACOG Maryland Section Research Symposium - 1st place for Fellow Research
2017    The Carlomagno Award, LSUHSC Department of OBGYN Chief Award
2016    Department of OBGYN Resident Research Day - 1st place, LSUHSC
2016    Society for Maternal Fetal Medicine Resident Award for Excellence, LSUHSC
2016    LSU SOM Aesculapian Society Teaching Award - Resident of the Year, LSUHSC
2014    LSU Department of OBGYN Clerkship Recognition for Outstanding Teaching
2014    LSU SOM Gold Humanism Honor Society - Intern Award, LSUHSC
2014    LSU SOM Aesculapian Society Teaching Award - Intern of the Year Nominee