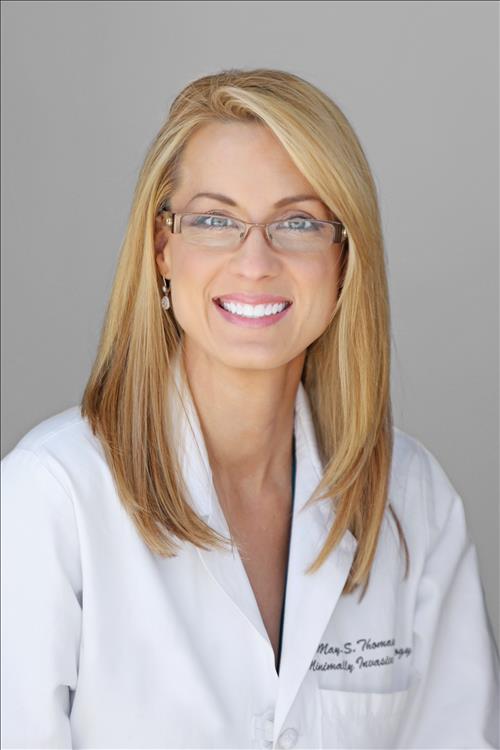 Assistant Professor-Clinical OBGYN
2003  BS, Louisiana State University, Baton Rouge, LA
2007  MD, LSU Health Sciences Center, Shreveport, LA
2011  Residency, OBGYN, Vanderbilt University, Nashville, TN
2013  Fellowship, Minimally Invasive Gynecologic Surgery, Vanderbilt University, Nashville, TN
Dr. May Thomassee is a Clinical Assistant Professor of Obstetrics and Gynecology at University Hospital and Clinics in Lafayette. Dr. Thomassee is a native of Natchitoches, Louisiana and a graduate of LSU A&M in Baton Rouge and LSU School of Medicine in Shreveport. She completed her residency training in Obstetrics and Gynecology at Vanderbilt University in Nashville, TN, where she served as Administrative Chief Resident. Upon graduation, Dr. Thomassee focused her training in Gynecology and completed a 2 year Minimally Invasive Gynecology Surgery fellowship. During this time, she was able to gain an expert level skill set in laparoscopy, operative hysteroscopy, and pelvic anatomy. Following her fellowship, she joined the faculty at Vanderbilt as a Minimally Invasive Gynecologic subspecialist for two years. During this time, she pursued an active role in the residents' education, and was the director of the gynecologic surgical curriculum. She led an active role in surgical simulation and training during this time.
In 2014 and 2016, she received the CREOG National Faculty Award for excellence in resident education. Dr. Thomassee is a Fellow of the American College of Obstetricians and Gynecologists and is board certified by the American Board of Obstetrics and Gynecology. She has co-authored several book chapters, including chapters in TeLinde's Operative Gynecology and Blueprints for Obstetrics and Gynecology. Se has been an invited expert faculty educator for total laparoscopic hysterectomy and laparoscopic suturing courses.
Her clinical interests lie in the treatment of women with menstrual disorders, endometriosis, uterine fibroids, benign ovarian cysts, pelvic pain and vulvar pain. Her surgical interests lie in operative laparoscopy, including challenging hysterectomies, as well as operative hysteroscopic myomectomies and endometrial resection. She enjoys teaching endoscopic technique to the residents.
Dr. Thomassee lives in Lafayette with her husband, Eric, who is an Interventional Cardiologist. They have one son, Parker. In her free time, Dr. Thomassee enjoys spending time with her family and friends and pilates.