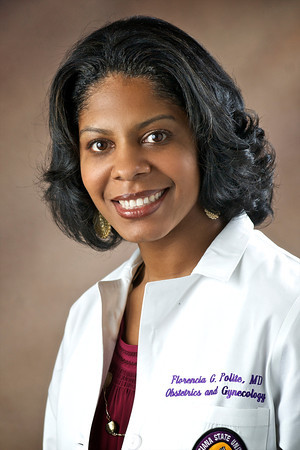 Associate Professor - Clinical
Obstetrics and Gynecology

 
To make an appointment with this provider, please contact:

LSU Healthcare Network
3700 St. Charles Avenue, 5th floor
New Orleans, LA  70115
504-412-1520

 

Administrative Office:

1542 Tulane Avenue, Box T5-2
New Orleans, LA  70112
Phone: (504)568-4850
Fax: (504)568-5140

fpolit@lsuhsc.edu
1997 - B.S. Biology, Harvard College, Cambridge
2002 - M.D., University of Pennsylvania
2006 - Residency,  NYU School of Medicine/Bellevue Hospital Center, NY
Dr. Florencia Polite is an Associate Professor of Clinical Obstetrics and Gynecology at LSU in New Orleans.  Dr. Polite is a native of Philadelphia and a graduate of Harvard College and the University of Pennsylvania School of Medicine. She completed her residency training in Obstetrics and Gynecology at NYU, where served as the Administrative Chief Resident and received the Lyman Barton Memorial Chief Resident award.  Upon graduation, Dr. Polite joined the faculty at NYU where she served as the Associate Residency Program Director for the Department of Obstetrics and Gynecology.   In August 2010, Dr. Polite and her family moved to New Orleans and she joined the LSU faculty in the Generalist Division of OBGYN.  Dr. Polite is currently the Generalist Division Director and Director of Faculty & Resident Development having served as the LSU OBGYN Residency Program Director from 2012 to 2017.  For over a decade, Dr. Polite has been the recipient of an award for either mentorship or teaching by medical students and residents.  She has received the coveted CREOG National Faculty Award, the APGO Excellence in Teaching Award, the LSU Health Sciences Center Alumni Excellence Award, and has been a nominee for the LSU Aesculapian Society's Attending Excellence in Teaching Award.
Dr. Polite is a Fellow of the American College of Obstetricians and Gynecologists. She was board certified by the American Board of Obstetrics and Gynecology in 2007.  During the years of 2007 to 2014, Dr. Polite served as a lecturer with the America's OBGYN Board Review Course and is the sole-author and creator of an OBGYN daily desk calendar with 365 multiple choice questions designed to assist residents in studying for the written and oral boards.  She knows serves on the National Medical Board's USMLE Step 2CS Test Material Development Committee.
Dr. Polite's clinical interests include obstetrical care as well as the treatment of fibroids, abnormal uterine bleeding, cervical dysplasia, colposcopic evaluations, hysteroscopy, LEEP/cone biopsy, operative laparoscopy, osteoporosis, menopause/perimenopause, and well-woman care.
Dr. Polite lives in New Orleans with her husband (a New Orleans native) and their two daughters.