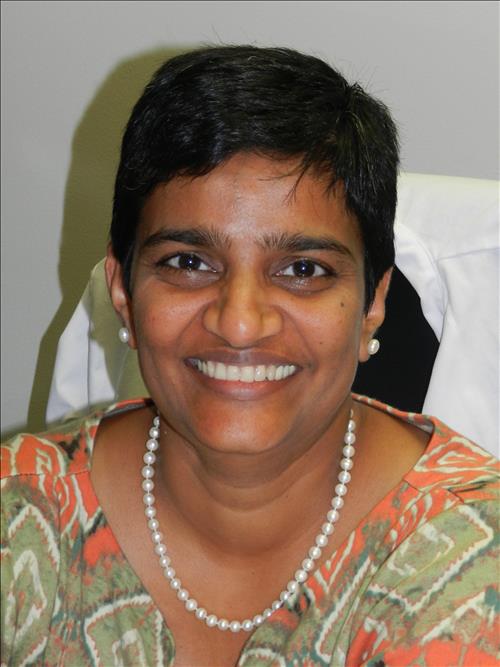 1901 Perdido Street 
New Orleans, LA 70112
Room 7249
(504) 568-3395
Email: lsimo2@lsuhsc.edu
BVSc - Bachelor of Veterinary Sciences 1997, College of Veterinary and Animal Sciences, Kerala, India
MVSc - Master of Veterinary Sciences (Reproductive physiology) 1999, College of Veterinary and Animal Sciences, Kerala, India
Ph.D. – Reproductive physiology 2005, Tamilnadu Veterinary and Animal Sciences University, India
Dr. Simon received her Ph.D. in endocrine physiology with the support of an Indian Council of Agricultural Research fellowship and did her postdoctoral training at the College of Veterinary Medicine, University of Illinois at Urbana Champaign in stem cell/endocrine physiology. She was an Assistant Professor in the Department of Biomedical Sciences at the College of Veterinary Medicine, Tuskegee University from 2010-2013. She also held an adjunct faculty position, Department of Pathology, School of Medicine at the University of Alabama at Birmingham from 2012-2013. She joined the Department of Physiology at LSUHSC, NO in July 2013.
Research in our laboratory focuses on mechanisms that regulate proliferation and differentiation of stem cells. Using animal models, we are studying epigenomic interactions that impair stem cell function contributing to dysregulated repair, regeneration and function. We are specifically interested in the dysregulation of skeletal muscle stem cell signaling that alters the fate of these cells in insults including alcohol use, HIV and disuse muscle atrophy. Our laboratory utilizes in vivo approaches, including models of alcohol administration and disuse atrophy; cell culture systems; and a wide array of molecular biology techniques to study genetic and epigenetic changes that contribute to dysfunction. Our ultimate goal is to develop epigenomic-targeted therapeutic and lifestyle interventions that improve muscle function and quality of life in aging or chronic diseases. The lab has also developed close collaborations within the department and at LSUHSC to investigate epigenomic mechanisms in metabolic dysregulation, and HIV disease
Endocrine Physiology - Dental Program
                                         Interdisciplinary Graduate Program
                                         Physical Therapy & Physician Assistant Programs
Cell biology -                  Interdisciplinary Graduate Program
Journal club -                 Course director, Physiology graduate program
Duplanty AA, Siggins RW, Allerton T, Simon L, Molina PE. (2018). Myoblast mitochondrial respiration is decreased in chronic binge alcohol administered simian immunodeficiency virus-infected antiretroviral-treated rhesus macaques. Physiological Reports. PMID:29504290
Simon L, Ford SM Jr, Song K, Berner P, Vande Stouwe C, Nelson S, Bagby G. J, Molina P. E (2017). Decreased myoblast differentiation in chronic binge alcohol and antiretroviral therapy administered simian immunodeficiency virus-infected macaques: role of miR-206. American Journal of Physiology – Regulatory, Comparative and Integrative Physiology PMID:28637658
 L, Siggins R, Winsauer P, Brashear M, Ferguson T, Mercante D, Song K, Vande Stouwe C, Nelson S, Bagby GJ, Amedee AM, Molina PE (2017). Simian immunodeficiency virus infection increases blood ethanol concentration duration after both acute and chronic administration. AIDS Res Hum Retroviruses. PMID: 29037050
Duplanty AA, Simon L, Molina PE. (2017) Chronic Binge Alcohol-Induced Dysregulation of Mitochondrial-Related Genes in Skeletal Muscle of Simian Immunodeficiency Virus-Infected Rhesus Macaques at End-Stage Disease. . Jan 8. PMID: 28069597
Ford SM Jr, Simon L, Stouwe CV, Allerton T, Mercante DE, Byerley LO, Dufour JP, Bagby GJ, Nelson S, Molina PE (2016) Chronic Binge Alcohol Administration Impairs Glucose-Insulin Dynamics and Decreases Adiponectin in Asymptomatic Simian Immunodeficiency Virus-Infected Macaques. American Journal of Physiology – Regulatory, Comparative and Integrative PhysiologyPMID: 27605560
Simon L, Hollenbach AD, Zabaleta J and Molina PE. (2015) Chronic binge alcohol administration dysregulates global regulatory gene networks associated with skeletal muscle wasting in simian immunodeficiency virus-infected macaques. BMC Genomics Dec 23;16(1):1097 PMID: 26699868
Simon L, LeCapitaine N, Berner P, Stouwe CV Mussell JC, Allerton TD, Primeaux SD, Dufour J, Nelson S, Bagby GJ, Cefalu W and Molina PE (2014) Chronic binge alcohol consumption alters myogenic gene expression and reduces in vitro myogenic differentiation potential of myoblasts from rhesus macaques. American Journal of Physiology – Regulatory, Comparative and Integrative Physiology, March 26, 2014. PMID 24671243
Molina PE, Amedee AM, Winsauer P, Nelson S, Bagby G, Simon L.(2015). Behavioral, Metabolic, and Immune Consequences of Chronic Alcohol or Cannabinoids on HIV/AIDs: Studies in the Non-Human Primate SIV Model. J Neuroimmune Pharmacology. 2015 Mar 21. PMID:25795088
Cooke PS, Simon L, Nanjappa MK, Medrano TI, Berry SE. (2015) Plasticity of spermatogonial stem cells. Asian J Androl. May-Jun;17(3):355-9 PMID:25677134
Simon L, Cooke PS, Berry SE (2013) Aorta-Derived Mesoangioblasts Can Be Differentiated into Functional Uterine Epithelium, but Not Prostatic Epithelium or Epidermis, by Instructive Mesenchymes. Cells Tissues Organs 198(3):169-78. Epub 2013 Oct 26. PMID: 24192012
Nanjappa MK, Simon L, Akingbemi BT (2012). The industrial chemical Bisphenol A (BPA) interferes with proliferative activity and development of steroidogenic capacity in rat Leydig cells. Biology of Reproduction 86:1-12. PMID: 22302688.