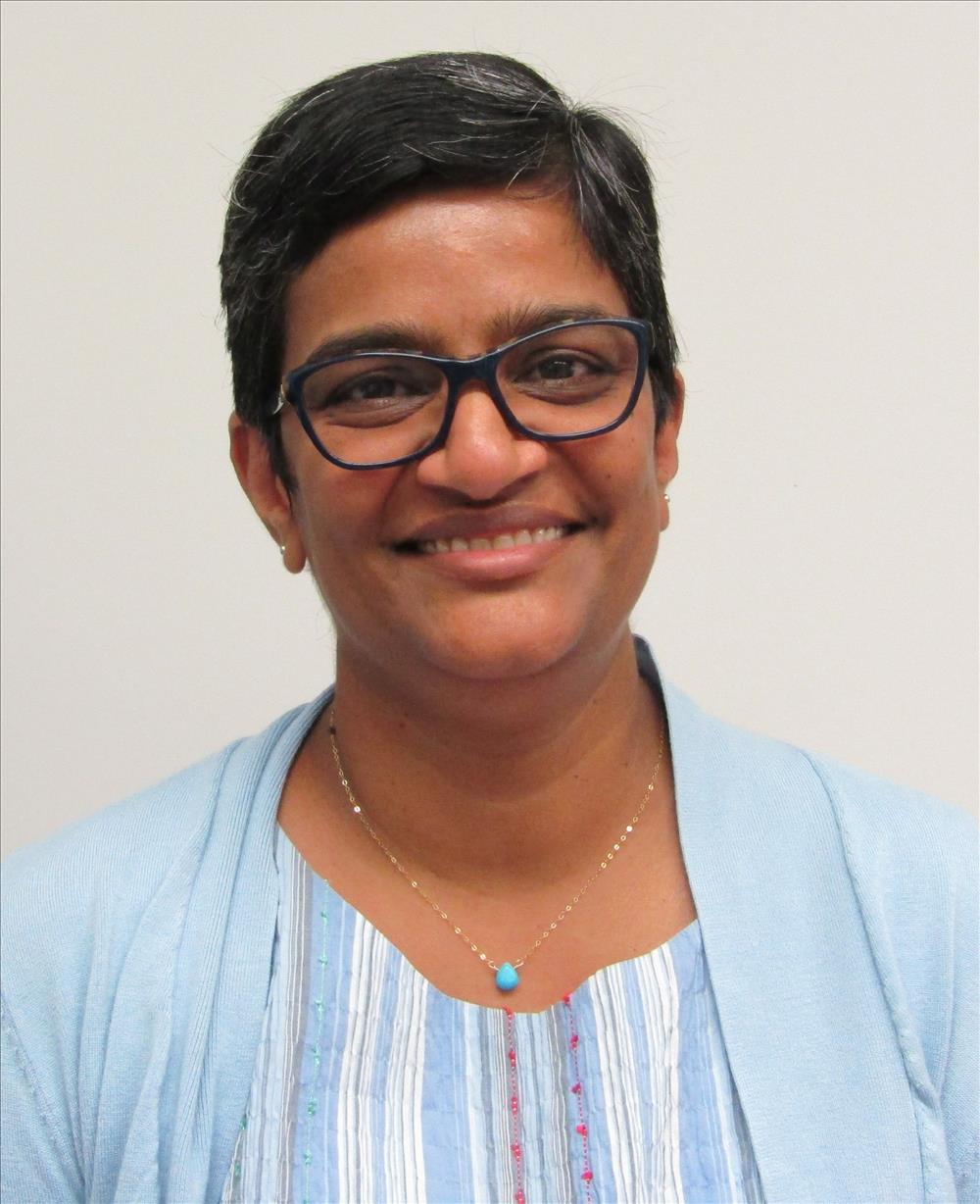 Associate Professor of Physiology
Comprehensive Alcohol-HIV/AIDS Research Center
1901 Perdido Street 
New Orleans, LA 70112
Room 7249
Cell: (217)377-3170
Office: (504) 568-3395
Email: lsimo2@lsuhsc.edu
BVSc - Bachelor of Veterinary Sciences 1997, College of Veterinary and Animal Sciences, Kerala, India
MVSc - Master of Veterinary Sciences (Reproductive physiology) 1999, College of Veterinary and Animal Sciences, Kerala, India
Ph.D. – Reproductive Physiology 2005, Tamilnadu Veterinary and Animal Sciences University, India
Postdoctoral Fellowship - Endocrine/Stem Cell Biology 2010, University of Illinois at Urbana Champaign
After her veterinary training, Simon completed her PhD training in Endocrine Physiology with a National Fellowship from the Indian Council of Agricultural Research, India. Simon completed her postdoctoral fellowship at the University of Illinois at Urbana Champaign in endocrine and stem cell biology. She was an Assistant Professor in the Department of Biomedical Sciences, College of Veterinary Medicine, Tuskegee University, Alabama (2010-2013). She also held an adjunct faculty position, Department of Pathology, School of Medicine at the University of Alabama at Birmingham. She joined the Department of Physiology in LSUHSC in 2013 and is currently an Associate Professor.
Dr. Simon is a member of the translational LSU Health New Orleans NIAAA-funded P60 Comprehensive Alcohol-HIV/AIDS Research Center of the project Alcohol and Metabolic Dysregulation among PLWH: Mechanisms underlying Metabolic Comorbidities.  She is a also a co-investigator of the clinical study, Alcohol & Metabolic Comorbidities in PLWHA; Evidence-Driven Interventions. 
Research in our laboratory focuses on studying epigenomic interactions that impair cell function contributing to dysregulated repair, regeneration and metabolic function. We are specifically interested in the dysregulation of skeletal muscle stem cell signaling that alters the fate of these cells in insults including alcohol use and HIV. Our laboratory utilizes in vivo approaches, including models of alcohol administration; cell culture systems; and a wide array of molecular biology techniques to study genetic and epigenetic changes that contribute to dysfunction. Our focus is on microRNAs and histone modifications that regulate gene and protein expression and function. The lab has also developed close collaborations within the department and at LSUHSC to investigate mechanisms of metabolic dysregulation mediated by alcohol and HIV disease.
Endocrine Physiology - Dental Program
                                         Interdisciplinary Graduate Program
                                         Physical Therapy & Physician
                                         Assistant Programs
Cell Biology -                  Interdisciplinary Graduate Program
Committees & Administrative Responsibilities
Professional society committees: 
National
Animal Care and Experimentation (ACE) Committee, American Physiological Society 2017-2019. 
Awards Committee, American Physiological Society 2021-2023
Institution
IDP Master's Mentoring Committee, 2018-Present
Committee on Women's Affairs (2014-Present)
Association of Women in Science (2014-Present). Secretary of the AWIS LSUHSC Chapter (2020-)
Departmental committees: 
Faculty Search Committee, 2018-2020
Wellness Committee, 2018-Present
Graduate Student Committee, 2019-Present
Simon L, Ford SM Jr, Song K, Berner P, Vande Stouwe C, Nelson S, Bagby G. J, Molina P. E (2017). Decreased myoblast differentiation in chronic binge alcohol and antiretroviral therapy administered simian immunodeficiency virus-infected macaques: role of miR-206. American Journal of Physiology – Regulatory, Comparative and Integrative Physiology. 313 (3): R240-R250. PMID:28637658.
Simon L, Siggins R, Winsauer P, Brashear M, Ferguson T, Mercante D, Song K, Vande Stouwe C, Nelson S, Bagby GJ, Amedee AM, Molina PE (2017). Simian immunodeficiency virus infection increases blood ethanol concentration duration after both acute and chronic administration. AIDS Res Hum Retroviruses. PMID: 29037050
Simon L, Jolley SE, Molina PE (2018). Alcoholic myopathy: Pathophysiologic mechanisms and clinical implications. Alcohol Research 38 (2): 207-217. PMID:29546271
Duplanty AA, Siggins RW, Allerton T, Simon L, Molina PE. (2018). Myoblast mitochondrial respiration is decreased in chronic binge alcohol administered simian immunodeficiency virus-infected antiretroviral-treated rhesus macaques. Physiological Reports. PMCID:5835494, 
Ford SM Jr, Simon L Berner P, Cook G, Vande Stouwe C, Dufour JP, Bagby G. J, Nelson S, Molina P. E (2018). Differential contribution of chronic binge alcohol and antiretroviral therapy to metabolic dysregulation in SIV-infected male macaques. American Journal of Physiology- Endocrinology and Metabolism. PMID 30040479, Co-first author.
Levitt D.E, Adler K.A, Simon L (2019). HEMA 3 staining: A simple alternative for the assessment of myoblast differentiation. Current Protocols Stem Cell Biology. PMID: 31756292
Adler K.A, Molina P. E, Simon L (2019). Epigenomic mechanisms of alcohol-induced impaired differentiation of skeletal muscle stem cells; role of Class IIA histone deacetylases. Physiological Genomics. PMID 31398085.
Maxi J.K, Mercante D, Foret B, Oberhelman S, Ferguson T. F, Bagby G. J, Nelson S, Amedee A. M. Edwards S, Simon L, Molina P. E (2019). Chronic Binge Alcohol-Associated Differential Brain Region Modulation of Growth Factor Signaling Pathways and Neuroinflammation in Simian Immunodeficiency Virus-Infected Male Macaques. Alcohol Alcohol PMID 31322648.
Welsh D. A, Ferguson T. F, Theall K. P, Simon L, Amedee A, Siggins R. W, Nelson S, Brashear M. Mercante D, Molina P. E (2019). The New Orleans Alcohol Use in HIV Study: Launching a Translational Investigation of the Interaction of Alcohol Use with Biological and Socioenvironmental Risk Factors for Multimorbidity in People Living with HIV. Alcohol Clinical and Experimental Research. PMID 30748025.
Levitt DE, Yeh AY, Prendergast MJ, Jr RGB, Adler KA, Cook G, Molina PE, Simon L (2020). Chronic Alcohol Dysregulates Skeletal Muscle Myogenic Gene Expression after Hind Limb Immobilization in Female Rats. Biomolecules. PMID:  32178412
Rasineni K, Srinivasan MP, Balamurugan AN, Kaphalia BS, Wang S, Ding WX, Pandol SJ, Lugea A, Simon L, Molina PE, Gao P, Casey CA, Osna NA, Kharbanda KK. (2020). Recent Advances in Understanding the Complexity of Alcohol-Induced Pancreatic Dysfunction and Pancreatitis Development. Biomolecules. PMID: 32349207
Simon L, Ferguson T, Vande Stouwe C, Brashear M, Primeaux SD, Theall KP, Welsh DA, Molina PE (2020). Prevalence of Insulin Resistance in Adults Living with HIV: Implications of Alcohol Use. AIDS Res Hum Retroviruses. PMID: 32449647
Levitt DE, Prendergast MJ, Jr RGB, Chalapati, N, Simon L, Molina PE (2020). Ethanol-Impaired Myogenic Differentiation is Associated With Decreased Myoblast Glycolytic Function. Alcohol Clinical and Experimental Research. PMID: 3294501
Alcohol and Drug Abuse Center of Excellence