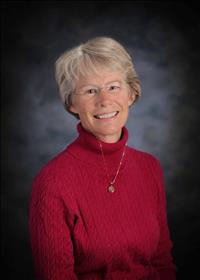 Lauri Byerley, Ph.D.
Associate Professor Research
1901 Perdido St.
Department of Physiology
New Orleans, LA 70112
Phone: 5(04)-568-6170
lbyerl@lsuhsc.edu
Cancer prevention, Nutrition, Obesity
Cancer education
Nutrition & cancer

1. Byerley Lauri O., Samuelson Derrick, Blanchard IV Eu- gene, Luo Meng, Lorenzen Brittany N., Banks Shelia, Ponder Monica A., Welsh David A, Taylor Christopher M., Changes in the Gut Microbial Communities Following Ad- dition of Walnuts to the Diet, The Journal of Nutritional Biochemistry (2017), doi: 10.1016/j.jnutbio.2017.07.001
2. Byerley, L.O. and Lee, W.N.P.  Are fructose and ethanol similar?  J Am Dietetic Assoc (in press, September 2010)
3. Byerley, L.O., Leamy, L., Tam, S., Redman, S., Ravussin, E. Development of a serum profile for health aging. AGE May 19, 2010 (epub ahead of print)
4. Byerley, L.O.Lee, S.O., Redmann, S., Culberson, C., Clemens, M Lively, M.O. Evidence for a novel serum factor distinct from zinc alpha-2 glycoprotein that promotes body fat loss early in the development of cachexia. Nutrition and Cancer.  62(4);484-494,2010.
5. Fountaine, RJ, Taylor AE, Mancuso J, Greenway FL, Byerley LO, Smith SR, Most M, and Fryburg DA.  Olanzapine increases food intake and energy expenditure in healthy men:  A model of weight gain due to antipsychotic drugs.  Obesity. 18(8):1646-51, 2010.
6. Smith, T.J., Pikosky, M.A., Grediagin, A., Castaneda-Sceppa, C., Byerley, L.O., Glickman, E.L., Young, A.J. Aerobic fitness does not modulate protein metabolism in response to increased exercise: a controlled trial. Nutr Metab 16;6:28, 2009.
7. Johannsen DL, DeLany JP, Frisard MI, Welsch MA, Rowley CK, Fang X, Jazwinski SM, Ravussin E; Louisiana Healthy Aging Study. Physical activity in aging: comparison among young, aged, and nonagenarian individuals. J Appl Physiol. 105(2):495-501, 2008.
8. Kumar, K.G., Byerley, L.O., Volaufova, J., Drucker, D.J., Churchill, G.A., Li, R., York, B., Zuberi, A., Richards, B.K. Genetic variation in Glp1r expression influences the rate of gastric emptying in mice. Am J Physiol Regul Integr Comp Physiol. 294(2):R362-71, 2008.
9. Pikosky, M.A., Smith, T.J., Grediagin, A., Castaneda-Sceppa, C., Byerley, L.O., Glickman, E.L. Increased protein maintains nitrogen balance during exercise-induced energy deficit.  Med Sci Sports Exerc 40(3):505-515,2008.