SAMPLE SPECIALTY ROTATIONS
University Hospital Inpatient Trauma Psychology
The Spirit of Charity Trauma Center at University Medical Center, New Orleans (UMCNO)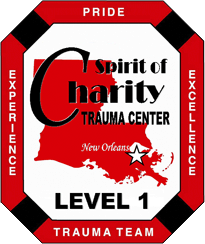 is the only Level 1 trauma center in Southeast Louisiana.  It is also one of the busiest trauma centers in the country and a national leader in trauma related research, teaching, prevention, and outpatient care programs.  Located adjacent to the LSUHSC main downtown campus, the Trauma Center provides multidisciplinary treatment to patients with acute traumatic injuries such as motor vehicle accidents, gunshot wounds, and other accidental or violent injuries.  The Trauma Psychology team in the Trauma Center is made up of Dr. Erika Rajo, LSUHSC faculty psychologist, Alisha Bowker, LCSW, and psychiatry and psychology trainees. The team provides psychological screening for PTSD and depression for all traumatic injury patients, screening and brief intervention (SBI) for patients with elevated blood alcohol levels, and consultation and brief interventions to inpatients who have psychological problems during their treatment and recovery at UMCNO.  Issues typically include acute stress disorder, posttraumatic stress disorder, depression, anxiety, adjustment disorders, and other mental illness.The psychology team works closely with the inpatient psychiatry team and the trauma and orthopedic surgeons to provide comprehensive patient care.

The Trauma Psychology team also provides outpatient behavioral health services at the Trauma Recovery Clinic (TRC), based in the UMCNO trauma surgery clinic. The TRC improves continuity of care from inpatient to outpatient services following traumatic injury and provides short- and long-term psychotherapy and medication management services to trauma patients and their family members. TRC clinicians are are integral members of patients' medical treatment teams and, in addition to direct patient services, provide consultation to surgeons and other treatment team members to support patients' physical and psychological healing.

As part of the Spirit of Charity Psychiatry Research Unit, the trauma psychology team also participates in research initiatives including prevention and treatment of posttraumatic stress disorder and other psychological sequelae following traumatic injury, virtual reality exposure therapy for gunshot victims, and violence prevention programs.

Supervised by Dr. Erika Rajo, psychology interns will have the opportunity to provide psychological screenings, brief interventions, and individual and family psychotherapy treatment for inpatients at the Trauma Center.  Interns are also welcome to participate in the numerous research projects through the Spirit of Charity Psychiatry Research Unit. For more information about UMC and the Trauma Center visit http://www.umcno.org/
---
University Hospital Bariatric Clinic
The Center for Weight Loss and Bariatric Surgery is a clinic within University Medical Center providing vertical sleeve gastrectomy and Roux-en-y bypass surgery to the morbidly obese. During this rotation, interns will have the opportunity to learn about and conduct psychological evaluations required for clearance for bariatric surgery. Interns will additionally have the opportunity to provide screening and brief interventions, manualized treatment for binge eating disorder, and post-operative health and behavior assessments. The bariatric behavioral health team works closely with social work, nursing, dieticians, and bariatric surgeons on a multidisciplinary team to ensure optimal weight loss success and improvement in quality of life. This rotation is supervised by Dr. Lindsey Poe.
---
School-Based Consultation
Since 2006, Louisiana State University Health Sciences Center Department of Psychiatry (LSUHSC) has worked collaboratively to meet the psychosocial and educational needs of students and families in various schools in and around the New Orleans area.  The purpose of the school rotation for psychology interns is to improve the interns understanding of the role a clinical psychologist plays in a school setting. More specifically, the intern learns how to provide effective consultation services to school administrators and teachers regarding challenging students at school and managing difficult behaviors. Interns will also learn about techniques and treatment styles that are different in a school setting from an outpatient setting. Interns will conduct classroom observations, create functional behavior assessments and behavior intervention plans. Clinical psychologists do not always get to experience a child population in a school setting whereas trainees who are seeking specialization in school psychology will be well versed in this aspect of training. It is important for clinical psychology trainees to gain experience working with children in a school setting because children spend most of their day at school. The relationships children build with peers and teachers are important aspects of their development.  This rotation is under the supervision of Dr. Michelle Moore.
---
Opportunities Academy
Opportunities Academy (OA) is a rigorous, post-secondary full day program for scholars with neuro-developmental disabilities aged 17-22. During this rotation, interns will have the opportunity to be an integrated member of the school's mental health team, participating as a member of the IEP team. They will have the opportunity to complete integrated Louisiana Bulletin 1508 compliant psycho-educational evaluations in conjunction with related services providers and will have the opportunity to conduct Functional Behavior Assessments and create Behavior Intervention Plans for scholars with a variety of intervention needs in conjunction with teachers and job coaches. Opportunities are also available to provide individual and group therapy, social skill trainings, and provide professional development trainings on topics related to mental health to OA program teachers and staff. Dr. Kristin Callahan provides supervision during this elective.
---
CrescentCare
CrescentCare is a Federally Qualified Health Center specializing in the care of people living with HIV and members of the LGBTQ community. CrescentCare provides integrated care, including primary medical services, behavioral health, and preventative services, regardless of income or insurance status. Interns will provide individual therapy services within the Behavioral Health Department for people living with HIV. Patients present with a wide range of psychological conditions, including severe mood disorders, PTSD, and substance abuse. The intern will work as part of a multidisciplinary team and under the supervision of Dr. Andrea LaPlante.
---
HIV Outpatient Clinic at UMC
An intern's role at the HOP Clinic is primarily conducting neuropsychological assessments and 1-2 sessions of individual psychotherapy with patients diagnosed with HIV and hepatitis. Referrals come from other providers within the clinic. For assessments, referrals are typically added to the intern's schedule at the request of other providers who are looking to quickly seek information about patients' suitability for simulant medications or questioning changes in cognitive status as a result of a neurodegenerative process. Intakes and assessments are conducted within a single visit so results can be provided to the referral source prior to patients' next visit with them, which is often within the next 14 days.  This rotation is under the supervision of Dr. Frances Ernst.