Quality Improvement                                                                                                                 
Louisiana Adolescent Focus Program
The Louisiana Adolescent Focus Program is a program of The Southern Center for Adolescent and Young Adult Health Equity. The program seeks to improve adolescent and young adult health through the implementation of targeted clinical quality improvement initiatives. These initiatives are aimed at increasing clinic and provider capacity to provide quality, adolescent-centered care.
Current Initiatives
Adolescent Champion Model
The Adolescent Focus Program is partnering with the Adolescent Health Initiative (AHI) at the University of Michigan to implement their Adolescent Champion Model (ACM). AHI developed ACM to drive health centers to become adolescent-centered medical homes. ACM is a multi-faceted intervention to address a health center's environment, policies, and practices to ensure that all aspects of a visit to the health center are youth-centered.
Current participating sites:
                      Children's Hospital Pediatrics Jefferson Highway Health Center
                      Children's Hospital Pediatrics Napoleon Avenue 
                      Children's Hospital Pediatrics Houma Boulevard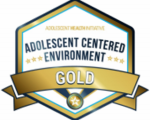 Is your clinic interested in participating in ACM? Please contact Carleigh Baudoin at cbaud6@lsuhsc.edu for more information about the initiative and upcoming opportunities.
Accomplishments
Our school-based health center at New Orleans Charter Science and Mathematics High School implemented a targeted Chlamydia screening quality improvement project in collaboration with the Louisiana Department of Health and National Quality Improvement Center. The project aimed to increase both Chlamydia screening and sexual activity assessment rates.

From September 2019 to February 2020, the sexual activity assessment and documentation rate increased by 19% and exceeded the long-term project goal of 90%. The annual Chlamydia screening rate increased by 99% and exceeded the long-term project goal of 80%.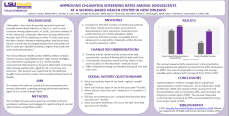 Chlamydia QI Project Results