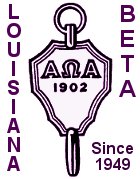 Chapter News
The LA-Beta Chapter of AΩA does its best to keep busy throughout the year.  In addition to hosting an annual visiting professorship and spring banquet, the Chapter encourages all LSUHSC students to participate in activities sponsored by the national office.  During the 2019-2020 academic year, the LA-Beta Chapter nominated 22 senior students, 9 junior students, 6 residents, 5 faculty members, and 3 alumni for AΩA membership.
Class of 2020:
Elizabeth Babin
Shannon Beermann
Monica Bravo
Jourdan Brown
Spencer Brown
Kelsey Casano*
William Davis
Joseph Ditrapani
Elise Doran*
Ashley Duhon*
Sophie Forniquet
Scott Gaignard
Reed Gioe
Mitchell Guedry
Richard Guidry*
Seth Guilbeau*
Adam Haydel*
Melanie Hotz*
Jack Jalenak
Patrick Johnson
Todd Lambert*
Adam Levin*
Mary Sauce Mayeaux*
Benjamin Melancon
Peter Morreale
Clairissa Mulloy
Joël Oubre
Paige Pocorello
Evan Powers
Ginny Russell
Brett Salomon
Tova Weiss
*nominated as a junior medical student
Class of 2021:
Christopher Bloise 
Morgan Brown 
Nicole Dominique 
George Jeha
Brekel Kemp 
Jenna Miller 
Ainsley Pratt 
Kia Sayers 
Allison Young
Resident Inductees:
Christen Harris, MD - Internal Medicine (New Orleans)
Daniel Fruge, MD  - Physical Medicine and Rehabilitation 
Nisha Loganatharaj, MD - Gastroenterology 
Seth Vignes, MD - Internal Medicine (New Orleans)
Zachary Weilenman, MD - Physical Medicine and Rehabilitation 
Martin Marak, MD - Internal Medicine (Baton Rouge)
Faculty Inductees:
Grace Athas, MD - Pathology 
Robert Azar, MD - Ophthalmology 
William Benton, MD - Internal Medicine (Baton Rouge)
Michael Dicharry, MD - Psychiatry 
Hugo St-Hilaire, MD, DDS - Plastic and Reconstructive Surgery
Alumni Inductees:
Robert Alexander Aitken, MD - Cardiothoracic Anesthesiology - Baton Rouge, LA 
Roderick V. Clark, MD - Nephrology - Lafayette, LA 
Lisa M. Jaubert, MD - Pain Medicine and Rehabilitation - Covington, LA 
To see what other chapters are doing around the country, please visit the national AΩA website.