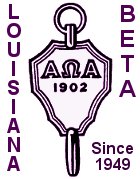 Chapter News
COVID 19 Grading: 
The Beta Chapter has always maintained transparency when inducting new members. This year, a few students from the Class of 2021 have joined the Class of 2022. Due to the pandemic, these students received P/F scores during Block 4 of their third-year clerkships. We wanted to make the scoring process as fair as possible for applicants in this position, especially because preclinical and clinical grades constitute 80% of our AOA grading formula. Because some clerkship coordinators had not recorded raw scores for students during this time, we were unable to convert the P/F courses into the H/HP/P/F grading system. Therefore, the current AOA membership decided to exclude the Block 4 grades for these students altogether. 
Moving forward, the executive board will discuss this matter further with clerkship directors/coordinators to collaboratively create a record-keeping system should any future events (i.e, hurricane, pandemic) lead clerkships to be converted to P/F. We hope this will ensure that future classes will not be affected by altered course grades outside of their control. Thank you for your patience and understanding as we navigate the current circumstances, and please feel free to contact us with any questions you may have.
The LA-Beta Chapter of AΩA does its best to keep busy throughout the year.  In addition to hosting an annual visiting professorship and spring banquet, the Chapter encourages all LSUHSC students to participate in activities sponsored by the national office. During the 2021-2022 academic year, the LA-Beta Chapter nominated nine juniors from the Class of 2022 for membership. 
Class of 2022:
Fallon Anzalone* 
Caroline Bonaventure
Anna Catinis* 
Cody Crnkovic
Elizabeth Dao
Chloe d'Aquin
Chandler Denison
Blane Edwards
Meredith Gioe
Joseph Goddu
Timothy Goyette
Kelsie Guice
Ellery Hayden* 
Annette Hebert
Kendall Holden
Jonathan Joseph
Ahmad Karkoutli*  
Josh Kirkorsky
Kelsey Lacourrege
Zachary Lerner**
James Mickler
Brett Montelaro* 
Raj Patel* 
Wil Perkins* 
Robert Quiring*
Katherine Robichaux 
Thomas Ruli
Emily Sauce
Bryant Song
Sydney Sudderth* 
Hayden Torres
Stephanie Trautmann
Joven Tristeza
John Valentino
John Waldron
Wayne Wortmann
Peter Yager
Class of 2023:
Kaylin Beiter*
Gregory Benes*
Nicolas Chanes*
Michael Dubic*
Megan Escott*
Shay LaPorte*
Olivia Leonovicz*
Casey Norlin*
Sarah Rimmer*
Jimmy Saravia*
Residents 2022: 
Hunter Hall, MD – Internal Medicine  
Alexander Hosse, MD – Internal Medicine 
Laura Hutchins, MD – Med/Peds  
Andrea Ito, MD – Med/Peds 
Peter Lowery, MD – Internal Medicine 
Faculty 2022: 
James Aiken, MD – Emergency Medicine 
Erin Capone, MD – Psychiatry 
Alumni 2022:
Elliott Black, MD ('69) – Plastic Surgery – New Orleans, LA
Sheila Gottschalk, MD ('69) – Pediatrics & Neonatal-Perinatal Medicine – New Orleans, LA
Terren Klein, MD ('88) – Orthopedic Surgery – El Paso, TX
Samir Patel, MD ('05) – Anesthesiology & Pain Management – Baton Rouge, LA
*inducted as a junior medical student
**inducted in the Class of 2021
To see what other chapters are doing around the country, please visit the national AΩA website.