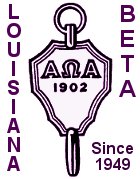 Chapter News
The LA-Beta Chapter of AΩA does its best to keep busy throughout the year.  In addition to hosting an annual visiting professorship and spring banquet, the Chapter encourages all LSUHSC students to participate in activities sponsored by the national office.  Most recently in March 2017, the LA-Beta Chapter nominated 22 senior students, 8 junior students, 5 residents, 5 faculty members, and 5 alumni for AΩA membership.
Senior Inductees:
| | | |
| --- | --- | --- |
| Surget Beatrous* | Elizabeth Hargroder* | Catherine Pisano |
| Rosella Bissonnette | Preya Jhita | Megan Ranck |
| Lindsey Broussard | Stephen Lambert | William Richardson |
| Aaron Coulon* | Lacey Giambelluca Lavie  | Katharine Saussy |
| Sara Coulon* | Jacob Leonard | Christine Settoon |
| Julie Cronan* | Katie Melder* | Hailey Silverii |
| Robert Derenbecker     | Barret Murphy | Daniel Scullin |
| Dustin Duracher | Daniel Nelson* | Luke Townsend |
| Meaghan Dwyer | Miles Parsons | Colton Walker* |
| Matthew Fury* | Krishna Patel | Eric Wendel |
| Olivia Gioe* | Kayla Pence | * Elected as Juniors |
Junior Inductees:
Christopher Anderson
Joseph Fougerousse
Mark Hoppens
Paul Kepper
John Miller
Jonas Miller
Laura Petrauskas
Chloe Renshaw
Resident Inductees:
Jennifer Broussard, MD
Dunia Khaled, MD
Sarah Lillis, MD
Benjamin Morehead, MD
Joshua Sherman, MD
Faculty Inductees:
Kristi Boudreaux, MD
Charles Coleman, MD
Hamilton Farris, PhD
Christopher Thomas, MD
Christian Winters, MD
Alumni Inductees:
Vince Forte, MD
Julia Garcia-Diaz, MD
Alan Lacoste, MD
Janine Steckler Parker, MD
Fayne St. John, MD
The Pharos Poetry Contest Winner:
Marc Beuttler, LSUHSC SOM Class of 2018
Volunteer Clinical Faculty Member:
Heather Porche, MD - Collins Pediatrics, Metairie, LA
Administrative Recognition Award Winner:
Ms. Bobbie Millet, LSUHSC SOM Office of Student Affairs
Visiting Professor and Guest Speaker:
Robert Trowbridge, MD - Tufts University SOM / Maine Medical Center
To see what other chapters are doing around the country, please visit the national AΩA website.