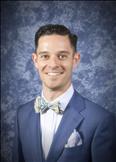 Sharp III, Ph.D., Thomas E.
Postdoctoral Researcher
Cardiovascular Center of Excellence
LSU Health New Orleans
            Ph. D.    Temple University
            B.A.        Drew University
Acute Myocardial Infarction
Cardiac Remodeling
Heart Failure      
Hypertension
Hypertrophy
Cardio-pulmonary Disease
Cardio-renal Disease
Drew Biology Department – Neuroscience Program , Madison, NJ
                     (Peer Mentor Fellow)   | September – December 2009
Howard Hughes Medical Institute Funded by $1.1 Million Grant (awarded to Dr. Roger Knowles).
I conducted a bi-weekly laboratory.  The laboratory provided non-majors with an over view of experimental design, execution and tutoring for the course - Neurobiology 2/ Great Challenges in Neuroscience. 
Educational Opportunity Fund (E.O.F.), Madison, NJ
                       (Fellow)  | June 2009 – May 2010
I was awarded a fellowship through a competitive application process to E.O.F. staff.
As a fellow in a partnership between the NJ Commission of Higher Education and Drew University to provide educational assistance to highly motivated students from under privilege areas within NJ. 
Peer Reviewed Manuscripts –
Lubitz AL, Sjoholm LO, Goldberg A, Pathak A, Santora T, Sharp TE, 3rd, Wallner M, Berretta RM, Poole LA, Wu J, Wolfson MR. Acute right heart failure after hemorrhagic shock and trauma pneumonectomy - a management approach: A blinded randomized controlled animal trial using inhaled nitric oxide. J Trauma Acute Care Surg. 2016
Wallner M, Duran JM, Mohsin S, Troupes CD, Vanhoutte D, Borghetti G, Vagnozzi RJ, Gross P, Yu D, Trappanese DM, Kubo H, Toib A, Sharp TE, Harper SC, Volkert MA, Starosta T, Feldsott EA, Berretta RM, Wang T, Barbe MF, Molkentin JD, Houser SR. Acute catecholamine exposure causes reversible myocyte injury without cardiac regeneration. Circ Res. 2016
Gross P, Honnorat N, Varol E, Wallner M, Trappanese DM, Sharp TE, Starosta T, Duran JM, Koller S, Davatzikos C, Houser SR. Nuquantus: Machine learning software for the characterization and quantification of cell nuclei in complex immunofluorescent tissue images. Sci Rep. 2016; 6:23431
Mohsin S, Troupes CD, Starosta T, Sharp TE, Agra EJ, Smith SC, Duran JM, Zalavadia N, Zhou Y, Kubo H, Berretta RM, Houser SR. "Unique Features of Cortical Bone Stem Cells Associated with Repair of the Injured Heart." Circ Res15(115): 307362.
Taghavi S, Sharp TE, 3rd, Duran JM, Makarewich CA, Berretta RM, Starosta T, Kubo H, Barbe M, Houser SR. Autologous c-kit+ mesenchymal stem cell injections provide superior therapeutic benefit as compared to c-kit+ cardiac-derived stem cells in a feline model of isoproterenol-induced cardiomyopathy. Clin Transl Sci. 2015
Sharp TE, George JC. Stem cell therapy and breast cancer treatment: Review of stem cell research and potential therapeutic impact against cardiotoxicities due to breast cancer treatment. Frontiers in Oncology. 2014;4
                          Duran, J.M., Makarewich C.A., Trappanese, D. M., Gross, P., Husain, S., Dunn, J., Lal, H., Sharp, T. E., Starosta, T., Vagnozzi,
R. J., Berretta, R. M., Barbe, M., Yu, D., Gao, E., Kubo, H., Force, T., Houser, S. R. "Sorafenib Cardiotoxicity Increases Mortality after Myocardial Infarction."  Circulation Research, 2014.
Duran JM, Makarewich CA, Sharp TE, Starosta T, Zhu F, Hoffman NE, Chiba Y, Madesh M, Berretta RM, Kubo H, Houser SR. Bone-derived stem cells repair the heart after myocardial infarction through transdifferentiation and paracrine signaling mechanisms. Circulation Research. 2013; 113:539-552
Wang F., Gao H., Kubo H., Fan X., Zhang H., Berretta R., Chen X., Sharp T., Starosta T., Makarewich C., Li Y., Molkentin J.D.,
Houser S.R. (2013). "T-type Ca(2)(+) channels regulate the exit of cardiac myocytes from the cell cycle after birth." J Mol Cell Cardiol 2013. 62: 122-130.
                    Taghavi S.., Duran J.M., Berretta R., Makarewich C.A., Udeshi F., Sharp III T.E., Kubo H., Houser S.R., George J.C.
                     Validation of transcatheter left ventricular electromechanical mapping for assessment of cardiac function and targeted transendocardial                                  injection in a porcine ischemia-reperfusion model. Am J Transl Res 2012; 4(2):240-246
                    Duran J.M., Taghavi S., Berretta R.M., Makarewich C.A., Sharp III T., Starosta T., Udeshi F., George J.C., Kubo H., Houser
                    S.R. "A Characterization and Targeting of the Infarct Border Zone in a Swine Model of Myocardial Infarction."
                    Clinical and Translational Science   2012. 5(5): 416-421