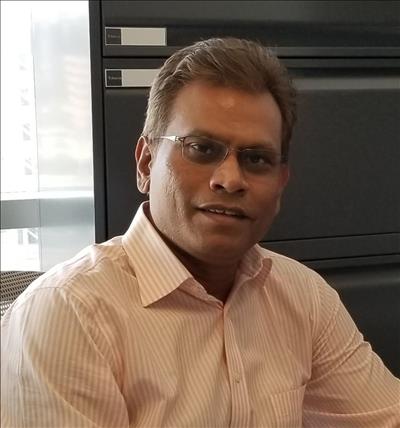 Samarpan Majumder,  Ph.D.
Assistant Professor of Genetics
 

Stanley S Scott Cancer Center

1700 Tulane Avenue, Rm# 906

New Orleans, LA 70112

Ph# 504-210-2670

smaju1@lsuhsc.edu
Ph.D (Biochemistry) Calcutta University, Calcutta, India (awarded 2000)
Dr. Majumder joined the Department of Genetics at LSUHSC in November 2017 after spending 18 years in acdemia and biotech industries. Dr. Majumder received his postdoctoral training in the University of North Carolina (UNC) at Chapel Hill.and worked in the field of Drosophila genetics. He was Instrumental in finding a novel gene (mei9) in fruit fly, drosophila, that is involved in nucleotide excision repair (NER). In 2003, he joined at Lineberger Comprehensive Research Center in UNC and worked in prostate cancer research. While working in this field, he A) Documented the importance of breast cancer gene, her2, in the late stage of prostate cancer progression. B) Identified the involvement of Coactivator Associated Arginine Methyltransferase (CARM1) and the importance of epigenetics in prostate cancer progression and C) contributed to implicate Ack1, a growth promoting cellular protein, in late stage of prostate cancer. From 2006 to 2009, he worked with Prof. Bryan Roth at Dept. of Pharmacology in UNC and was actively involved in National Institute of Mental Health's (NIMH) psychoactive drug discovery program. He Collaborated with University of Wisconsin at Milwaukee and screened compounds that resulted in some peer reviewed publications (5) and compounds with high therapeutic potentials.
 In 2009, Dr. Majumder accepted an offer from an early stage biopharmaceutical company, Vascular Pharmaceutical, NC,and, joined there as Director-Preclinical Development. In this capacity, he was responsible in guiding A) Vascular's day to day research activities comprising of a team of researchers (3) in their effort to design, develop and commercialize a novel antibody against diabetes accelerated heart complications and B) Successfully coordinated preclinical studies in pigs to validate the efficacy of in-house monoclonal antibody.
From 2012 to 2016, Dr. Majumder worked as a Sr. Scientist in another biotech company, Novametics, NC, and led company's effort to develop and commercialize a novel dignostic assay kit to detect blood clotting disorders. Dr. Majumder successfully A) validated and optimized a novel diagnostic clotting assay with a patented component to detect blood coagulation disorders. B) Collaborated with senior management and cross-functional stakeholders to enable selection of appropriate assay platform and formulation of kits. C) Manage a team of cross functional scientists (up to 5) from various disciplines to ensure that all timelines and project deliverables were met. He was in charge of Novametics scientific execution and played an important role in company's strategy and business development. D) Worked with subject matter expert (SME) to facilitate the clinical trial of patient samples at Duke and UNC.and E) Positioned the company into a "sweetspot"  for a licensing agreement with big healthcare companies.
 
Dr. Majumder has been recruited in this department to bolster department's strong focus on Cancer Research, and specifically, breast cancer program. He will bring in his valuable experience in industry and his previous translational research experience in cancer to integrate and navigate a few ongoing breast cancer research projects. As a coinvestigator, he will cooperate, collaborate, write and submit grants with Prof. Lucio Miele's future focus on A) antibody based therapy in Triple Negative Breast Cancer (TNBC). Dr. Majumder will participate in additional B) preclinical animal study to see the potency and efficacy of an Investigational New Drug (IND) for primary and metastatic NOTCH+ breast cancer patients in collaboration with another pharmaceutical company. He will be C) taking participation in another study to investigate the clinical benifit of a novel orally available small molecule compound over the existing one in the market for hormone refractory ER+ and HER2- metastatic breast cancer in postmenopausal women in collaboration with Xavier University for a potential future DOD and/or SBIR phase II grant application. He is keen to study the intestinal microbiome and it's potential impact in PDX breast cancer model of  mouse treated with checkpoint inhibitors (cancer immunotherapy).
Particiapte in teaching med students in Critical Skill Integration (CSI) classes
Committees & Administrative Responsibilities
Dr. Majumder is exited to be participating in various other departmental committees as and when required.
Hossain F, Majumder S, Ucar DA, Rodriguez PC, Golde TE, Minter LM, Osborne BA, Miele L. Notch Signaling in Myeloid Cells as a Regulator of Tumor Immune Responses. Front Immunol. 2018
Vishwa Mohan, Chelsea S Sullivan, Jiami Guo, Sarah D Wade, Majumder S, Amit Agarwal, Eva S Anton, Brenda S Temple, Patricia F Maness.Temporal Regulation of Dendritic Spines Through NrCAM-Semaphorin3F Receptor Signaling in Developing Cortical Pyramidal Neurons. Cerebral Cortex (February, 2018) 1–15.
Namjoshi OA 1, Wang ZJ, Rallapalli SK, Johnson EM Jr, Johnson YT, Ng H, Ramerstorfer J, Varagic Z, Sieghart W, Majumder S, Roth BL, Rowlett JK, Cook JM. Search for α3β₂/₃γ2 subtype selective ligands that are stable on human liver microsomes. Bioorg Med Chem 2013 Jan 1; 21(1):93-101.
Fischer BD, Licata SC, Edwankar RV, Wang ZJ, Huang S, He X, Yu J, Zhou H, Johnson EM Jr, Cook JM, Furtmüller R, Ramerstorfer J, Sieghart W, Roth BL, Majumder S, Rowlett JK. Anxiolytic-like effects of 8-acetylene imidazobenzodiazepines in a rhesus monkey conflict procedure. Neuropharmacology (Dec, 2010) 59: 612-18.
Yin W, Majumder S, Clayton T,  Petrou S, VanLinn ML, Namjosh OA; Ma C; Cromer B; Roth BL, Platt DM, Cook JM. Design, synthesis and subtype selectivity of 3, 6-disubstituted beta-carbolines at Bz/GABA(A)ergic receptors. SAR and Studies Directed Toward Agents For Treatment of Alcohol Abuse. Bioorganic and Medicinal Chemistry (Nov, 2010) 18(21); 7548-64.
Savić MM, Majumder S, Edwankar RV, Ramerstorfer J, Joksimović S, Clayton T, Milinković MM, Roth BL, Sieghart W, Cook JM. Novel positive allosteric modulators of GABAA receptors: do subtle differences in activity at a1 plus a5 versus a2 plus a3 subunits account for dissimilarities in behavioral effects in rats?  Progress in Neuro-Psychopharmacology & Biological Psychiatry (March, 2010) 34: 376-386.
Rivas FM, Stables JP, Murphree L, Edwankar RV, Edwankar CR, Huang S, Jain HD,Zhou H, Majumder S, Sankar S, Roth BL, Ramerstorfer J, Furtmüller R, Sieghart W and Cook JM. Antiseizure Activity of Novel γ-Aminobutyric Acid (A) Receptor Subtype-Selective Benzodiazepine Analogues in Mice and Rat Models. Journal of Medicinal Chemistry (April 2009) 52: 1795-1798.
Han D, Försterling FH, Li X, Deschamps JR, Parrish D, Cao H, Rallapalli S, Clayton T, Teng Y, Majumder S, Sankar S, Roth BL, Sieghart W, Furtmuller R, Rowlett J, Weed MR and Cook JM. A study of the structure-activity relationship of GABAA Benzodiazepine receptor bivalent ligands by conformational analysis with low temperature NMR and X-ray analysis. Bioorganic and Medicinal Chemistry (October 2008) 16: 8853-8862
Mahajan NP, Liu Y, Majumder S, Warren MR, Parkar CE, Mohler JL, Earp SH and Whang YE. Activated cdc42-associated kinase Ack1 promotes prostate cancer progression via androgen receptor tyrosine phosphorylation. Proc Natl Acad Sci U S A (May 2007) 104: 8438-8443.
Majumder S, Liu Y, Ford, HO, Mohler JL and Whang YE. Involvement of arginine methyltransferase CARM1 in androgen receptor function and prostate cancer cell viability. Prostate (Sept 2006) 66: 1292-1301.
Liu Y*, Majumder S*, Sartor CI, Mohler JL, Gregory CW, Earp SH and Whang YE. Inhibition of HER-2/neu kinase impairs androgen receptor recruitment to the androgen responsive enhancer. Cancer Research (April 2005) 65: 3404-3409. (*first two authors contributed equally to this work)
Whang YE, Yuan XJ, Liu Y, Majumder S and Lewis TD. Regulation of sensitivity to TRAIL by the PTEN tumor suppressor. Vitamin Horm. 2004; 67: 409-26. Review.
Yildez O, Majumder S, Kramer B, Sekelsky JJ.  Drosophila MUS312 protein interacts physically with the nucleotide excision repair endonuclease MEI-9 to generate meiotic crossovers. Molecular Cell (Dec 2002) vol 10, 1503-1509.