LSUHSC 2023 Summer Research Internship for Medical Students
For project ideas and potential mentors, please refer to the 2020, 2021, and 2022 Research Symposia on this webpage .
***Applications are due by 5:00pm on February 15th. No late submissions will be accepted.
2022 Medical Student Research Day
2022 Medical Student Research Day Winners
 
FRESHMAN/SOPHOMORE 
CATEGORY
1st Place Winners, Mitzie Hano Wittliff Research Award (tie)

Peter J. Bergeaux
Mentor: Dr. Liz Simon 
LSUHSC, Department of Physiology
Comprehensive Alcohol-HIV/AIDS Research Center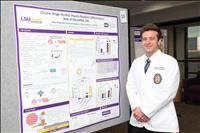 Luke C. Konur
Mentor: Dr. Jennifer Cameron
LSUHSC, Department of Microbiology, Immunology, & Parasitology 
Stanley S. Scott Cancer Center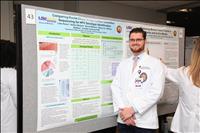 2nd Place Winner, Dean's Research Award

Ryan J. Schroeder
Mentor: Dr. Ed Grabczyk
LSUHSC, Department of Genetics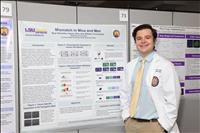 3rd Place Winners, Dean's Research Award (tie)

Dongjoon (Jason) Kim
Mentors:Dr. Inga Kristaponyte1,
Dr. Bhagwat Alapure2,
Dr. Jennifer J. Lentz3
LSUHSC, Neuroscience Center of Excellence1,2
LSUHSC, Department of Otorhinolaryngology3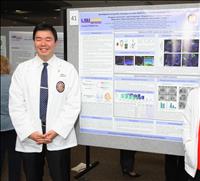 Bryanna C. Reinhardt
Mentor: Dr. Joshua Sasine
Cedars Sinai Medical Center, Los Angeles, California 
Jeremy T. Richardson
Mentor: Dr. J. Jason Collier
Pennington Biomedical Research Center, Baton Rouge, LA
LSU, Department of Biological Sciences, Baton Rouge, LA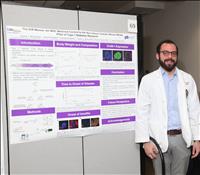 JUNIOR/SENIOR 
CATEGORY:
1st Place Winner, Margaret Raiford Hano Research Award

Mark A. Maier
Mentor: Dr. Robert J Allen, Sr.
LSUHSC, Division of Plastic and Reconstructive Surgery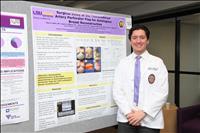 2nd Place Winner, Dean's Research Award 

Shivani Jain
Mentor: Dr. Alison A. Smith
LSUHSC, Department of Surgery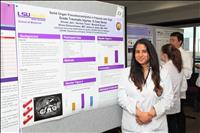 3rd Place Winner, Dean's Research Award

Kierany B. Shelvin
Mentors: Dr. John Wilson, Dr. James Alan Velander
LSUHSC, Department of Neurosurgery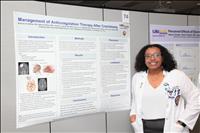 National Cancer Institute
/Moffitt Award
(Travel Award)

Jessica A. Anderson
Mentor: Dr. Amelia Jernigan
LSUHSC, Department of Obstetrics and Gynecology, 
Section of Gynecologic Oncology
University Medical Center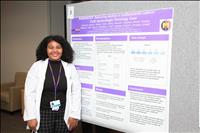 Medical Student Summer Research Program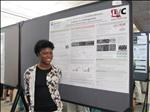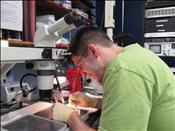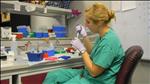 Overview
Welcome to the Summer Research Internship Program webpage! This program has succeeded in providing over 400 students with a meaningful research experience.
 
About the Program
The Summer Research Internship Program was founded by Dr. Paula Gregory in 2003.  Dr. Fern Tsien and Dr. Gregory have co-directed the program for 19 years to provide opportunities for medical students in basic science or clinical research. The 8-week summer program works to cultivate students' interest in pursuing medical and research careers. Interns are matched with mentors in laboratories or clinics in New Orleans (LSUHSC-New Orleans campus, Stanley S. Scott Cancer, University Medical Center, or Children's Hospital of New Orleans), and throughout the state (e.g., Our Lady of the Lake in Baton Rouge).
Students learn laboratory and clinical research techniques used in medical research. Required seminars are on topics such as responsible conduct in research and professional development, including how to prepare and present research results, write an abstract, and network with residency directors.  All of the summer interns present their research results at the annual Medical Student Research Symposium which is routinely held in the fall semester.
After completing their summer internship, many student interns present their data at medical or scientific conferences, or have their research published in medical or scientific journals. Those students who wish to continue working on their summer research project throughout their academic education may apply to the Honors Program. The Honors Program allows students additional time to pursue their research goals, have their Honors status included in their transcript, write a manuscript, and to graduate with "Honors in Research" (Honors Program applications are due on September 2023).
This program is funded by the LSU School of Medicine, the Louisiana Department of Health (LDH), the National Institutes of Health's National Cancer Institute (NIH-NCI), and the National Institutes of Health's National Institute of Alcohol Abuse and Alcoholism (NIAAA). 
Click here to view abstracts and posters from the 2022 Medical Student Research Symposium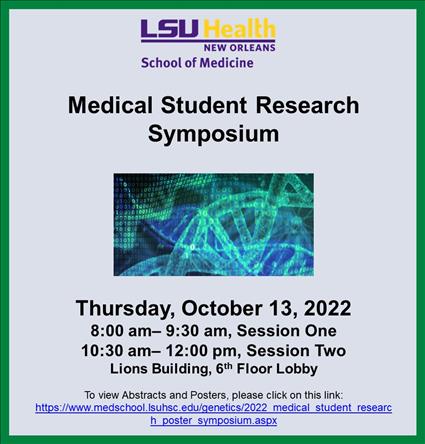 Click here to view posters and presentations from the 2021 Virtual Poster Symposium
 
Click here to view posters and presentations from the 2020 Virtual Poster Symposium