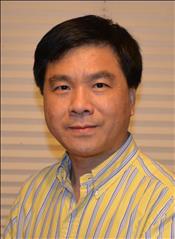 Department of Interdisciplinary Oncology
Stanley S. Scott Cancer Center
School of Medicine
Louisiana State University Health Sciences Center
Louisiana Cancer Research Center
1700 Tulane Avenue
New Orleans, LA 70112
Email: qshen@lsuhsc.edu
Office: 504-210-2835
Fax: 504-210-2970
M.D., Kunming Medical University, China (1986)
M.S., General Surgery, Kunming Medical University, China (1989)
Ph.D., The University of Texas Medical Branch. Galveston, Texas (2001)
Postdoc, Baylor College of Medicine, Houston, Texas (2001-2006)
Dr. Qiang Shen is Professor in the Department of Interdisciplinary Oncology and the Program Member of the Stanley S. Scott Cancer Center, School of Medicine, Louisiana State University Health Sciences Center - New Orleans. Dr. Shen received medical degrees from Jiangxi Medical College and Kunming Medical University, and practiced medicine as a physician surgeon in China. Dr. Shen then obtained his Ph.D. degree in Cell Biology from the University of Texas Medical Branch at Galveston. After completion of his postdoctoral training at Baylor College of Medicine, Dr. Shen was promoted to Instructor positions at Baylor. Dr. Shen was recruited as tenure-track Assistant Professor to The University of Texas M.D. Anderson Cancer Center in 2009 and promoted as Associate Professor with tenure in 2017, before he joined LSUHSC as Professor in 2019.
Discovery of key contributing genes and molecules that promote cancer development, progression, and metastasis during carcinogenesis.
Identification of molecular targets and biomarkers important for the prevention of cancer, suppression and blockade of caner progression and metastasis, and therapeutic response and resistance.
Elucidation of the role of select transcription factors, metabolic enzymes, pro-apoptotic proteins, kinases, and ion channels in carcinogenesis.
Development of small molecule drugs for STAT3, Bax, AP-1, and other targets as novel therapies for cancer prevention and treatment.
Genet 258 Advanced Genomics
CSI 100/200
Ye Z, Xu S, Shi Y, Moiani D, Bacolla A, Tsai C, Sayeed A, Shen Q, Peng G, Leonard PG, Wang B, Tainer JA and Ahmed Z. GRB2 enforces homology-directed repair initiation by MRE11. Sci Adv. 2021 Aug 4;7(32):eabe9254. doi: 10.1126/sciadv.abe9254. Print 2021 Aug. PMID: 34348893 PMCID: PMC8336959
Liu G, Kim H, Wang P, Fricke DR, Chen H, Wang T, Shen Q*, Zhou J*. Further Lead Optimization on Bax Activators: Design, Synthesis and Pharmacological Evaluation of 2-Fluoro-fluorene Derivatives for the Treatment of Breast Cancer. Eur J Med Chem. 2021 Jul 5;219:113427. DOI: 10.1016/j.ejmech.2021.113427. Epub 2021 Apr 3. PMID: 33845235
Zhang Y, Yang V, Davis J, Drake M, Younes M, Shen Q, Zhao Z, Cao Y, Ko T.C. Distinct Murine Pancreatic Transcriptomic Signatures during Chronic Pancreatitis Recovery. Mediators Inflamm. 2021 May 15;2021:5595464. doi: 10.1155/2021/5595464. eCollection PMID: 34104113, PMCID: PMC8158417. https://doi.org/10.1155/2021/5595464.
Yang B, Davis J, Gomez T, Younes M, Zhao X, Shen Q, Wang R, Ko TC, Cao Y. Characteristic Pancreatic and Splenic Immune Cell Infiltration Patterns in Mouse Acute Pancreatitis. Cell Biosc. 2021; 11(1):28. PMID: 33531047 PMCID: PMC7852096 DOI: 10.1186/s13578-021-00544-1
Liu X, Xu J, Zhou J, and Shen Q. Oridonin and its derivatives for cancer treatment and overcoming therapeutic resistance. Genes Dis. 2020 Jul 5;8(4):448-462. DOI: 10.1016/j.gendis.2020.06.010
Yang L, Zhao H, Liang H, Zhang Q, Zheng Z, Shen Q, and Hu W. Exploring cisplatin resistance in ovarian cancer through integrated bioinformatics approach and overcoming chemoresistance with sanguinarine. Am J Transl Res. 2020 Mar 15;12(3):923-939. PMID: 32269724, PMCID: PMC7137043
Davis J, Cheng B, Drake M, Yu Q, Yang B, Li J, Liu C, Younes M, Zhao X, Bailey J, Shen Q,  Ko TC, Cao Y. Pancreatic Stromal Gremlin 1 Expression during Pancreatic Tumorigenesis. Genes & Diseases. https://doi.org/10.1016/j.gendis.2020.05.001. Accepted 05/08/2020.
Lu L, Li H, Wu X, Rao J, Zhou J, Fan S, Shen Q. HJC0152 suppresses human non-small cell lung cancer by inhibiting STAT3 and modulating metabolism. Cell Prolif. 2020 Feb 5:e12777. doi: 10.1111/cpr.12777. PMID: 32022328
Liu G, Yin T, Kim H, Ding C, Yu Z, Wang H, Chen H, Yan R, Wold EA, Zou H, Liu X, Ding Y, Shen Q, Zhou J. Structure-Activity Relationship Studies on Bax Activator SMBA1 for the Treatment of ER-Positive and Triple-Negative Breast Cancer. Eur J Med Chem.2019,178:589-605. PMID: 31220676 DOI: 10.1016/j.ejmech.2019.06.004.
Li Z, Zhu T, Xu Y, Wu C, Kong L, Chen J, Mei M, Ren Y, Sun S, Guo W, Zhao M, Wang Y, Jing C, Dong J, Zhou J, Wang X, Zhang L, Shen Q, Zhou X. A novel STAT3 inhibitor HJC0152 exerts potent antitumor activity in glioblastoma. Am J Cancer Res2019;9(4):699-713. PMID: 31105997 PMCID: PMC6511646. http://ajcr.us/files/ajcr0092694.pdf. PMID: 31105997, PMCID: PMC6511646
Li D, Song H, Wu T, Xie D, Hu J, Zhao J, Shen Q, Fang L. MiR-519d-3p suppresses breast cancer cell growth and motility via targeting LIM domain kinase 1. Mol Cell Biochem. 2018 Jul;444(1-2):169-178. doi: 10.1007/s11010-017-3241-4. PMID:29188531. DOI:10.1007/s11010-017-3241-4
Wang Y, Shen Y, Wang S, Shen Q, Zhou X. The role of STAT3 in leading the crosstalk between human cancers and the immune system. Can Letts. 2018 Feb 28; 415:117-128. pii: S0304-3835(17)30769-3. doi: 10.1016/j.canlet.2017.12.003.PMID:29222039
Xu J, Wold EA, Ding Y, Shen Q, and Zhou J. Therapeutic Potential of Oridonin and Its Analogs: From Anticancer and Antiinflammation to Neuroprotection. Molecules. 2018, 23(2). pii: E474. doi: 10.3390/molecules23020474. PMID:29470395
Ding Y, Li D, Ding C, Liu Z, Wold EA, Ye N, Chen H, White MA, Shen Q, Zhou J. Regio- and Stereospecific Synthesis of Oridonin D-ring Aziridinated Analogues for the Treatment of Triple-Negative Breast Cancer via Mediated Irreversible Covalent Warheads. J Med Chem. 2018, 61:2737-2752. PMID:29528645
Li D, Wang H, Ding Y, Zhang Z, Zheng Z, Dong J, Kim H, Meng X, Zhou Q, Fang L, Zhou J, Shen Q. Targeting the NRF-2/RHOA/ROCK signaling pathway with a novel aziridonin, YD0514, to suppress breast cancer progression and lung metastasis. Can Letts. 2018, 424:97-108. PMID:29580806
Lu L, Dong J, Wang L, Xia Q, Zhang D, Yang Z, Fan S, Shen Q. Activation of STAT3 and Bcl-2 and reduction of reactive oxygen species (ROS) promote radioresistance in breast cancer and overcome of radioresistance with niclosamide. Oncogene, 2018 Sep;37(39):5292-5304. doi: 10.1038/s41388-018-0340-y. PMID: 29855616
Li D, Wang H, Song H, Xu H, Zhao B, Wu C, Hu J, Wu T, Xie D, Zhao J, Shen Q, Fang L. The microRNAs miR-200b-3p and miR-429-5p target the LIMK1/CFL1 pathway to inhibit growth and motility of breast cancer cells. Oncotarget. 2017 Jul 12;8(49):85276-85289. doi: 10.18632/oncotarget.19205.PMID:29156719
Wang Y, Wang S, Wu Y, Ren Y, Li Z, Yao X, Zhang C, Ye N, Jing C,  Dong J, Zhang K, Sun S, Zhao M, Guo W, Qu X, Qiao Y, Chen H, Kong L, Jin R, Wang X, Zhang L, Zhou J, Shen Q, Zhou X. Suppression of the Growth and Invasion of Human Head and Neck Squamous Cell Carcinomas via Regulating STAT3 Signaling and the miR-21/β-catenin Axis with HJC0152. Mol Cancer Ther. 2017; 16(4):578-590. PMID:28138036
Ding Y, Ding C, Ye N, Liu Z, Wold EA, Chen H, Wild C, Shen Q, Zhou J. Discovery and development of natural product oridonin-inspired anticancer agents. Eur J Med Chem. 2016;122:102-117. doi: 10.1016/j.ejmech.2016.06.15. PMID:27344488
Sun S, Zhou X, Huang Y, Kong L, Mei M, Guo W, Zhao M, Ren Y, Shen Q, and Zhang L. Targeting STAT3/miR-21 Axis Inhibits Epithelial-Mesenchymal Transition via Regulating CDK5 in Head and Neck Squamous Cell Carcinoma. Molecular Cancer. 2015; 14(1):213. doi: 10.1186/s12943-015-0487-x. PMID: 26690371, PMCID: PMC4687320 DOI: 10.1186/s12943-015-0487-x
Xiong A, Yang Z, Shen Y, Zhou J, Shen Q. Transcription Factor STAT3 as a Novel Molecular Target for Cancer Prevention. Cancers (Basel) 6(2):926-57, 2014. PMID:24743778, PMCID:PMC4074810, DOI: 10.3390/cancers6020926.
Chen H, Yang Z, Ding C, Xiong A, Wild C, Wang L, Ye N, Cai G, Flores RM, Ding Y, Shen Q, Zhou J. Discovery of potent anticancer agent HJC0416, an orally bioavailable small molecule inhibitor of signal transducer and activator of transcription 3 (STAT3). Eur J Med Chem. 2014; 82:195-203. PMID:24904966, PMC:4096847
Ye N, Ding Y, Wild C, Shen Q, Zhou J. Small Molecule Inhibitors Targeting Activator Protein 1 (AP-1). J Med Chem. 2014; 57(16):6930-48. PMID:24831826, PMC:4148154
Ding C, Wang L, Chen H, Wild C, Ye N, Ding Y, Wang T, White MA, Shen Q, Zhou J. ent-Kaurane-based regio- and stereoselective inverse electron demand hetero-Diels-Alder reactions: synthesis of dihydropyran-fused diterpenoids. Org Biomol Chem. 2014; 12(42):8442-52.  PMID:25225052, PMC:4192081
Chen H, Yang Z, Ding C, Chu L, Zhang Y, Terry K, Liu H, Shen Q, Zhou J. Discovery of O-Alkylamino Tethered Niclosamide Derivatives as Potent and Orally Bioavailable Anticancer Agents. ACS Med Chem Lett. 2013; 4(2):180-185. PMID:23459613, PMC:3583367
Chen H, Yang Z, Ding C, Chu L, Zhang Y, Terry K, Liu H, Shen Q, Zhou J. Fragment-Based Drug Design and Identification of HJC0123, A Novel Orally Bioavailable STAT3 Inhibitor for Cancer Therapy. Eur J Med Chem. 2013; 62:498-507. PMID:23416191, PMC:3750725
Ding C, Zhang Y, Chen H, Yang Z, Wild C, Chu L, Liu H, Shen Q, Zhou J. Novel Nitrogen-Enriched Oridonin Analogues with Thiazole-Fused A-Ring: Protecting Group-Free Synthesis, Enhanced Anticancer Profile, and Improved Aqueous Solubility. J Med Chem. 2013; 56(1):5048-5058. PMID:23746196, PMC:3712786
Ding C, Zhang Y, Chen H, Wild C, Wang T, White MA, Shen Q, Zhou J. Overcoming Synthetic Challenges of Oridonin A-Ring Structural Diversification: Regio- and Stereoselective Installation of Azides and 1,2,3-Triazoles at the C-1, C-2, or C-3 Position. Org Letts. 2013; 15(14):3718-3721. PMID:23834026, PMC:3779473
Ding C, Zhang Y, Chen H, Yang Z, Wild C, Ye N, Ester CD, Xiong A, White MA, Shen Q, Zhou J. Oridonin Ring A-Based Diverse Constructions of Enone Functionality: Identification of Novel Dienone Analogues Effective for Highly Aggressive Breast Cancer by Inducing Apoptosis. J Med Chem. 2013; 56(21):8814-25. PMID:24128046, PMC:3880594
Shen Q, Uray IP, Li Y, Krisko TI, Strecker TE, Kim HT, Brown PH. The AP-1 transcription factor regulates breast cancer cell growth via cyclins and E2F factors. Oncogene. 2008; 7(3):366-77. PMID:17637753
Shen Q, Uray IP, Li Y, Zhang Y, Hill J, Xu XC, Young MR, Gunther EJ, Hilsenbeck SG, Colburn NH, Chodosh LA, Brown PH. Targeting the activator protein 1 transcription factor for the prevention of estrogen receptor-negative mammary tumors. Cancer Prev Res (Phila Pa). 2008; 1(1):45-55. PMID:19138935, PMC:2577387
Shen Q, Brown PH. Transgenic mouse models for the prevention of breast cancer. Mutat Res. 2005; 576(1-2):93-110. PMID:15888345
Shen Q, Zhang Y, Uray IP, Hill JL, Kim HT, Lu C, Young MR, Gunther EJ, Hilsenbeck SG, Chodosh LA, Colburn NH, Brown PH. The AP-1 transcription factor regulates postnatal mammary gland development. Dev Biol. 2006; 295(2):589-603. PMID:16678816
Shen Q, Singh P. Identification of a novel SP3 binding site in the promoter of human IGFBP4 gene: role of SP3 and AP-1 in regulating promoter activity in CaCo2 cells. Oncogene. 2004; 23(14):2454-64. PMID:14767471 DOI: 10.1038/sj.onc.1207354
Shen Q, Brown PH. Novel agents for the prevention of breast cancer: targeting transcription factors and signal transduction pathways. J Mammary Gland Biol Neoplasia. 2003; 8(1):45-73. PMID:14587863
 
1997-Present    American Association for Cancer Research (Active Member)
2010-Present    Society of Chinese Bioscientists in America (Lifetime Member)
Stanley S. Scott Cancer Center