Congratulations to the 4th Annual QI/PS Forum Presentation Winners
Best Oral Presentation: *LSU Internal Medicine Impact on ED Throughput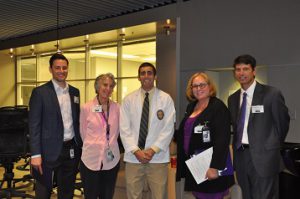 Pictured above: Forum Judges Bahnsen Miller, MD; Cathy Lazarus, MD, Erica Ros Pruitt, RN; Fred Cerise, MD, MPH; and LSU Internal Medicine Impact on ED Throughput oral presentation winner, Mark Rolfsen (middle)
Best Poster Presentation: Hepatitis C Screening in Primary Care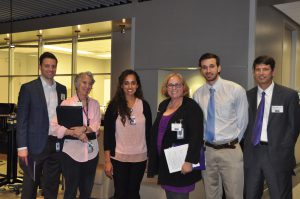 Faculty, house officers and medical students from LSUHSC and various local medical affiliates took part in the 4th Annual Quality Improvement and Patient Safety Forum on Thursday, June 2nd. Dr. Fred Cerise, President and Chief Executive Officer of Parkland Hospital, delivered the keynote address of the Forum. Dr. Cerise served as Associate Dean for Clinical Affairs at LSUHSC, was Vice President for Health Affairs and Medical Education of the Louisiana State University System, was Secretary of the Louisiana Department of Health and Hospitals and holds a Master of Public Health degree from Harvard University School of Public Health.  He provided an inspiring perspective on connecting ACGME Clinical Learning Environment goals and graduate medical education to clinical site Quality initiatives.
In addition to Dr. Cerise's presentation, Quality and Safety in Medical Education, the Forum included oral presentations, 20 poster presentations and seven abstracts.  The following were chosen by the EQuIP Steering committee as oral presentations for the day:
A Pragmatic Evidence Driven Compliance Oriented Review of Current Clinical Practices, S. Anish Konde, MD; Shema Abraham, MD; Suguna Veeramachineni, MD; Gary Kuykendall; Leela Lakshmiprasad, MD, FACP
First Year Student Attitudes Towards a Case-based Interprofessional Education Experience Involving Physician Assistant, Physical Therapy and Graduate Studies Programs, Margaret  Maxi, MD; Scott Edwards, PhD; Liz Simon, PhD; Kathleen McDonough, PhD; Patricia Molina, MD, PhD; Sonia Gasparini, PhD; Donald Mercante, PhD; Robert Moore, MA; Tina Gunaldo, MHS, DPT, PhD
UMCNO Antimicrobial Stewardship Program, Fatima Brakta, PharmD; Julio Figueroa, MD
*LSU Internal Medicine Impact on ED Throughput, Mark Rolfsen; Shane Guillory, MD; Jorge Martinez, JD, MD; Shane Sanne, DO
Esteemed judges for the 2016 Forum included a diverse group of QI/PS experts including Dr. Cathy Lazarus, LSUSOM Associate Dean of Student Affairs and former UMCNO Chief Academic Officer, Erica "Ros" Pruitt, RN, UMCNO Director of Quality, Bahnsen Miller, MD, Quality Fellow from Our Lady of the Lake Hospital in Baton Rouge, and Dr. Fred Cerise.  Winners were announced during the Forum finale and Dr. Nelson and the Dean's Office have graciously offered to support these awards, with travel reimbursement, if they are selected at regional or national meetings over the next year.
The Forum was jointly sponsored by the EQuIP program, the Office of Graduate Medical Education and the LSU SOM Dean's Office.  We would like to thank Dr. Fred Cerise, the Office of Continuing Medical Education, the Office of the Dean, LSU Program Directors and residents and esteemed Forum Judges, for their participation and commitment to the quality improvement initiatives at LSU School of Medicine and all our clinical site partners.
To see more:  QI Forum Additional Photo & Information