The 2016-2017 Enhancing Quality Improvement for Patients residency rotation, sponsored in part by the LSU School of Medicine's Office of Graduate Medical Education, enter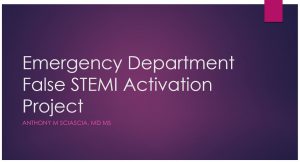 s its third year of partnership with the Quality department at University Medical Center New Orleans (UMCNO).
Originating in 2014, the EQuIP rotation began with two programs and nine residents.  This academic year, 24 House Officers will participate, including two program additions – the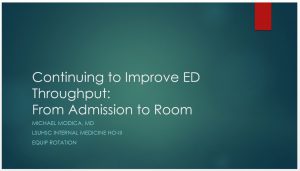 Department of Emergency Medicine and the Neurosurgery program.  House Officers now include participants from these programs as well as Internal Medicine, Pathology and Radiology.
The EQuIP rotation aims to emphasize the importance of a multisource, multidisciplinary and interprofessional approach to integrating quality and patient safety initiatives within the healthcare system. New initiatives are forthcoming in the areas of faculty development and interdisciplinary education, while the clinical range of projects already featured this year, include projects from Dr. Anthony Sciascia – Emergency Department False STEMI Activation Reduction and Dr. Michael Modica's project, Continuing to Improve ED Throughput: From Admission to Room.
For more information on the EQuIP Rotation at UMCNO, visit our website at https://www.medschool.lsuhsc.edu/medical_education/graduate/EQuIP/rotation_calendar.aspx.  For more information on including the rotation at your clinical site, please contact the EQuIP office at EQuIP@lsuhsc.edu.