On July 1, 2016  LSU Health Sciences Center New Orleans welcomed nearly 220 new residents and 30 new fellows into LSU's 62 training programs, including those programs sponsored by Lafayette.  That brings our total to 843 trainees in 62 programs at nearly 30 training sites in 8 metropolitan areas. According to the latest data available from the Accreditation Council on Graduate Medical Education (ACGME) based on trainee numbers, LSU Health Sciences Center New Orleans ranks as the 36th largest GME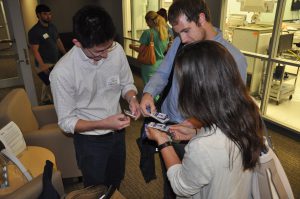 enterprise out of total 692 sponsoring institutions in the U.S.   Having residents in so many sites and cities is not the usual scenario for most institutions where residents spend most of their time in a few locations in one city.
This large size and geographic footprint  of our LSU GME enterprise has several, beneficial  impacts on the numerous hospitals and communities where we rotate  across Louisiana that may not be readily apparent.   First, as most physicians tend to practice in the geographical region where they train, we become a major source of future doctors for many communities. These wide ranging rotations expose residents to practice opportunities they may otherwise have not considered. Second, at the same time, communities get a chance to really know potential future practitioners in a way just not possible in conventional recruiting scenarios. This lets them recruit those that will truly be a best fit. Third, having educational programs in hospitals may enhance the overall level and satisfaction with the practice of medicine by creating an academic environment.
The size and scope of our  GME enterprise is possible because of the partner relationships we have with the communities, hospitals and doctors where our residents train.  By assuring we are providing the best trainees possible for each site and our training sites are providing the best experience for our residents, we are able to continue the strong programs across the state. This would not be possible without the open embrace and active participation of our many alumni and other faculty supporters that assist us in training the next generation of Louisiana physicians and their future partners.