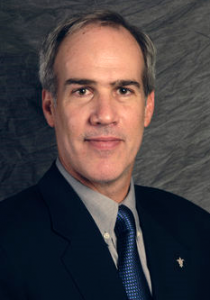 Dr. Stuart Slavin, Associate Dean for Curriculum and Professor of Pediatrics at St. Louis University School of Medicine, delivered the 2017 Robert S. Daniels, MD Lectureship on Friday, April 21. The lecture, titled "Mental Health Across the Educational Continuum: Challenges and Opportunities" focused on student and resident burnout, depression and wellness. Wellness is the new buzzword among the medical industry, and rightfully so. According to Mindful magazine, almost half of U.S. doctors report symptoms of burnout. Doctors work "an average of 10 hours more per week than other U.S. workers and are nearly twice as likely to be dissatisfied with their work-life balance."
Dr. Slavin's visit went far beyond the lecture as he was able to meet with individuals working as, or in direct contact with, students and residents. The break-out meetings allowed Dr. Slavin to engage with a group of students, a group of residents, HSC administration, SOM administration, residency coordinators and program directors, as well as the Campus Assistance Program (CAP) and Peer Advocate Liaison Students (PALS). Dr. Slavin provided fresh and innovative ideas about strategies to avoid burnout and depression, as well as providing feedback about initiatives currently in place at LSUHSC, including programs like CAP and PALS.
Student and residency wellness is an initiative being addressed at the institutional level as evidenced by ACGME accreditation standards requiring programs address the growing dilemma of burnout and depression in the medical profession.  At LSUHSC,  a GME subcommittee has been established to address the new ACGME common program requirements and to improve our resident wellness program.
Dr. Robert S. Daniels, MD, the namesake of the Lectureship, retired as the Dean of LSU School of Medicine in 1995. Upon his retirement, an endowed professorship in medical education was established by the LSU Medical Alumni Association. Dr. Daniels and his wife, Dr. Vikki Ashley, a PhD psychologist and author, were lifelong and passionate supporters of medical education. The Daniels Lecture is held annually in the spring, and members of the Daniels' family participate in honoring their father's commitment to medical education.