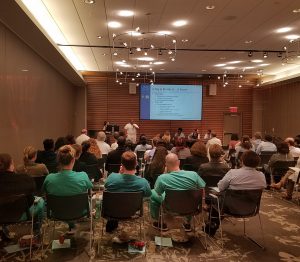 LSU House Staff Association (HSA) co-presidents, Dr. Claude Pirtle (IM) and Dr. Eric Wallace (RAD), created an innovative, integrated committee at University Medical Center New Orleans (UMCNO) this academic year.  The House Officers' Quality Improvement Council, better known as HQUIC, is a multi-specialty, multi-institutional, interprofessional organization made up of LSU and Tulane residents and fellows who rotate at UMCNO.
The goal of the HQUIC committee is to empower LSU and Tulane house staff to increase their involvement and leadership within interdisciplinary, multi-institutional quality initiatives at UMCNO.  Like many of their co-sponsored (LSU and Tulane) events, the HQUIC committee is an educational opportunity to increase resident scholarship.  Leaders at the first meeting, on March 7th, began the process of linking house officers with developing UMCNO quality and safety projects.  Issues such as physician-nurse communication and decreasing surgical site infections have begun to integrate House Staff into more UMCNO committees.
The concept of forming the HQUIC committee began in LSU's Enhancing Quality Improvement for Patients (EQuIP) Steering Committee meetings, where LSU HSA Co-Presidents Pirtle and Wallace were charged with creating a collaborative committee of residents at UMCNO.  It came to fruition with the support of UMCNO's Academic Affairs Team, with the support of Drs. Cathy Lazarus, Chief Academic Officer, Paul Gladden, Tulane Associate Chief Academic Officer, and Robin McGoey, LSU Associate Chief Academic Officer, who provide clinical advisory and administrative support to the Council.  Similarly, LSU School of Medicine's (LSUSOM) Graduate Medical Education (GME) office provides administrative and educational guidance under the direction of Dr. Charles Hilton, Associate Dean for Academic Affairs.  To date, HQUIC conferences have included two multi-institutional LSU and Tulane lectures: Safety, Health Disparities and Improving Patient (SHIP) Outcomes Conference and the Working Together Conference. 
Important Upcoming HQUIC Dates:
July 25th – Culture of Safety Conference
August 22nd – Safety, Health Disparities and Improving Patient (SHIP) Outcomes Conference #2
September 26th – HQUIC Committee Meeting
October 24th – Working Together Conference #2
November 28th – QI Project Huddle Discussion
New leadership for the HQUIC committee was elected at the June 6th HQUIC committee meeting.  HQUIC Co-Chairs for the 2017-2018 academic year are LSU house officers, Drs. Clifford Crutcher (Neurosurgery) and Jon Decuir (Internal Medicine), as well as Dr. Molly Davis (Internal Medicine) from Tulane.  For more information, contact the new HQUIC leaders at ccrutc@lsuhsc.edu or jdecu1@lsuhsc.edu.