Fellowship Research
1st year : clinical mentor assigned, fellows identify a QI project
End of 1st year and into 2nd year : fellows identify a research project and mentor and establishes their Scholarly Oversight Committee
3rd year : 70% protected research time (clinical work limited to continuity clinic and junior attending month), fellows present at regional and/or national meetings
During the first year of training the fellow is assigned to a clinical mentor who helps the fellow explore and attain the goals and expectations of the first year, which are basically clinical. The fellow identifies a quality improvement project to be developed and, subsequently, presents and writes the results of this project to be published in the hospital's Annual Cancer Committee Report. The fellow is encouraged to raise clinical questions and hypotheses to serve as basis for case reports, clinical case reviews, and retrospective analysis. Exposure to multi-center trials comes from seeing and following patients on clinical/drug trials.
During the last 3-4 months of the first year and into the second year, the fellow identifies a research project and a research mentor to help him/her fulfill the requirement of a meaningful research experience. The fellow establishes the Scholarship Oversight Committee (SOC) which meets every 6 months to review the progress of the fellow and assure that the fellow stays on track and task. It is expected that the fellow presents a clinical case or the results of the QI project in a local and/or regional meeting.
During the third year the fellow continues the research with clinical work limited to continuity clinic and junior attending month to protect research time (~70%). It is expected that the fellow presents the data and results from the project in a regional and/or our national meeting.
Along with research, fellows attend the Pediatric Subspecialty Core Curriculum Lecture Series which offers provides and teaches them the necessary tools to succeed in clinical and scientific research. These lectures expose fellows to experimental design and methodology, laboratory techniques, biostatistics, and data collection and analysis.
Projects:
Effects of Methotrexate on Neuroinflammation Gene Expression and Associated Neurological Sequelae - Jordan Doss and Christia Nieves
Neighborhood Depravation Index Negatively Affects Survival in Pediatric Oncology Patients - Christian Nieves
Oncofertility in Sickle Cell patients in Louisiana - Heather Valdin
Posters: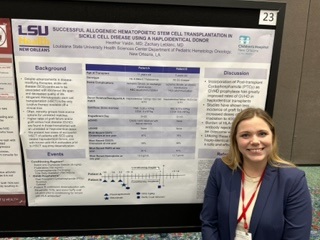 Recent Fellow Publications:
Am J Audiol. 2023 Aug 2:1-8. doi: 10.1044/2023_AJA-22-00157. Online ahead of print.
PMID:

37532243
Presentation Opportunities:
There are many opportunities for fellows to present their scholarly work at local, regional and national meetings:
1. Southern Society of Pediatric Research
2. LSU Department of Pediatrics Research Day
3. LSUHSC Forum for Quality Improvement and Patient Safety
4. Louisiana State Chapter of the American Academy of Pediatrics
5. American Society of Pediatric Hematology/Oncology