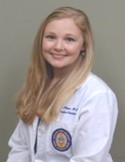 Assistant Professor of Family Medicine
LSUHSC Rural Family Medicine in Bogalusa
420 Avenue F
Bogalusa, LA 70427
Board Certification: 2015, American Board of Family Medicine
Residency: 2012-2015, LSU Rural Family Medicine in Bogalusa
MD: 2008-2012, Tulane School of Medicine
BS:2005-2007, University of Maryland College Park
Kelsey E. Phelps, MD currently serves as Assistant Professor of Clinical Family Medicine at LSU Rural Family Medicine Residency, which is affiliated with Our Lady of the Angels Hospital in Bogalusa, Louisiana. She enjoys teaching the residents at the program from which she graduated, as well as being part of an institution that values academic rigor while striving to care for the under-served.
Dr. Phelps is originally from a small town in rural Northern California, where her grandfather and father both practiced family medicine since the 1950s. She found her way to Southern Louisiana after accepting a place at Tulane School of Medicine, and stayed on after residency to continue caring for the patient population that she loves.
When not working at the residency program, Dr. Phelps practices in emergency rooms around Southern Louisiana. She enjoys reading, gardening, beekeeping, and spending time with her family.
Family Medicine Obstetrics
Women's Healthcare 
Healthcare for the under-served
Rural Healthcare
Emergency Medicine/Critical Care
Committees & Administrative Responsibilities
Physician Champion for the Our Lady of the Angels EPIC Implementation
Secretary/Treasurer of the OLOA Medical Executive Committee
Member of the Maternal/Child Health Committee
Advanced Life Support in Obstetrics Provider Course - Assistant Teacher
Attitudes regarding long acting reversible contraception among Louisiana family medicine physicians.
     LSU Rural Family Medicine Residency
     Bogalusa, LA
     Collaboration with Dr. Herbert Muncie              
     Ongoing                                 
Phelps KE, Steele RW. Fever and Stiff Neck. Clinical Pediatrics. 2012 Feb;51(2):193-196.
Muncie, HL and Phelps, KE. (2015-2017). Raynaud Phenomenon in Griffin's The 5-Minute Clinical Consult.
Certifications:
Advanced Trauma Life Support (ATLS)
Advanced Cardiac Life Support (ACLS)
Advanced Life Support for Obstetrics (ALSO Provider)
Basic Life Support (BLS)
S.T.A.B.L.E. 
Neonatal Resuscitation Program (NRP)
Affiliated Hospitals & Clinics
Our Lady of the Angels Hospital, Bogalusa LA
Assumption Community Hospital, Napoleonville LA