Congratulations to Dr. Russo on winning the 2023 Chancellor's LSU Health Excellence Award!
This award is intended to recognize faculty and staff who demonstrate excellence in their work and contribute in an exceptional way to the vision and mission of LSUHSC-New Orleans
This recognition is a clear acknowledgment of outstanding contributions to Family Medicine, and we are confident that it is just one of many more accolades to come. Bravo on this remarkable accomplishment, and may this success be the first of many more in your illustrious journey!
---
Rise Up Program and Bogalusa Staff at Our Lady of the Angels, continue to save babies and addicted mothers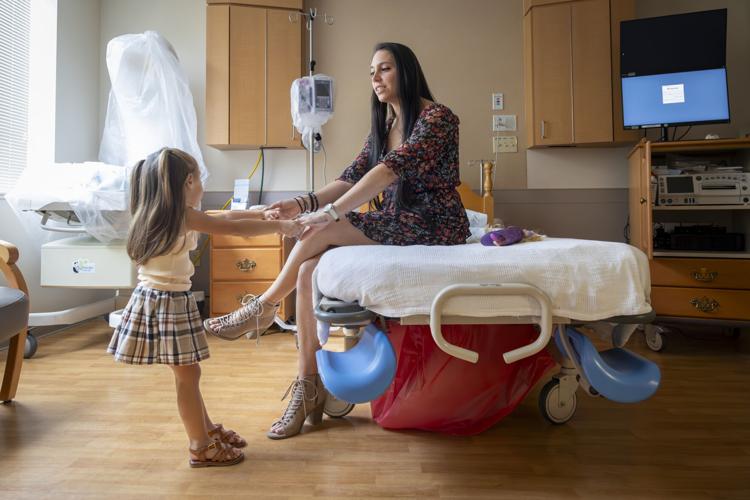 Read more on the story of how Bogalusa staff and the Rise Up substance abuse intervention program for pregnant women, saved Rachel Hernandez's life.
https://www.nola.com/news/healthcare_hospitals/louisiana-infant-mortality-made-worse-by-drug-addiction-in-pregnancy/article_9e1e3286-62ec-11ee-a6b2-5bc41cbb73f6.html
---
Department Head, Emilio A Russo, Discusses Men's Health and Premature Death with Fox 8, NOLA.
Read more on Disease diagnoses among genders with LSU Dr. Emilio Russo for Monday, May 9 at
https://www.fox8live.com/video/2022/05/09/disease-diagnoses-among-genders-with-lsu-dr-emilio-russo-monday-may/
Dr. Emilio Russo named as Department Head for Family Medicine
We are pleased to appoint Dr. Emilio Russo as Department Head for Family Medicine effective November 15th. He will follow Dr. James Campbell who has admirably led the department as Interim Head through very challenging times. We are extremely grateful for Dr. Campbell's service in this capacity and his longstanding commitment to the School of Medicine.
Dr, Russo is a graduate of LSUHSC School of Medicine and he was a member of the inaugural class of Rural Scholars Track students. He completed a rural Family Medicine residency in Spokane, Washington and he has also completed a HRSA Leadership Fellowship. He joined the Family Medicine faculty in 2008 and has served as Program Director for the Bogalusa rural Family Medicine residency since 2013. In 2019 he became the department's Vice Chair of Clinical Affairs. Dr Russo has committed his career to the realization of more equitable community health outcomes, particularly for those in our most at risk and diverse communities. Prior to joining the residency in Bogalusa, he spent 5 years practicing in vulnerable New Orleans neighborhoods as a member of the National Health Service Corps.
Dr. Russo has an interest in disease prevention and has served as co-investigator of numerous regional trials of health screening in the primary care setting. He also has a longstanding interest in Global Health. In 2015 he developed a Global Health and Social Medicine elective rotation in which he supervises interprofessional students and residents in rural Peru. He serves as Chair of the LSUHSC Committee on International Educational Programs. He serves on numerous other school and hospital committees and we are excited that he will serve the school and the Department of Family Medicine in this new leadership capacity. Please join us in congratulating Dr. Russo.
---
LSU Health New Orleans, and Affiliated Programs Virtual Showcase
Saturday, September 25, 2021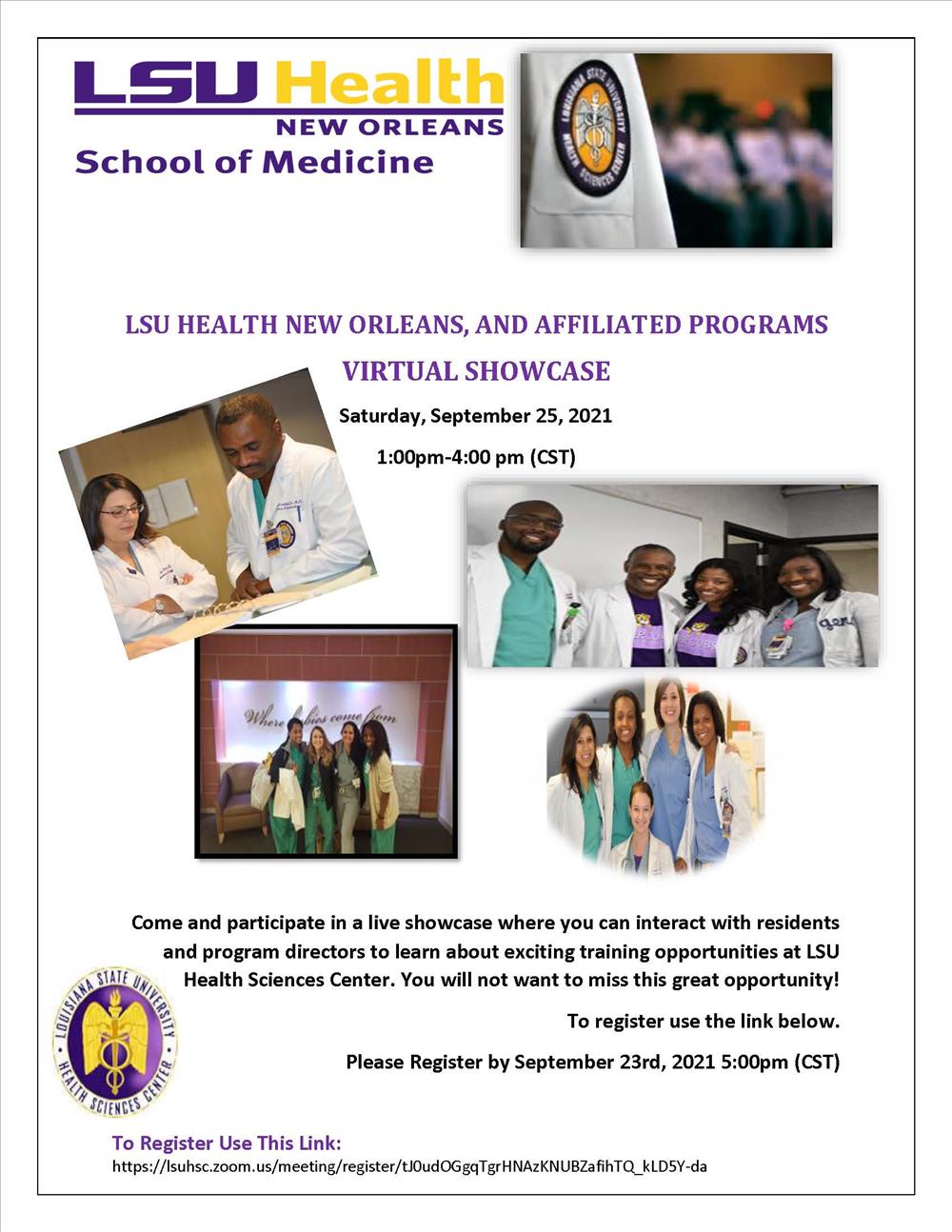 ---
LAFP Participates in the LSU Health- New Orleans FMIG and Rural Medicine Interest Group Combined Meeting
On Tuesday, October 27, 2020, the FMIG and the Rural Medicine Interest Group at LSU Health-New Orleans hosted a combined meeting. Dr. Alyssa Rizzuto, Chief Resident in Alaska Family Medicine Residency at Providence Alaska Medical Center in Anchorage, and 2017 graduate of LSU Health New Orleans, talked about her experience in choosing family medicine as a specialty, in particular rural family medicine. She provided valuable insight on researching residency programs, the application process and how to prepare for virtual residency interviews.
---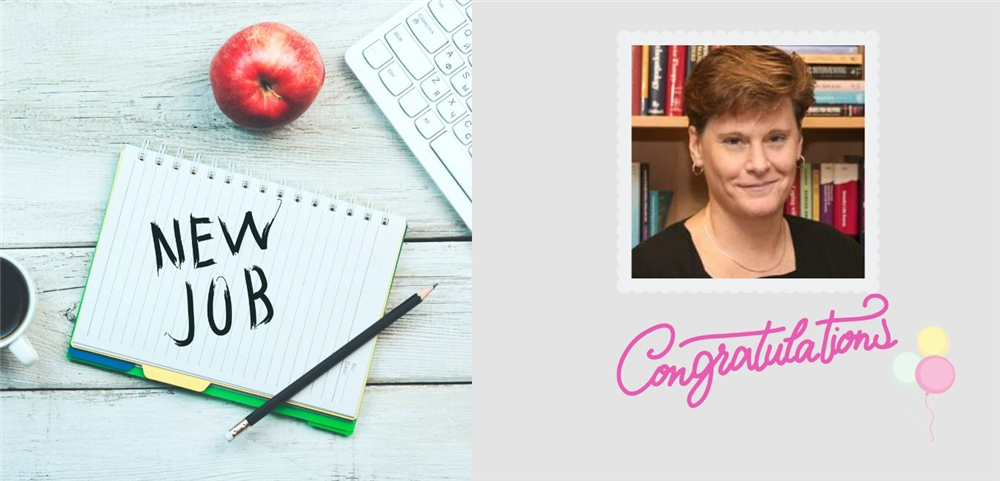 Paula Brantley, Ph.D. Appointed as Director of Primary Care Programs
Dr. Paula Brantley will now serve as Director of Primary Care Programs, including oversight of the Rural Education and Patrick F. Taylor scholarship programs. Congratulations Dr. Brantley!
---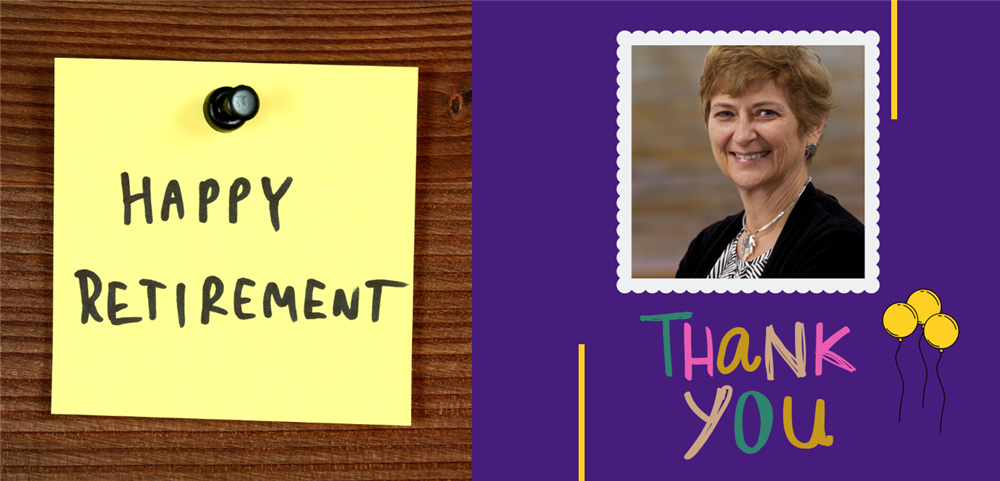 Mary Coleman, MD Announces Her Retirement
The LSUHSC School of Medicine at New Orleans announces the retirement of Mary Coleman, MD, PhD, FAAFP, Marie Lahasky Chair of the Department of Family Medicine. Dr. Coleman has served as Department Head since July 1, 2014. She has also served the school as Director of Community Health in the Dean's Office since 2011. Dr. Coleman has tirelessly advocated for the practice of family medicine, and she created numerous classes and programs to enhance student exposure to primary care specialties. She worked to expand the primary care workforce in both rural and urban regions of Louisiana. For the past 6 months Dr. Coleman has reassigned some of her responsibilities in preparation for her retirement. During the ensuing months, she will continue to perform administrative duties while she works with the dean's office and her faculty to finalize the transition of departmental leadership.
We are grateful for her dedication to students and residents, and for her years of service to the School of Medicine and the State. Please join us in thanking Dr. Coleman.
Steve Nelson, MD
Dean
---
Spring Forward into a Better Sleep Schedule
by Mary T. Coleman, MD, Ph.D.
With clocks springing forward an hour for daylight savings time on Sunday, March 8, we'll lose an hour in the
day - a change that can affect your health by disrupting your sleep pattern.
https://www.umcno.org/blog/2020/march/spring-forward-into-a-better-sleep-schedule/
---
Dr. Mary Coleman dances in the streets of New Orleans during Mardi Gras 2020!
Several LSU Health New Orleans female faculty and staff are members of the Amelia Earhawts Cabin Krewe, including our very own Dr. Mary Coleman! Watch the LSU Health Hawts take to the streets of New Orleans and learn more about their day jobs!
---
LSU Health New Orleans Family Medicine Interest Group Hosts the First Meeting of the Academic Year
On Monday, September 16 approximately 40 first and second year medical students attended the first FMIG meeting at LSUHSC-New Orleans. Lauren Tran, FMIG President, guided a panel discussion to introduce family medicine as a specialty to the incoming members. Gail Burke, DO, Madeline Cozad, MD, Jolie LeBlanc, MD and Pam Wiseman, MD talked to the group about what led them to become a family physician.
https://www.lafp.org/news-and-publications/lafp-weekly-family-medicine-update/latest-issues/641-september-17-2019/7865-lsuhsc-new-orleans-family-medicine-interest-group-hosts-the-first-meeting-of-the-academic-year