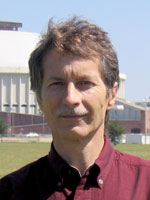 David O. Reehlmann, MSW, LCSW, BACS
Assistant Professor and Coordinator of Behavioral Science, Family Medicine
University Hospital and Clinics
2390 W. Congress St.
Lafayette, LA 70506
337-261-6689  

dreehl@lsuhsc.edu
BS Sociology - 1971
Louisiana State University, Baton Rouge
MS Social Work - 1975
Tulane University
David O. Reehlmann, MSW, LCSW, BACS, is Assistant Professor of Family Medicine and Coordinator of Behavioral Science for the Family Practice Residency Program based at University Medical Center in Lafayette, La. He is responsible for the ongoing development and implementation of that major component of resident training.

Mr. Reehlmann obtained a bachelor's degree in Sociology from LSU in 1971, prior to being drafted into the U.S. Army. In his military occupational specialty of Social Work/Psychology Procedures, he held positions in both southeast Asia and New Jersey, including at an outpatient psychiatry clinic at Long Binh, Vietnam, and locations such as the Mental Hygiene Consultation Service outpatient clinic, Stockade Mental Health Clinic, and In-Patient Psychiatric Unit at Walson Army Hospital at Fort Dix, NJ.

After obtaining a master's degree of Social Work from Tulane University in 1975, Mr. Reehlmann worked for the Louisiana Department of Corrections. There, he was involved in the initial development and operation of a special treatment unit for emotionally disturbed inmates in Arabi, La., where he became Chief Social Worker in charge of the clinical staff.

He was a faculty member and Behavioral Science Coordinator for the LSU Family Practice Residency Program in Bogalusa, La., from 1976 to 1990 and spent two years with the Department of Family Medicine in New Orleans before joining the faculty in Lafayette in 1992.

Mr. Reehlmann's interests include issues related to the physician-patient relationship, interpersonal skills, treatment adherence, the problem of substance abuse, and medical ethics. He is on the Ethics Committee at UMC and is a member of the Acadiana Area Optimal Care Committee, an area-wide ethics consultation resource for patients, families, health-care providers, and facilities. He has worked as a social-work consultant at Washington Correctional Institute, a state penitentiary in Angie, LA and was active for many years as the mental health clinician on the First Step Detox Unit at University Medical Center. 

Very interested in canoeing, Mr. Reehlmann has paddled streams in at least 10 states.
Physician-patient relationship
Interpersonal skills
Treatment adherence
Substance abuse
Medical ethics

Committees & Administrative Responsibilities
In addition to directing and participating in the Behavioral Science Rotation for second year residents, is available for consultation/collaboration with residents regarding the mental health needs of some of their patients
Coordinates the use of videotaped resident-patient encounters as an educational/feedback tool for the Lafayette FM Residency
Coordinates the annual presentations by interns of "Tar Wars", a tobacco use avoidance program (now) owned by the American Academy of Family Physicians to 5th graders at two local schools 
"Banning Smoking on a Substance Abuse Treatment Unit:  Does it Deter Patients?"; Journal of the LA State Medical Society, vol 160, Nov/Dec 2008.  Charles Rees, MD; David Reehlmann, MSW; Diana Stewart, MA; Glen Jones, Phd
"Predischarge Conference in a Family Medicine Residency Program; Canadian Family Physician, Sanford W. Tuthill, MD; David O.Reehlmann, MSW; 27:153 (Jan) 1981 
Certified by the Louisiana State Board of Social Work Examiners; 1979 – present