The Baton Rouge branch campus held its annual interest luncheon on Janu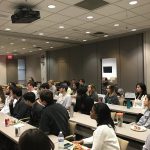 ary 31st in the Learning Center large lecture room.   Current branch campus students and Dr. George Karam, Director of Regional Undergraduate Medical Education, fielded questions and shared experiences with interested sophomore students.
The Baton Rouge branch campus offers junior and senior medical students the opportunity to complete all clinical rotations in Baton Rouge.  In its third year, the branch campus has a total of 43 junior and senior students.
If you are interested in participating the program, please contact Ms. Lauren Wilson, UME Program Manager-Baton Rouge at lsande@lsuhsc.edu.