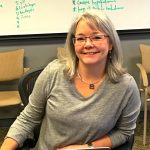 Robin English, MD has been promoted to the position of Assistant Dean for Undergraduate Medical Education.  Dr. English is Professor of Clinical Pediatrics and is a member of the LSU School of Medicine graduating class of 1995. She joined the faculty in the Department of Pediatrics in 1999 after completing her pediatrics residency and serving as chief resident for one year.
Dr. English has been active in medical education since the beginning of her career.  She served as Pediatrics Clerkship Director for many years before joining the Office of Medical Education in 2008.  She served as Director of the Clinical Sciences Curriculum from that time to the present, directing the introductory clinical skills course for freshman students and assisting with multiple curricular revisions.  Most recently, she has overseen the development of a new first and second year curriculum, which is completing its first cycle later this spring.
Dr. English was the chair of the Teaching Academy Executive Committee for the first 5 years of its existence and the chair of the Quality Enhancement Project for the institution's SACS-COC accreditation in 2015.  As Assistant Dean for Undergraduate Medical Education, she looks forward to continuing to work closely with faculty and students to make continuous improvements to our undergraduate medical education.  She is dedicated to providing our community with competent and compassionate physicians.