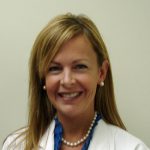 Dr. Robin McGoey has taken a position with University Medical Center New Orleans as the associate academic officer.  Working under the direction of Cathy Lazarus, MD, Associate Dean for Student Affairs at LSU School of Medicine, McGoey will work with leadership at UMC to further develop and expand the relationships between LSU GME and UMC academic leadership.  Paul Gladden, MD, will represent Tulane University School of Medicine in the same capacity-Associate Academic Officer.  Together they will optimize communication and meaningful engagement for all stakeholders.  Over the last several months, Drs. Lazaraus, McGoey and Gladden embarked on an ambitious effort to reach out to LSU, Tulane and UMC to align and prioritize initiatives.
"We will be advocating for a clinical learning environment that is safe, vibrant, focused on health care quality, comprehensive care transitions, effective and accountable supervision and a commitment to physician well-being," said McGoey.  Two early areas of focus will be launching an interdisciplinary UMC House Office Quality Council and development of the B-SAFE reporting process.
Dr. McGoey's role as an advocate for LSU School of Medicine interests at UMC is a natural extension of her long standing dedication to LSU GME education.  Coming to LSU in 2005 she has served as an Associate Program Director and Program Director for the pathology residency program.
Dr. McGoey will remain engaged at LSU School of Medicine  especially related to the operational goals for GME trainees.  Please contact UMC academic officers by contacting them below.
Dr. Cathy Lazarus (CAO)  claza1@lsuhsc.edu
Dr. Robin McGoey (AAO-LSU)  rmcgoe@lsuhsc.edu
Dr. Paul Gladden (AAO-Tulane)  pgladden@tulane.edu