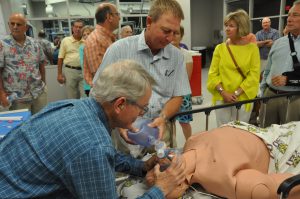 An estimated 60 alumni toured the Learning Center on Friday, June 2 as a part of the LSU School of Medicine Reunion Weekend. Attendees toured the 6th floor clinical skills lab as well as the 5th floor simulation rooms and cadaver labs. It was a hands-on and interactive tour, giving the alumni practice on simulators just as our current medical students do throughout the year.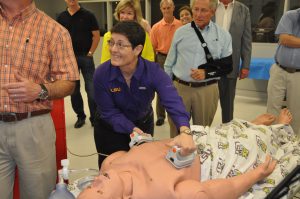 Dr. Cathi Fontenot, Associate Dean for Alumni Affairs and Development, stated "The Alumni love the simulation labs and Learning Center. The Center is where the spirit of Charity Hospital lives on… Watch One, Do One, Teach One – except it's first on simulators instead of real patients!"
The Alumni Weekend included a Cocktail Reception, Scientific Session and Individual Class Reunions. Fun was had by all!