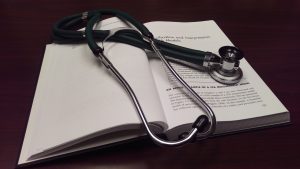 The revised first and second year medical curriculum has just completed its first cycle with the class of 2019!  Major revisions included a change from departmentally-based courses in both years to a hybrid structure. With the hybrid structure, first-year courses remained based out of departments and second-year courses were taught by integrating the microbiology, pharmacology, and pathology of organ systems.  Self-directed learning sessions were added throughout the two years, and lecture hours were decreased to align with national norms. In addition, curricular threads in medical ethics and cultural competency were enhanced while students were given additional opportunities to participate in clinical activities or other activities to enhance career selection decisions.
This revision could not have happened without the hard work of our basic science and clinical faculty, who designed many new teaching sessions and assessments.  Clinician and basic science course co-directors worked with longitudinal content directors in microbiology, pharmacology, and pathology to ensure integration.  The faculty also met weekly with student members of the Aesculapian Society to receive immediate feedback on teaching sessions and course structure.  The course directors, content directors, and the Curriculum Renewal Committee continue to meet frequently to use this valuable feedback for further revisions for the upcoming year.
We are engaging in an ongoing process to monitor the outcomes of the curriculum revision.  Results from student surveys indicate greatly improved integration in both years, especially the second year.  Additionally, goals were met for reducing overall contact time and for increasing  teaching of ethics and cultural competency.  Scores on customized National Board of Medical Examiners final examinations have been consistent with, and in some cases better than, national norms.  We will also continue to monitor other objective measures, such as USMLE Step 1 and Step 2 scores.