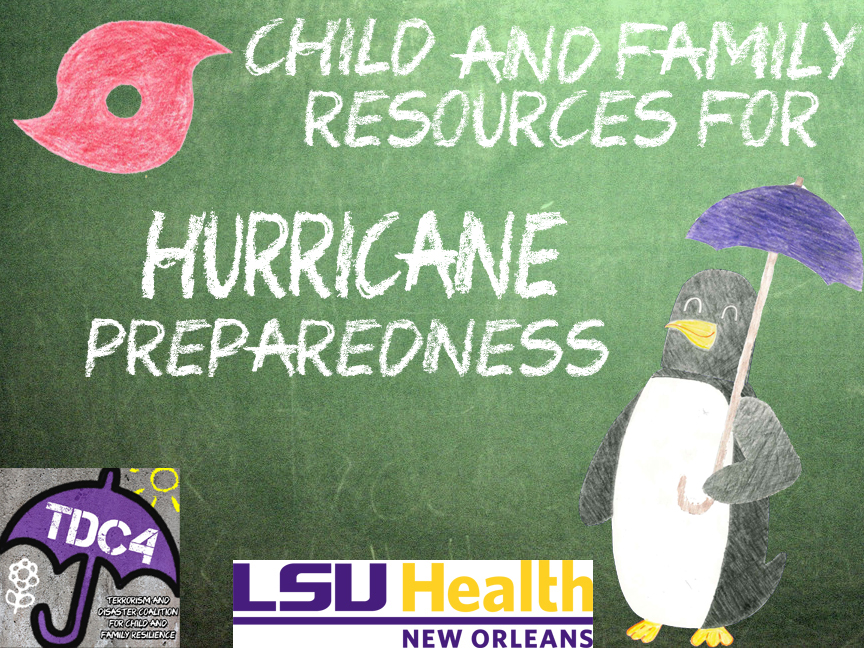 The Terrorism and Disaster Center for Child and Family Resilience at LSU Health Sciences Center has compiled this list of resources and materials to help families prepare in the event of a Hurricane or Tropical Storm. Feel free to reach out to our Center webmaster (tcraf3@lsuhsc.edu) to request additional materials or receive updates on our work. This page may be periodically updated to include additional resources.

Additional Resources can also be found here:
The National Child Traumatic Stress Network.
Coalition for Child and Family Resilience Facebook

Last Update: 10/10/2018
Resources:
 
Activities for Children and Families
Children's Activities (CDC)- Link the the Center for Disase Control's (CDC) resource list of activities!
 
Hurricane Safety Coloring Book & Activity Book- Created by Broward County (Florida), this Activity Book has information relavent for everyone and some Florida specific resources.

Ready Wrigley (CDC) -Tips, Activities and Coloring pages related to Hurricane Preparedness. Created by the
 
Seasame Street "Let's Get Ready" Family Guide  
Resources for Adults
 
Helping to Prepare Children for Storms (LSUHSC)
 
Talking to Your Kids
 
Help Kids Cope App- National Child Traumatic Stress Network (NCTSN) app designed to "help parents talk to their kids about the disasters they may face and know how best to support them throughout—whether sheltering-in-place at home, evacuating to a designated shelter, or helping your family heal after reuniting."