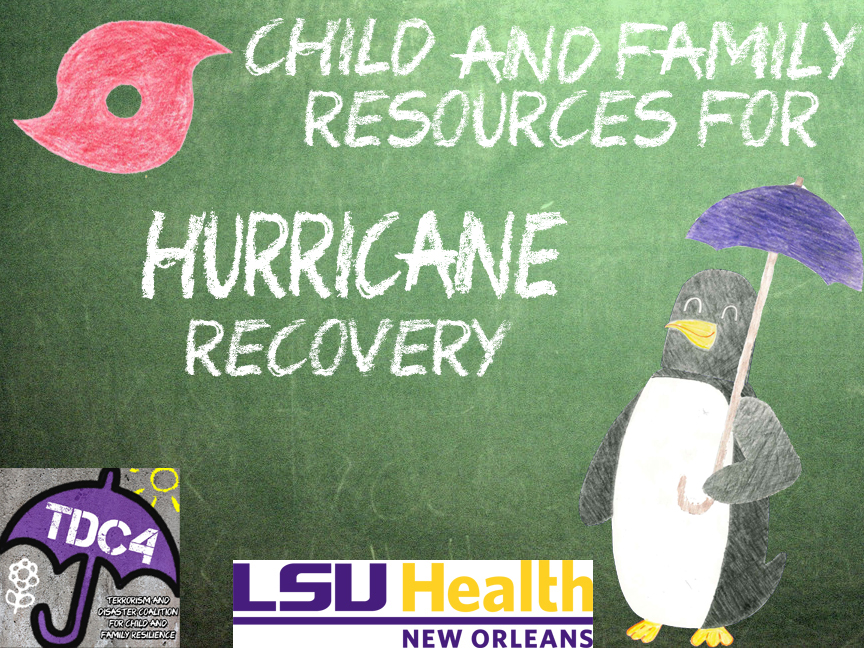 The Terrorism and Disaster Coalition for Child and Family Resilience at LSU Health Sciences Center has compiled this list of resources and materials to help families recover from the mental and behavorial challenges post-disaster. Our heart goes out to all the families affected by Hurricane's Harvey and Irma and we hope this list helps them cope in this time of need. Feel free to reach out to our Center staff member Victoria Sacco (vsacco@lsuhsc.edu) or Progam Coordinator Rick Costa (rcosta@lsuhsc.edu) to request additional materials or receive updates on our work. This page may be periodically updated to include additional resources.

Last Update: 08/30/2019

LSU Health Sciences Center In The News:
Resources:
 
Activities for Children and Families
Self-Care for Adults
Talking to Your Kids
Teacher and School Resources
Child Trauma Toolkit for Educators (NCTSN)- The Child Trauma Toolkit for Educators was developed to provide school administrators, teachers, staff, and concerned parents with basic information about working with traumatized children in the school system. Additional multimedia resources on this toolkit are available in the NCTSN Learning Center for Child and Adolescent Trauma
 
Psychological First Aid for Schools- "The National Child Traumatic Stress Network and the National Center for PTSD are pleased to make the Psychological First Aid for Schools Field Operations Guide and accompanying handouts available. Psychological First Aid for Schools is an evidence-informed approach for assisting children, adolescents, adults, and families in the aftermath of a school crisis, disaster, or terrorism event."
 
Skills for Psychological Recovery- "SPR is an evidence-informed modular intervention that aims to help survivors gain skills to manage distress and cope with post-disaster stress and adversity. SPR is appropriate to use in the Recovery Phase by mental health professionals and other disaster recovery workers. It can be delivered in a variety of settings (e.g., schools, clinics, hospitals, assisted living facilities, houses of worship, community centers, libraries, and homes) "