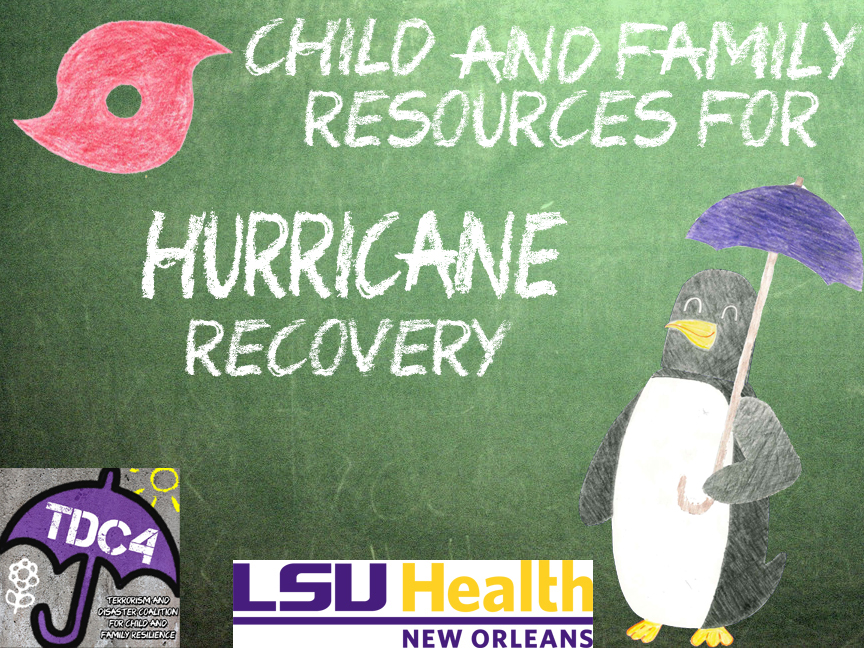 The Terrorism and Disaster Center for Child and Family Resilience at LSU Health Sciences Center has compiled this list of resources and materials to help families recover from the mental and behavorial challenges post-disaster. Our heart goes out to all the families affected by Hurricane's Harvey and Irma and we hope this list helps them cope in this time of need. Feel free to reach out to our Center webmaster (tcraf3@lsuhsc.edu) to request additional materials or receive updates on our work. This page may be periodically updated to include additional resources.

Last Update: 08/30/2019

LSU Health Sciences Center In The News:
Resources:
 
Activities for Children and Families
Children's Activities (CDC)- Link the the Center for Disase Control's (CDC) resource list of activities!
 
Simple Activities (NCTSN) - List of activities compiled by the National Children Traumatic Stress Network (NCTSN) containing games and activities that don't require a lot of supplies or techology.

Trinka and Sam (Coloring Book)- This story was developed to help young children and their families begin to talk about feelings and worries they may have after they have experienced a hurricane. Sponsored by the National Children Traumatic Stress Network (NCTSN).
Self-Care for Adults

Self-Care Following a Trauma- LSU Health Sciences Center resource.

Tips for Survivors of a Disaster- Substance Abuse and Mental Health Services Administration resource. 
Talking to Your Kids
 
10 Considerations for Young Children After Disasters and Violent Events (LSUHSC) - Young children are impacted by these events, here are 10 things to consider when caring for young children after disasters and violent events.
Help Kids Cope App- National Child Traumatic Stress Network (NCTSN) app designed to "help parents talk to their kids about the disasters they may face and know how best to support them throughout—whether sheltering-in-place at home, evacuating to a designated shelter, or helping your family heal after reuniting."
Helping Children and Families Cope (LSUHSC)- Drs. Howard, MD, PhD and Joy Osofsky, PhD booklet examining post-traumatic stress for every age group.
Helping Children and Adolescents Cope with Violence and Disasters- National Insitute of Mental Health (NIMH) resource that helps families understand what trauma is and how parents/caregivers can help kids in their family.

Helping Young Children Heal-  Information created by the National Child Traumatic Stress Network (NCTSN) that helps parents/caregivers understand how children's behavior may reflect their feeling and how to help them heal after a disaster.
Parent Guidelines For Helping Children After a Disaster (NCTSN)
En Españo l Guia para los padres para ayudar a los niños despues de un huracan
Talking to Your Children About Tragedies- From HealthyChildren.org with a lot of useful information about limiting media exposure for children.
 
Teacher and School Resources
Top 10 Considerations for Mental Health Professionals Working in Schools (LSUHSC)
Las 10 Consideraciones Principales para Profesionales de la Salud Mental que Trabajan en Escuelas Después de un Desastre Natural

Child Trauma Toolkit for Educators (NCTSN)- The Child Trauma Toolkit for Educators was developed to provide school administrators, teachers, staff, and concerned parents with basic information about working with traumatized children in the school system. Additional multimedia resources on this toolkit are available in the NCTSN Learning Center for Child and Adolescent Trauma
En Español [Caja de Herramientas Para Educadores Para el Manejo de Trauma Infantil]
Psychological First Aid for Schools- "The National Child Traumatic Stress Network and the National Center for PTSD are pleased to make the Psychological First Aid for Schools Field Operations Guide and accompanying handouts available. Psychological First Aid for Schools is an evidence-informed approach for assisting children, adolescents, adults, and families in the aftermath of a school crisis, disaster, or terrorism event."
Skills for Psychological Recovery- "SPR is an evidence-informed modular intervention that aims to help survivors gain skills to manage distress and cope with post-disaster stress and adversity. SPR is appropriate to use in the Recovery Phase by mental health professionals and other disaster recovery workers. It can be delivered in a variety of settings (e.g., schools, clinics, hospitals, assisted living facilities, houses of worship, community centers, libraries, and homes) "