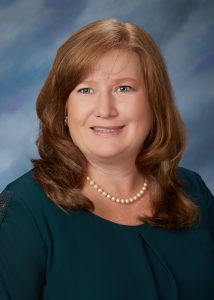 Each issue the GME Office recognizes the important work of coordinators across the School of Medicine and our Coordinator Spotlight highlights coordinators who give so much of their time and energy to the position. In this Coordinator Spotlight we would like to recognize Susan Pieno, Residency Coordinator, Family Medicine-Bogalusa.
Name:  Susan Pieno
Position:  Residency Program Coordinator
Department:   Family Medicine
Years of Service:  5
What is the favorite part of your job?  My favorite thing about being a residency program coordinator is that, even though my duties and responsibilities are constantly changing, they change cyclically throughout the year. There's a seasonality to residency programs that is very enjoyable: in the summertime, we welcome our new class of interns and are busy with orientation; in the fall we prepare for interviews and meet our new potential residents; the winter brings a lull and six month evaluations; Spring is the excitement of the match and preparing for graduation. And suddenly July 1st rolls around and we get to start over with a new class. There's always a different kind of excitement to look forward to!
What is the most challenging part of your job?   Time management can sometimes be a challenge as I always want to insure all goals, tasks and projects are accomplished to produce the best results for our program.
Hobbies/Interests:  Organic farming, gardening, photography, cooking/baking and currently learning to make cheese.