Please mark you calendar and save the date for the upcoming April 21, 2017 Daniels Lectureship.
The Lectureship series features guest lecturers in medical education and provides an opportunity for the LSU Health community to engage with leaders in medical education. Past lecturers have included 2015 speaker, Robert J. Nolan, Jr. M.D., Associate Dean for Graduate Medical Education at University of Texas Health Sciences Center at San Antonio, and Dan Hunt, M.D., M.B.A., LCME Co-Secretary and Senior Director, Accreditation Services.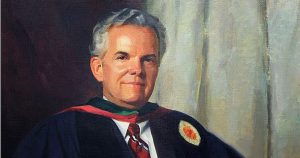 Dr. Robert Daniels was appointed Dean of LSU School of Medicine in 1986 and held the position until 1995.  As dean of LSU for nearly ten years, Bob Daniels left a legacy of change, forward movement and growth. Many concrete results (including buildings, faculty and changes in the basic sciences) at the LSU School of  Medicine and the LSU Health Sciences Center attest to his vision, inspiration, team building and implementation skills. Dr. Daniels was instrumental in creating many programs, initiatives and  activities in the School of Medicine that continue to prosper today.
Dr. Daniels was a graduate of the University of Cincinnati College of Medicine, a board certified psychiatrist, former Associate Dean for  Social and Community Medicine, University of Chicago; chairman of the Department of Psychiatry, dean of the College of  Medicine and Senior Vice President for the Medical Center at the University of Cincinnati. He was nationally and internationally published in psychiatry and in social and community health.
Dr. Daniels retired as the Dean of LSU School of Medicine in 1995. Upon his retirement, an endowed professorship inmedical education was established by the LSU Medical Alumni Association.  Dr. Daniels and his wife, Dr. Vikki Ashley, a PhD psychologist and author, were lifelong and passionate supporters of medical education.