Past Events - 2003
September 30th
Special Seminar in Neuroscience
"Semaphorins, neurotrophins, and Slits: Molecules that direct sensory axon elongation and arborization."
Reha Erzurumlu, PhD
Professor, Dept. of Cell Biology and Anatomy
8th Floor Lecture Room
LSU Neuroscience Center of Excellence
View Announcement (.pdf format)

October 2nd
36th Annual Meeting of the Society for Leukocyte Biology Keynote Lecture
"The leukocyte/brain relationship: synaptic lipid signaling and neuroprotection"
Nicolas G. Bazan, MD, PhD
Director, LSU Neuroscience Center of Excellence
Philadelphia, PA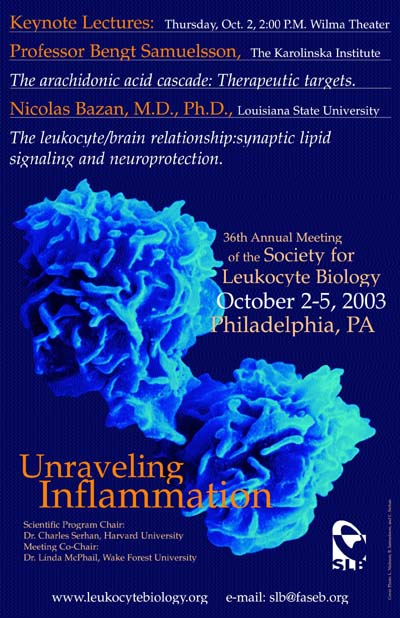 October 6th
Chancellor's Award Lecture in Neuroscience
"Molecular Switches and Spatial Distribution of Neuronal Cell Death"
Pierlugi Nicotera, M.D., Ph.D.
Director, Medical Research Council, Toxicology Unit
Professor of Toxicology and of Neuroscience
University of Leicester (United Kingdom)
View Announcement

October 28, 2003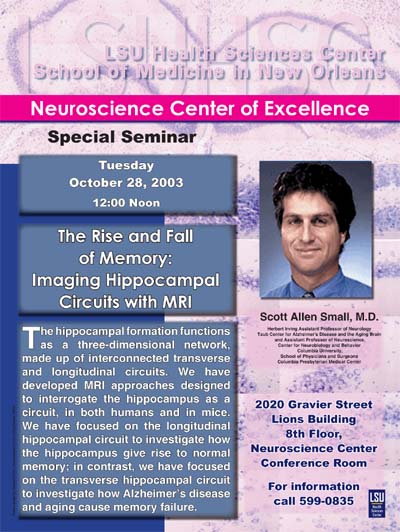 December 3, 2003
Neuroscience Lab Meeting/Journal Club
"Gene Expression Studies in Human Neural Cells in Primary Culture"
Anja Botkjaer and Merete Bodker
8th Floor Conference Room
2020 Gravier Street
12:00 pm
View Announcement (.pdf format)