Neuroscience Center Director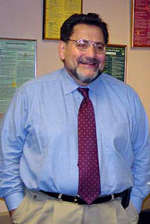 Nicolas G. Bazan, M.D., Ph.D. is the Director of the Louisiana State University Health Sciences Center Neuroscience Center of Excellence (New Orleans), as well as Professor of Ophthalmology, Biochemistry and Molecular Biology, and Neurology. He holds the Yvette C. and Ernest C. Villere Endowed Chair for the Study of Retinal Degenerations and the Boyd Professorship, the highest academic honor in the LSU system. The Center bridges basic neurobiology with clinical neuroscience through multidisciplinary research in several areas including stroke, trauma, spinal cord injury, depression, epilepsy, and neurodegenerative diseases such as retinitis pigmentosa, age-related macular degeneration and Alzheimer's disease. Dr. Bazan received his M.D. from the University of Tucuman (1965), Argentina, then was a postdoctoral fellow at Columbia University's College of Physicians and Surgeons and Harvard Medical School (1965-68). His major interest is understanding the significance of signal transduction pathways that modulate gene expression in terms of survival/plasticity/death in neurons, as they occur in stroke, epilepsy and neurodegenerative diseases. Dr. Bazan has international renown for his pioneering studies on the release of lipid messengers in brain ischemia, trauma, and seizures. He has also uncovered fundamental events that sustain the health of retinal photoreceptors. One of his papers, published in 1970, was recognized in 1991 as a Citation Classic by the Institute of Scientific Information. He has received numerous awards including corresponding membership in the Royal Academies of Sciences and Medicine (Spain) and the Jacob Javits Neuroscience Investigator Award from the National Institutes of Health in 1989. Dr. Bazan has edited 13 books and published over 400 articles. He has been the editor, or a member of the editorial board, of 15 scientific journals, including the Journal of Biological Chemistry, Journal of Neuroscience Research, Journal of Clinical Neuroscience, Journal of Neurochemistry, Journal of Nutritional Biochemistry, and Molecular Neurobiology. He is the president of the American Society for Neurochemistry (1999-2001) and board member of the William Harvey Medical Research Foundation and of the Fondazione Giovanni Lorenzini in Houston, Texas.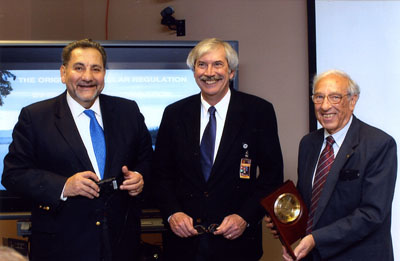 Nicolas Bazan, M.D., Ph.D., Director Neuroscience Center of Excellence,
Joseph Moerschbaecher, Dean of Graduate Studies, Vice Chancellor for
Academic Affairs, & Edmond Fischer, Ph.D.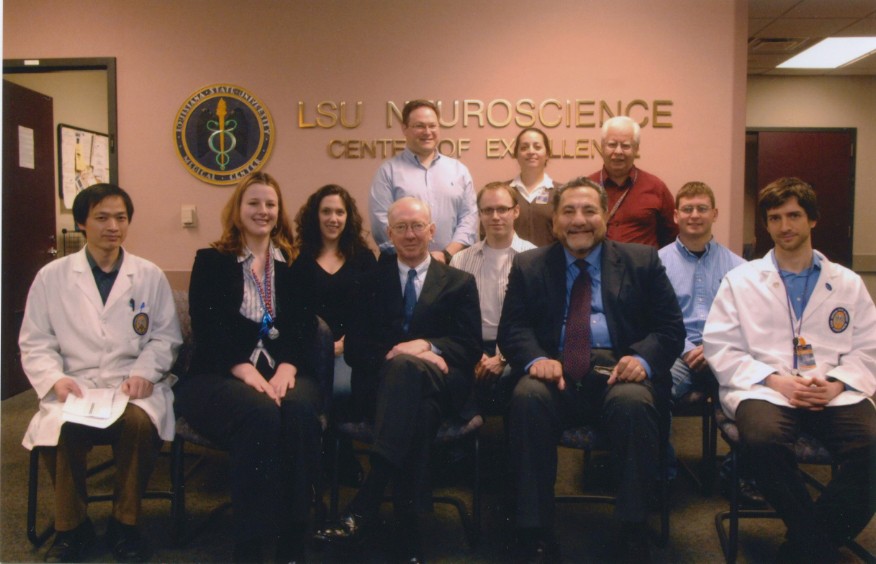 Nobel Laurent Bengt Samuelsson (1982) with members of Nicolas Bazan, M.D., Ph.D. laboratory: 
L-R (front row): Song Hong, Ph.D., Tiffany Niemoller, M.D./Ph.D. student, Bengt Samuelsson, M.D., Ph.D., Nicolas Bazan, M.D., Ph.D., David Stark, M.D./Ph.D. student, (Middle Row): Melissa Inman, M.D/.Ph.D. student, Kristopher Sheets, graduate student,  Eric Knott, graduate student, (back row): Alberto Musto, M.D., Ph.D., Jorgelina Calandria, graduate student, and
Victor Idoyaga-Vargas, M.D., Ph.D.