Directions to the Neuroscience Center of Excellence
We are located on the 8th floor of the Lions bldg. 2020, Gravier St., New Orleans, LA 70112. The lower main doors of the Lions building are by ID card access only. As such, you will need to enter either through the Allied Health building located at 1900 Gravier St. or the LSU Parking Garage which is located at 425 South Roman Street.
From the 2nd floor (3rd floor from the garage), proceed to the crosswalk to enter the Lions Bldg. From the garage, our building is the third crosswalk on the right.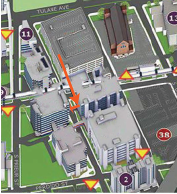 Parking Information can be found on the link below:
https://www.lsuhsc.edu/administration/ae/visitorparking.aspx
If you need assistance, please call the main office at 504-599-0831.