SUN Program
Application For SUN Program
2024 Download application in PDF format (0.532 MB).

Requires free Adobe Reader software.

Once you have downloaded and filled out the pdf, save the file under your name and
either email it back to BChiap@lsuhsc.edu or mail it to:
SUN Program c/o Brenda Chiappinelli
LSUHSC Neuroscience Center of Excellence SUN Program
2020 Gravier Street, 8th Floor
New Orleans, LA 70112
Applications open on October 15, 2023
Deadline to submit applications is March 31, 2024
2023 SUN Students and Mentors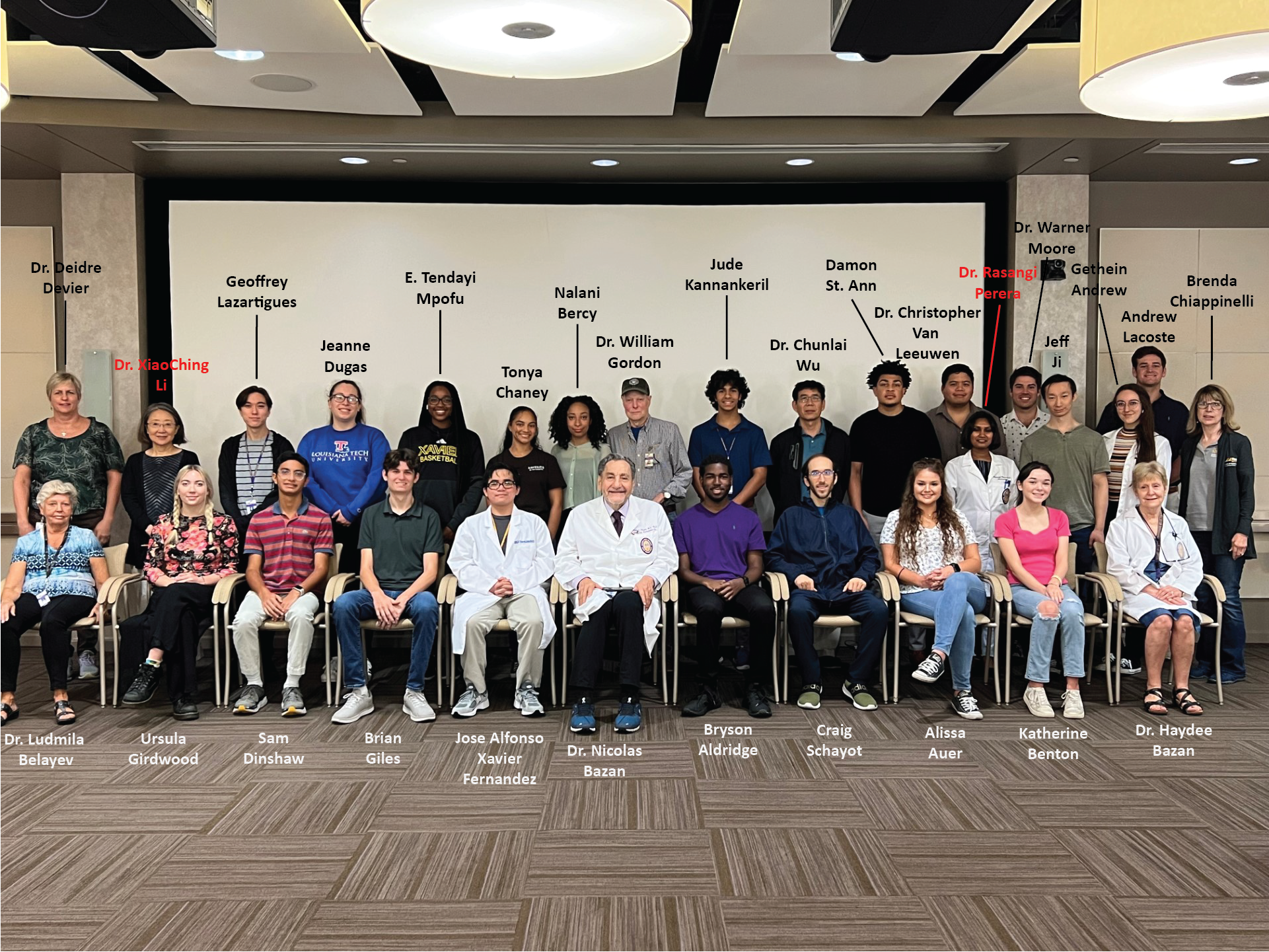 2021 SUN Students and Mentors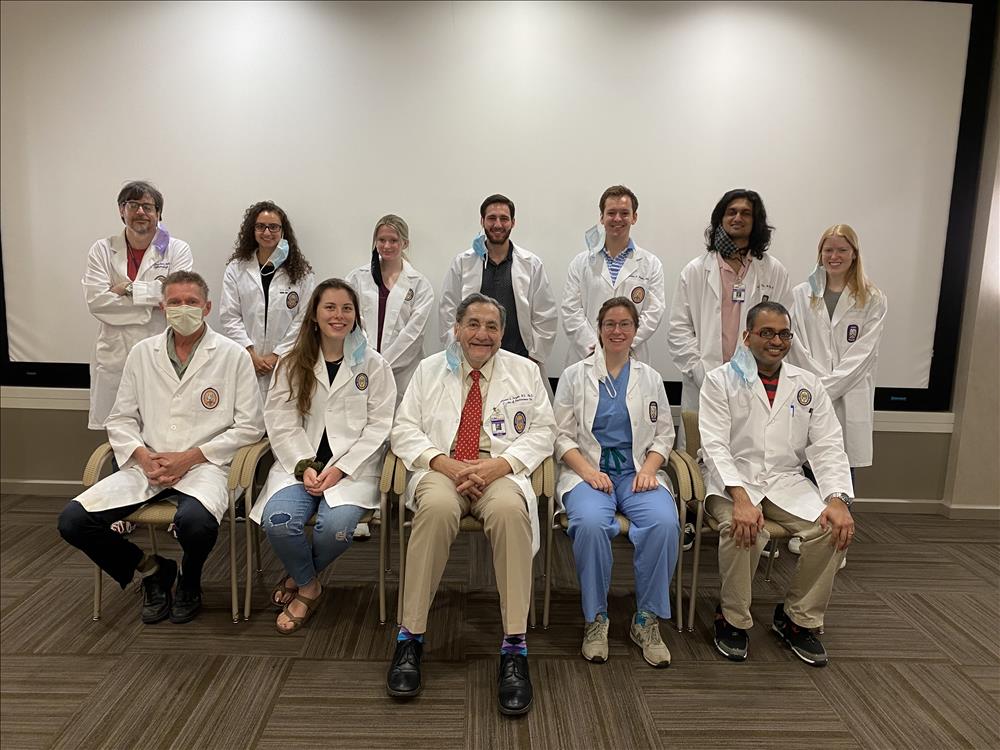 Standing (from Left to Right):
Vicente Bermudez, Postdoctoral Fellow, Universidad Nacional del Sur, Bahía Blanca Institute for Biochemical Research, Argentina
Sophie Marathonitis, LSU Health New Orleans, IDP Graduate Program
Alexander Murphy, De La Salle High school, (Senior-HS)
Parker Byers, Vanderbilt University, (Junior-Neuroscience)
Connor Polk, University of Notre Dame, IN
Neehar Desai, Brown University, Providence, RI
Ellen Terry, Tulane University, Junior (pre-med)
Sitting:
Dr. Jeffrey Erickson
Victoria Hart, Tulane University, Junior (pre-med)
Dr. Nicolas G. Bazan
Twila L. Gaston, LSU Medical Student
Surjyadipta Bhattacharjee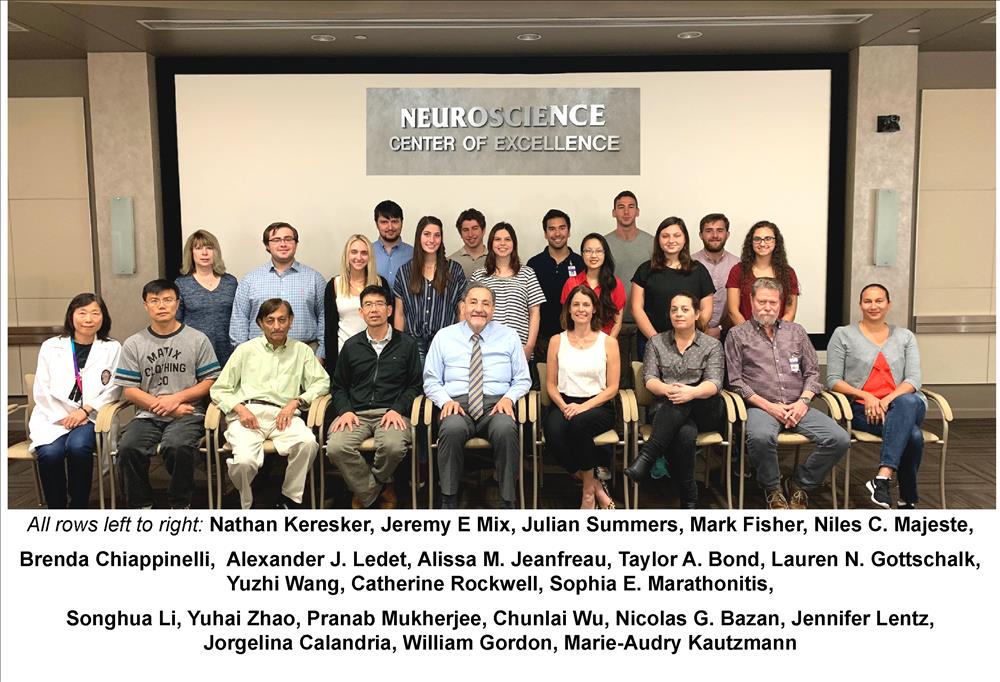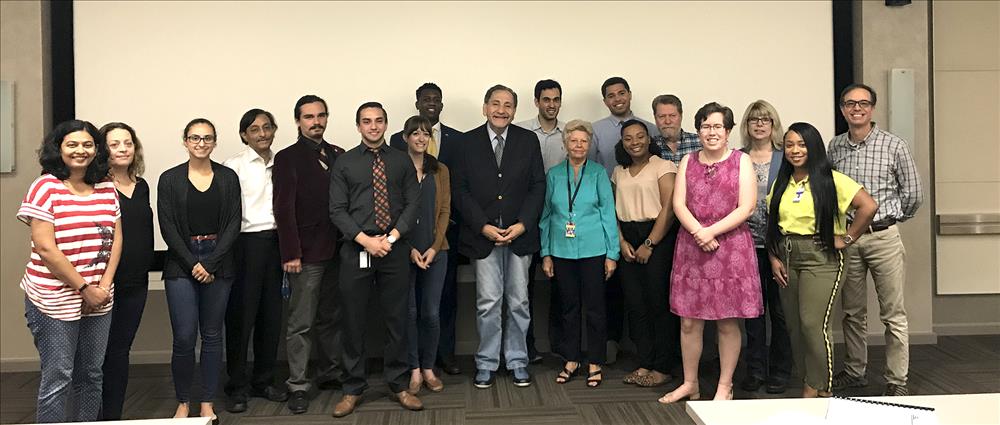 From left to right: Sayantani 'Misty' Bhattacharjee, Dr. Jorgelina Calandria, Sophia Marathonitis, Dr. Pranab Mukherjee,
Jacy Haynes, Katelyn Robillard, Fernando Blank, Kenneth Terry III, Dr. Nicolas G. Bazan, Dr. Aram Asatryan,
Dr. Ludmila Belayev, Randon Heim, Hadiya Rasheed, Dr. William Gordon, Madeline Fahey, Brenda Chiappinelli,
Ayrian Le Beauf and Dr. Hamilton Farris
2017 SUN Students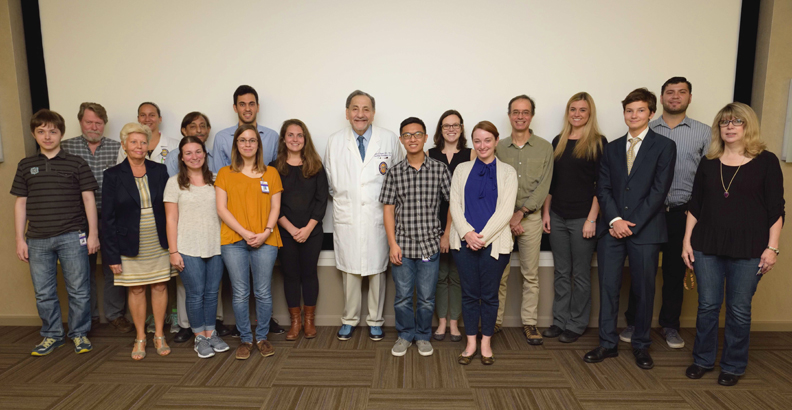 First row: Nikolai Kurganov, Ludmila Belayev, Angela Barattini, Christine Gambino, Sarah Yanofsky,
Nicolas Bazan, James Li, Whitney Walkoski, Andrew Williams,Brenda Chiappinelli

Back row: William Gordon, Marie-Audrey Kautzmann, Pranab Mukherjee, Aram Asatryan, Caitlin Leslie,
Ham Farris, Martha Dreyer, Shawn Marcell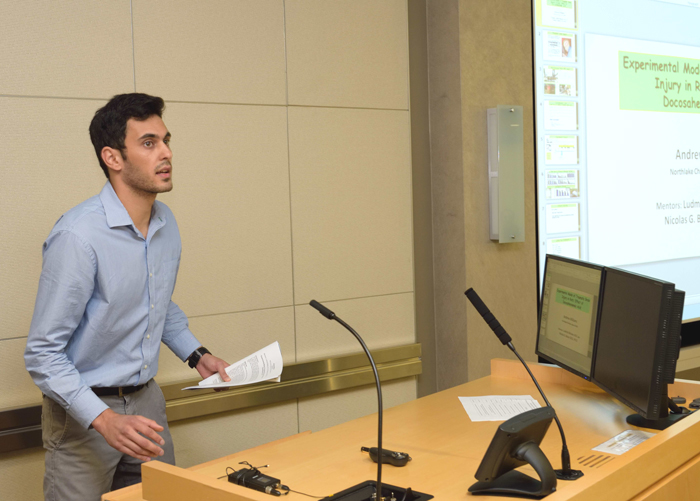 Dr. Aram Asatryan coordinated the presentations and discussion
Link for 2017 graduation pictures

2016 SUN Students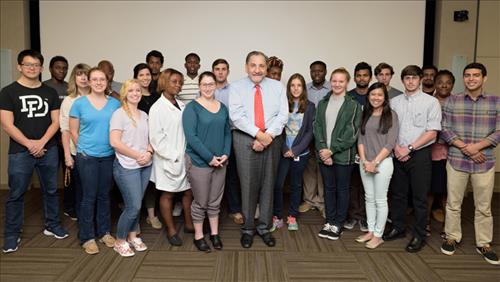 Left to right: David Yang, Joshua Lott, Brenda Chiappinelli, Elizabeth Hill, Megan Eakin,
Clinton Givens, Zoe Piccus, Garren Mitchell, Peace Ekpo, Kenneth Terry II, Grace Taffaro,
Scott Sullivan, Dr. Nicolas G. Bazan, Larissa Penn, Mariah Allen, Ke'Yon Jones, Rebehah Travis,
Krishna Shah, Parker Byers, Traci Mai, Gregory Marks, Uday Patel, Zevie Davis, and Zachary Sachar
Introduction
The Summer Undergraduate Neuroscience (SUN) program offers Louisiana's undergraduate students hands-on experiences in laboratory research and education in the neurosciences, with the goal of stimulating an interest in medicine, neuroscience and research as a career.
During the past decade, the Neuroscience Center has become a driving force behind the development of the neurosciences at the LSU Health Sciences Center.
Overall, the mission of the Center is to contribute to the creation of an environment of high standards, where investigations on the nervous system and the diseases that affect it are conducted. To this end, the identification and recruitment of outstanding faculty to build a critical mass of expertise is already a tangible asset.
Objectives
The purpose of this program is to attract top undergraduate students in Biology, Biochemistry, Chemistry, Psychology, and related fields who would be interested in having summer experience in the basic and fundamental sciences of the nervous system. Students are expected to attend formal lectures in such areas as human genetics, molecular and developmental neurobiology, as well as to carry out research in one of the laboratories of the faculty of the Neuroscience Center of Excellence.
Highlights of Program
The core program includes specialized neuroscience lectures (investigative neuroscience, molecular neurobiology, and behavioral neuroscience, cell biology). Summer research at faculty laboratories provides the students with research experience. Students are expected to attend the neuroscience seminar series, and the many other brain science activities sponsored by the LSU Health Sciences Center.
Impact on Education
The Neuroscience Summer Undergraduate Training Program at the LSU Health Sciences Center, Neuroscience Center of Excellence, is a multidisciplinary program offering research training in the fundamental neurosciences. Training is designed to provide undergraduate students with a broad general knowledge of neuroscience.
The undergraduate participants have attended Louisiana Colleges and Universities.
Anticipated Benefits
Since its inception, the Neuroscience Center of Excellence has become a nucleus of academic achievement, and contributes in attracting out-of-state businesses to New Orleans, as well as distinguished experts and private and federal funding to support research. High quality, intensive research is our best hope for discovering why brain diseases occur and to conquer them.