Pediatric Psychology Track
(1 position)
The Pediatric Psychology Intern position is designed for students wishing to pursue a career as a pediatric health psychologist. The intern will provide inpatient and outpatient health psychology assessment and treatment to child and adolescent patients and their families. Interns complete several rotations, gaining experience treating patients in a variety of settings: patients admitted in the hospital, patients seen in medical clinics, and outpatients seen on our psychology service. Interns gain their experience at Children's Hospital New Orleans, an academic medical center providing pediatric care for the gulf south.
The intern will complete two, six month rotations, which will include the following training experiences:
One day of consult liaison work for hospital inpatients. Consults may be received from a variety of services, including hematology/oncology, physical medicine, neurology, general pediatrics, cardiology, palliative care, and endocrinology. Consults include behavioral treatment planning for medical stabilization for eating disorder patients, functional neurological disorders, chronic pain, adjustment to chronic illness, adherence concerns, coping with serious medical illness, and medical trauma. Psychology is an active participant with all medical services throughout the hospital; we receive approximately 700-800 consults per year. Supervision will be provided on a rotational basis by one of the health psychologists.
Participation in two multidisciplinary outpatient clinics, which may include the following:

Nephrology clinic
Adolescent medicine clinic
Pain management clinic
Eating/Feeding Disorders Center
Diabetes Clinic
GI Clinic

Interns also participate in a year long assessment clinic seeing patients referred from the hematology/oncology service for peripheral blood stem cell transplant pre or post evaluations. This clinic requires the intern to complete 8 evaluations throughout the year.
Finally, interns follow outpatients, generally referred to the service by the inpatient consult service. Typically the intern follows 4-5 outpatients throughout the course of the year.
Supervising psychologists: Diane Franz, PhD and Amy Henke, PsyD
See below for a general sample schedule: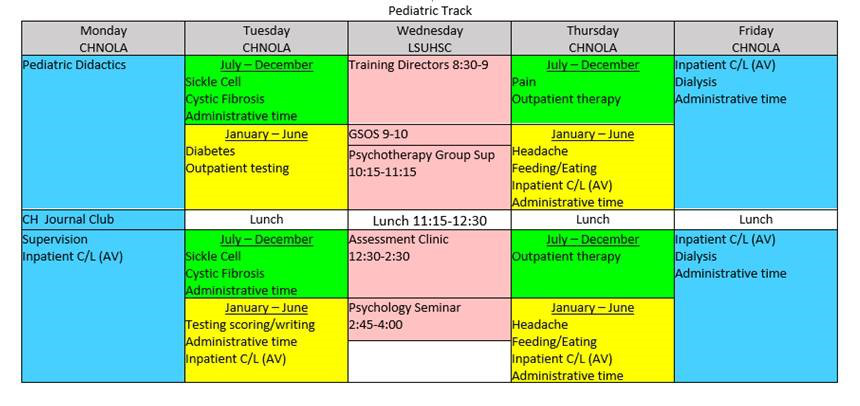 SEMINARS & SUPERVISION
Assessment Group Supervision:
This weekly group supervision allows all interns to formally present assessment cases of infants, children, adolescents, and adults evaluated through the outpatient clinics. Fundamentals of psychological testing including test administration, selection of testing instruments, collection of collateral reports, integration of testing data, report writing, recommendations for feedback sessions etc. will be discussed throughout the year. Integration of test data, history, and DSM 5 diagnostic criteria will be emphasized with particular attention placed on differential diagnosis. More advanced levels of diagnostic and treatment issues with various populations are also presented (e.g., the borderline conditions, the spectrum of narcissistic disorders, and the spectrum of depressive disorders).

Psychology Seminar:
This weekly seminar discussion session consists of various special topics in clinical psychology, ethical decision-making, and professional development as a psychologist. Multidisciplinary core faculty and outside lecturers (e.g. psychologists, psychiatrists and social workers) discuss a variety of issues including juvenile violence, licensing issues, cultural diversity, financial issues following graduation, psychopharmacology and challenging treatment issues. If available, additional topics may be included at the request of the current intern class. The early part of the year will focus on covering Louisiana laws related to the practice of psychology, suicide/homicide assessment, and child/elder abuse reporting. There are also quarterly seminars related to supervision and multicultural awareness as well. In addition, each psychology intern is required to make a formal presentation/job talk on a topic or issue of their choice prior to the end of the training year.

Psychotherapy Group Supervision:

This unique, year-long supervision involves presentations of therapy cases seen at the various training settings. Psychology interns formally present cases which are then discussed as a group. The focus of the discussion is on deepening case conceptualization, understanding the cultural formulation of the case, discussing transference and countertransference that may arise in the treatment, and brainstorming other potential therapeutic techniques that could be beneficial to the individual case. Interns are welcome to bring videos from session to enhance discussion about psychotherapy cases.
Group Supervision of Supervision:
This group supervision is intended to focus on interns' development of their own supervision skills as a necessary part of their professional development as psychologists. Interns are encouraged to bring issues that arise during supervision sessions as well as successes from their experiences in the role as
supervisor to process with the group.

Other Educational Experiences:
While on the primary rotations, interns are required to attend in-service and other training activities, which are germane to their functioning as members of the multidisciplinary team. 

Psychiatry Grand Rounds, including case conferences, are held at LSUHSC three times per month. Departmental, local, national, and international experts give presentations on diagnostic and treatment issues, biological psychiatry, epidemiological findings, socio-political issues, theoretical developments, and philosophical issues in clinical psychiatry.

Interns have an open invitation to attend lectures offered by the New Orleans-Birmingham Psychoanalytic Center. Monthly presentations by the Louisiana Infant Mental Health Association are also open to all interns.