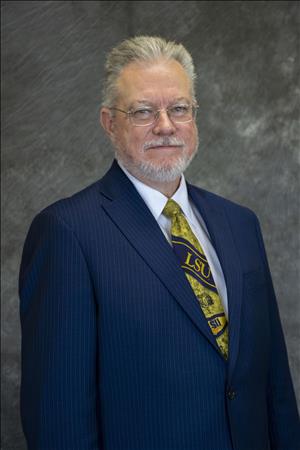 Clinical Associate Professor of Urology

 
Administration Office

LSUHSC School of Medicine
2021 Perdido Street, Ste 4425
New Orleans, LA 70112
phone 504-568-2207
fax 504-568-2307

Clinical Office

LSU Healthcare Multispecialty Clinic
3601 Houma Blvd. Suite 302
Metairie, LA 70006
phone  504-412-1600
fax 504-412-1626

 
Texas Tech University, BS
Texas Tech School of Medicine, MD
A native Texan, Dr. Bell earned a BS degree in microbiology from Texas Tech University and a medical degree from Texas Tech Univeristy School of Medicine. He moved to New Orleans in order to do his internship and urology residency at Charity Hospital and the Tulane Affiliated Hospitals. During his residency, Dr. Bell received additional training in urologic microbiology, infertility including microsurgery, and endourology.
Dr. Bell began a private practice of Urology at East Jefferson General Hospital and promoted new technologies such as ureteroscopy, perentaneous stone surgery, microsurgery, laparoscopy, robotics and MRI fusion biopsies.
In the aftermath of Hurricane Katrina, Dr. Bell facilitied East Jefferson General Hospital becoming a teaching site for LSU Urology. Dr. Bell joined LSU Urology part-time in 2008 as as Assistant Professor of Clinical Urology and became full-time faculty in 2019.
Endourology
Infertility
Microsurgery
Director of Medical Student Education for Urology
Instructor, Clinical Skills Integration
Committees & Administrative Responsibilities
Site Director, University Medical Hospital
Chairman of the Board, East Jefferson General Hospital
Joint Conference Committee, East Jefferson General Hospital
Member of Southeast Section of the AUA
Member of the AUA
.