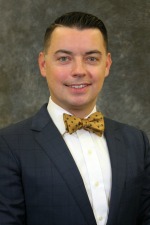 Associate Professor - Clinical
LSU Healthcare Network Clinics


Metairie Location
3601 Houma Blvd., Suite 302
Metairie, Louisiana  70006
Phone: (504) 412-1600
Fax: (504) 412-1626

Uptown Location
3700 St. Charles Ave., 5th floor
New Orleans, Louisiana 70115
Phone: (504) 412-1520
Fax: (504) 412-1534

 

 

Administration
1542 Tulane Ave
5th Floor., Room 547
New Orleans, Louisiana 70112
Phone: (504) 568-2207
Fax: (504) 568-2307
email: rkrli1@lsuhsc.edu
Oklahoma State University
B.S.
Oklahoma State University
B.A.
University of Oklahoma College of Medicine
M.D.
A native of Oklahoma, Dr. Ryan Krlin graduated with honors from Oklahoma State University with degrees in Biochemistry and Spanish.  He then earned his medical degree at the University of Oklahoma College of Medicine in Oklahoma City, finishing in the top quartile of his class.  Following graduation in 2005 he moved to New Orleans where he completed a urology residency in the Louisiana State University-Ochsner Clinic program.  He then completed two years of subspecialty training in Female Pelvic Medicine and Reconstructive Surgery in an ABU/ABOG accredited fellowship at the Glickman Urological and Kidney Institute of the Cleveland Clinic in Cleveland, Ohio.  He returned to LSU to join the faculty as an Assistant Professor of Urology teaching medical students, residents and fellows.
 As a fellow he honed his surgical and diagnostic skills in the treatment of pelvic organ prolapse, genitourinary fistulae, urinary incontinence, voiding dysfunction and neurourological disorders. He is well-versed in the latest treatment options, both surgical and non-surgical, for male and female pelvic floor disorders including robotic surgery, sacral neuromodulation, percutaneous tibial nerve stimulation, Botox® and other injectable therapies.  Dr. Krlin has published multiple articles in national and international peer-reviewed journals, authored textbook chapters in his subspeciality and presents at national meetings.  He is a member of the American Urological Association and the Society for Urodynamics, Female Pelvic Medicine and Urogenital Reconstruction.  His clinical practice is part of the LSU Health Urology Group, delivering state of the art care to both English and Spanish-speaking patients at their offices in New Orleans and Metairie.