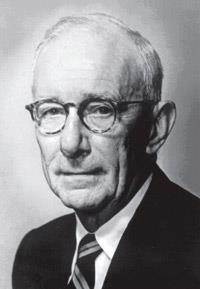 James Davidson Rives was born in Mansfield, Louisiana in 1893. His rural upbringing and education apparently served him well. He received a B.A. degree from Vanderbilt in 1914, and an M.D. degree from Tulane University Medical School in 1918.
He served an internship at Touro Infirmary from 1918-1919, and maintained a surgical practice there throughout his professional career. The operating room supervisor at Touro was a lovely young woman from Indianola, Mississippi named Marion Smith, known to her friends as "Smitty". They were married in 1923.
Dr. Rives had clinical appointments at Tulane Medical School from 1919-1931, but was recruited by Dr. Urban Maes to LSU, where he became Professor of Clinical Surgery in 1931. He was named Head of the Department of Surgery in 1947, a position he held until his retirement in 1962. He was named Emeritus Professor and remained active in weekly conferences until his death in 1975.
Among his numerous academic and professional achievements, Dr. Rives served on The American Board of Surgery. In 1958, he was elected President of The Southern Surgical Association, which he described as "the finest surgical society in the world and its presidency is the highest honor to which a surgeon should aspire."
Dr. Jimmy Rives was in great demand as an after-dinner speaker and essayist. A collection of his writings, Essays of a Louisiana Surgeon, was edited by Dr. Robert S. Sparkman, his close friend and fellow past-president of the Southern Surgical. The book was published by the Rives Society in 1977.